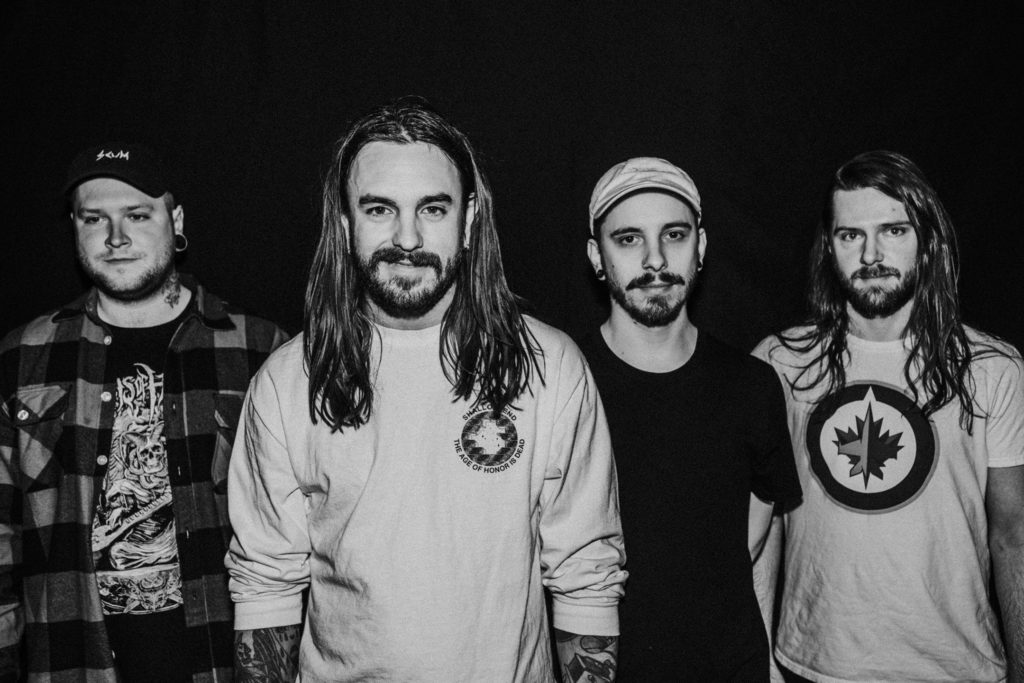 [photo by Kyle Joinson Photography]
Metal Injection is now streaming Hunger, the new EP by Victoria, British Columbia metallic hardcore quartet, VULTURES. The exclusive premiere of the record hits just days ahead of the EP's official release this Friday, and in conjunction with the kickoff of their West Coast North American tour, now underway.
VULTURES conveys an unapologetic and visceral energy through their brand of hardcore. With sonic inspirations that include the likes of Converge, Dead And Divine, and The Dillinger Escape Plan, the band combines the technicality and bite of metal with the attitude of hardcore punk in order to deliver performances with unrivaled potency and aggression.
Delivering six tracks that put forth an attack of driving riffs and incendiary finger-pointing in just under twenty minutes, VULTURES' second EP Hunger was produced, mixed, and mastered by Tim Creviston (Misery Signals, Spiritbox), and fitted with artwork created by Dusty Ray and arranged by Kevin Moore of Soft Surrogate. The EP also includes a guest vocal feature from Larissa Stupar (Venom Prison, Wolf Down).
With their advance stream of Hunger, Metal Injection writes, "In just six tracks and twenty minutes, VULTURES will pulverize you into the ground."
Stream VULTURES' entire Hunger EP early only at Metal Injection RIGHT HERE.
VULTURES will self-release the Hunger EP on CD and all digital platforms this Friday, October 4th. Preorders packages are available at the band's website HERE. Also view the "Push" video HERE and the Claymation "Rat King" video HERE.
In conjunction with the release of Hunger, VULTURES is now performing live, having supported Cancer Bats and Despised Icon in recent days. The band now embarks on their largest tour yet in support of the EP, with a West Coast run taking them into the United States for the first time, running from October 2nd through October 21st.
VULTURES – Hunger Release Tour:
10/02/2019 Munnins Post – BC
10/03/2019 The Industry House – Edmonton, AB
10/04/2019 Black Cat Tavern – Saskatoon, SK
10/05/2019 Sloth Records – Calgary, AB
10/06/2019 Salmo Hotel – Salmo, BC
10/07/2019 Real Art Tacoma – Tacoma, WA
10/08/2019 La Voyeur – Olympia, WA
10/09/2019 Old Nicks Bar – Eugene, OR
10/10/2019 Little Red Lion – Eureka, CA
10/11/2019 The Red Hat – Concord, CA
10/12/2019 Til Two Club – San Diego, CA
10/13/2019 Palo Verde Lounge – Tempe, AZ
10/14/2019 Blacklidge Community Collective – Tucson, AZ
10/15/2019 Old Towne Pub – Pasadena, CA
10/16/2019 Xbar – San Jose, CA
10/17/2019 Virginia Street Brewhouse – Reno, NV
10/18/2019 Concrete Lodge – Redding, CA
10/19/2019 East Side Bar And Grill – Portland, OR
10/20/2019 The Capitol – Bend, OR
10/21/2019 Funhouse – Seattle, WA
The members of VULTURES offer with the new EP, "Hunger is an album that we have been developing for a long time. More than anything else, it has been a taxing and painstaking process holding onto these tracks for as long as we have, refining them and waiting for the right moment to release them. It is incredibly cathartic for us to finally present something that we have given so much of ourselves to, and we are immensely grateful to all who have involved themselves along the way.
Lyrically, Hunger is an album that tells the story of substance abuse from a multitude of perspectives. It's no secret that there is an opioid crisis in the Pacific Northwest, and many of us have been affected or know someone who has been affected as a result of the poor levels of support, control, and safety related to controlled substances. With Hunger, we want to acknowledge the problems and humanize the struggles that occur every day in homes and on the street, because it's important now more than ever to be aware of how to keep ourselves and our friends safe, and also to be empathetic and compassionate towards those with circumstances different from our own.
Sonically, Hunger is a major step forward for us. The songs are more dynamic, energetic, emotional and provocative than anything else we have shown before, and we are extremely proud of what we're bringing to the table with this record. Producer Tim Creviston went above and beyond in shaping the final incarnation of these tracks, and we are confident that fans old and new will be excited by what we have to show them.
With the release of this new EP, we will be departing on our biggest tour yet, which includes our first ever foray across the border as a band. We consider ourselves very fortunate for the opportunities afforded to us by the bands and promoters that we will be working with along the way, and if you enjoy what you hear in this EP, we hope we'll see you out at a show."
https://vulturesofficial.com
https://facebook.com/bandofvultures
https://instagram.com/vulturesbc