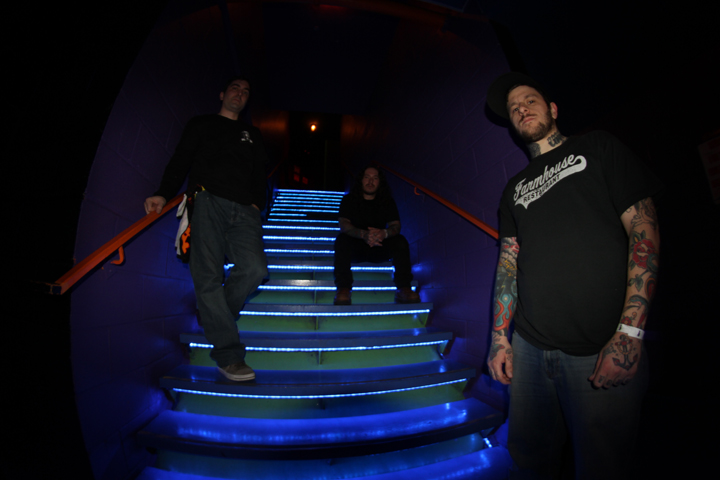 Scathing Brooklyn-based crossover trio VISE MASSACRE will take their brutality across the planet for a four-day romp in the empire of Japan! The tour is in support of a tribute album to Japanese act Vaginers; VISE MASSACRE is one of two non-Japanese bands to be included on the tribute album, which will bear 35 tracks from 17 artists in total.
Like VM frontman Rich Muller stated in a recent Noisecreep.com feature: "Vise Massacre is a stripped down, meat-and-potatoes metal outfit that will settle for nothing less than full-on progression and we will destroy anytime, anywhere." And so they shall. Look the fuck out, Japan…
VISE MASSACRE have more tour plans in the works which will include jaunts throughout the US during the rest of 2010 and beyond, including a hometown show in Brooklyn directly following their Japan mini-tour, and an upcoming tour in September which is in the planning phases now. They also just finished tracking a 12-song full-length album which will be completed after the band returns from Japan. Full album info will be announced shortly.
VISE MASSACRE July 2010 live actions:
7/23/2010 Blue Port, Kobe [info]
7/24/2010 King's Cross – Kobe [info]
7/25/2010 R.A.D. – Nagoya [info]
7/27/2010 246 West Studio – Kobe [info]
7/30/2010 Production Lounge – Brooklyn, NY [info]
Stay tuned for plenty of other upcoming VISE MASSACRE release and tour news in the coming weeks.
http://www.myspace.com/visemassacre
http://www.visemassacre.com