TODAY IS THE DAY confirms the latest routing for their upcoming North American 2013 Spring live assault, set to embark in just two weeks, now verified to raid thirty-eight cities between March 5th and April 14th. The tour will also coincides with the band's twentieth anniversary this year.
Touring through most of the United States and Canada, TODAY IS THE DAY will bring KEN Mode and Fight Amp as support on all shows, also including Black Tusk, Ringworm and Keelhaul on select dates. The tour will storm Austin for this year's SXSW festivities, planting TODAY IS THE DAY and KEN Mode solidly in the lineup for the crushing Tone Deaf Touring showcase alongside Orange Goblin, Mondo Generator, Young Widows and The Gates of Slumber on March 15th.
Stay tuned for more updates on the tour routing in the coming days, in addition to further TODAY IS THE DAY news. For coverage of the upcoming tour, including in-person interviews with the band at the shows and live coverage, please contact Earsplit PR: earsplitpr@aol.com.
TODAY IS THE DAY Spring Tour 2013:
3/05/2013 Port City Music Hall – Portland, ME KEN mode, Livver, Fight Amp, Sylvia [tickets]
3/06/2013 Saint Vitus Bar – Brooklyn, NY w/ Black Tusk, KEN Mode, Fight Amp [tickets]
3/07/2013 Middle East Downstairs – Cambridge, MA w/ Black Tusk, KEN Mode, Fight Amp [tickets]
3/08/2013 The Studio at Webster Hall – New York, NY w/ Black Tusk, KEN Mode, Fight Amp [tickets]
3/09/2013 Rock and Roll Hotel – Washington DC w/ Black Tusk, KEN mode, Fight Amp [tickets]
3/10/2013 Mr. Smalls – Pittsburgh, PA w/ Black Tusk, KEN Mode, Fight Amp [tickets]
3/11/2013 The Masquerade – Atlanta, GA w/ Black Tusk, KEN Mode, Fight Amp [tickets]
3/12/2013 Backbooth – Orlando, FL w/ Black Tusk, KEN Mode, Fight Amp
3/13/2013 Siberia – New Orleans, LA w/ Black Tusk, KEN Mode, Fight Amp [tickets]
3/14/2013 Korova – San Antonio, TX @ Tone Deaf Touring Spillover Showcase [tickets]
3/15/2013 Tone Deaf Touring Official SXSW Showcase @ Red 7 – Austin, TX
3/16/2013 TBA – Austin, TX @ SXSW
3/17/2013 Spillover Fest @ Sandbar Cantina – Dallas, TX [tickets]
3/19/2013 Launchpad – Albuquerque, NM w/ Black Tusk, KEN Mode, Fight Amp
3/20/2013 Rocky Point Cantina – Tempe, AZ w/ Black Tusk, KEN Mode, Fight Amp [tickets]
3/21/2013 Brick By Brick – San Diego, CA w/ Black Tusk, KEN Mode, Fight Amp [tickets]
3/22/2013 Satellite – Los Angeles, CA w/ Black Tusk, KEN Mode, Fight Amp [tickets]
3/24/2013 The Catalyst – Santa Cruz, CA w/ Black Tusk, KEN Mode, Fight Amp [tickets]
3/25/2013 Elbo Room – San Francisco, CA w/ Black Tusk, KEN Mode, Fight Amp [tickets]
3/26/2013 Rotture – Portland, OR w/ Black Tusk, KEN Mode, Fight Amp [tickets]
3/27/2013 The Highline – Seattle, WA w/ Black Tusk, KEN Mode, Fight Amp [tickets]
3/28/2013 The Shakedown – Bellingham, WA w/ Black Tusk, KEN Mode, Fight Amp [tickets]
3/29/2013 Rickshaw Theater – Vancouver, BC w/ KEN Mode, Black Tusk, Fight Amp [tickets]
3/31/2013 Pawn Shop – Edmonton, AB w/ KEN mode, Black Tusk, Fight Amp
4/01/2013 Palomino – Calgary, AB w/ KEN Mode, Black Tusk, Fight Amp [tickets]
4/02/2013 Amigos – Saskatoon, SK w/ KEN Mode, Black Tusk, Fight Amp [tickets]
4/04/2013 Pyramid – Winnipeg, MB w/ w/ KEN Mode, Black Tusk, Fight Amp [tickets]
4/05/2013 The Aquarium – Fargo, ND w/ Black Tusk, KEN Mode, Fight Amp [tickets]
4/06/2013 Triple Rock Social Club – Minneapolis, MN w/ Black Tusk, KEN Mode, Fight Amp [tickets]
4/07/2013 Empty Bottle – Chicago, IL w/ Black Tusk, KEN Mode, Fight Amp [tickets]
4/08/2013 Pyramid Scheme – Grand Rapids, MI w/ Ringworm, KEN mode, Fight Amp [tickets]
4/09/2013 Ace Of Cups – Columbus, OH w/ Ringworm, KEN Mode, Fight Amp [tickets]
4/10/2013 Southgate House Revival – Newport, KY w/ Ringworm, KEN Mode, Fight Amp [tickets]
4/11/2013 Beachland Ballroom – Cleveland, OH w/ Keelhaul, KEN mode, Fight Amp [tickets]
4/12/2013 Magic Stick – Detroit, MI w/ Keelhaul, KEN mode, Fight Amp [tickets]
4/13/2013 Lee's Palace – Toronto, ON w/ Keelhaul, KEN mode, Fight Amp [tickets]
4/14/2013 Il Motore – Montreal, QC w/ Keelhaul, KEN Mode, Fight Amp [tickets]
4/15/2013 Maverick's – Ottawa, ON w/ Keelhaul, KEN Mode, Fight Amp [tickets]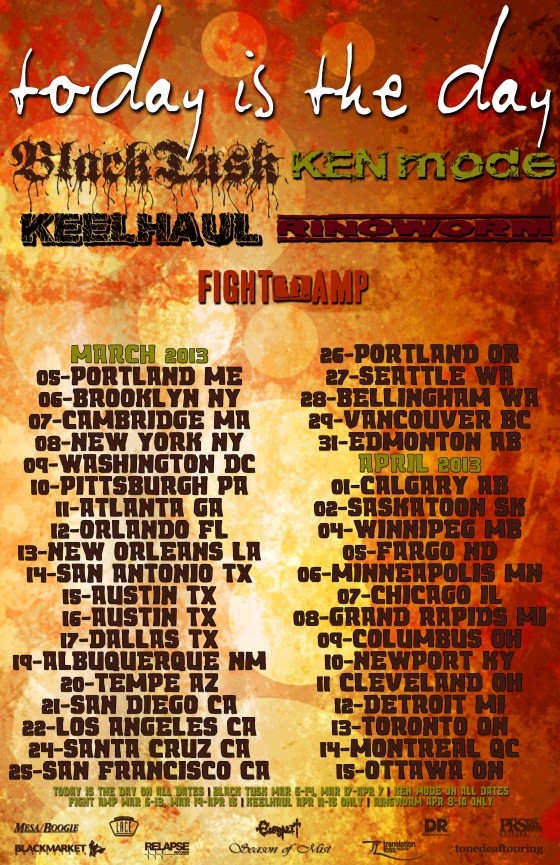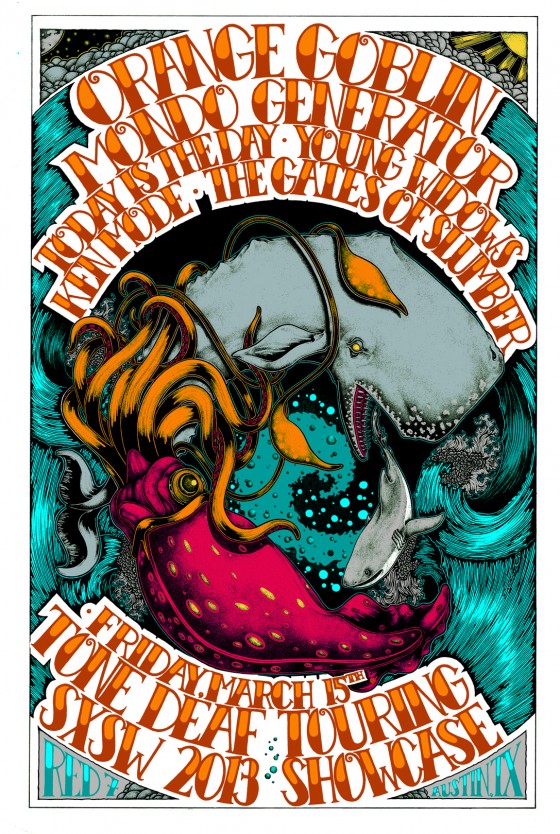 http://www.todayistheday.us
https://www.facebook.com/todayisthedayofficial
http://www.tonedeaftouring.com