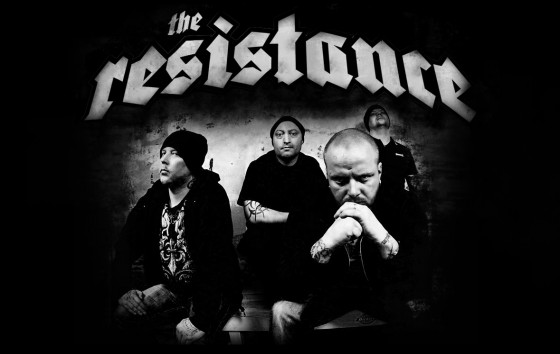 In celebration of the impending release of their Rise From Treason EP, Decibel Magazine offers up THE RESISTANCE's "Face To Face." Featuring within its ranks some of Sweden's most esteemed musicians, THE RESISTANCE includes In Flames' founder Jesper Strömblad on guitar alongside second guitarist Glenn Ljungström (ex-In Flames), vocalist Marco Aro (ex-The Haunted, Facedown) and drummer Chris Barkensjö (ex-Kaamos, ex-Repugnant).
Far from a "supergroup" or "side project," THE RESISTANCE is a veritable gang embracing the musical attitude and sounds of old-school Swedish death metal and the traditional "no compromise" values of hardcore. Sea Of Tranquility calls Rise From Treason "consistently hard, driving, aggressive, fast, and angry," while No Clean Singing adds: "crusty, d-beat influenced, old-school death metal with hardcore vocals and extremely headbangable rhythms. I like."
Rise From Treason will see North American release on January 29, 2013 via Armoury Records with a full-length to follow later this year.
In the meantime, check out "Face To Face" courtesy of Decibel Magazine at THIS LOCATION.
http://www.facebook.com/theresistanceswe
http://www.eaglerockent.com