Metal Injection is currently hosting a video for "The Grand Inquisitor II: Roots & Locusts," from German progressive metal/post hardcore enigmas, THE OCEAN. The song comes off the band's Anthropocentric full-length, released via Metal Blade last November. Anthropocentric is the sequel to Heliocentric (released in April of 2010). Together the records serve as a separately-issued double album, a mammoth conceptual effort that took almost two years to complete. From a lyrical and artistic point of view, the albums represent a fundamental and philosophical critique of Christianity.
Check out the killer video for "The Grand Inquisitor II: Roots & Locusts" HERE.
The band is currently making their way through North America on The Hypersleep Dialogues Trek, with headliners Between The Buried And Me, Job For A Cowboy and Cephalic Carnage on select dates. Presented by Peter Says Denim, in association with Guitar World & MetalSucks.net, The Hypersleep Dialogues Trek commenced on April 15th and has been ravaging ears from city-to-city every since.
THE OCEAN [remaining dates]
w/ Between The Buried And Me, Job For A Cowboy, Cephalic Carnage (*on select dates)
5/03/2011 Ace Of Clubs – Sacramento, CA *
5/04/2011 Slim's – San Francisco, CA *
5/05/2011 Glasshouse Music Hall – Pomona, CA *
5/06/2011 Soma – San Diego, CA *
5/07/2011 Nile Theatre – Mesa, AZ *
5/09/2011 The Door – Dallas, TX
5/10/2011 The Marquee – Tulsa, OK
5/11/2011 New Daisy Theatre – Memphis, TN
5/12/2011 The Masquerade – Atlanta, GA
5/13/2011 Rockettown – Nashville, TN
5/14/2011 The Orange Peel – Asheville, NC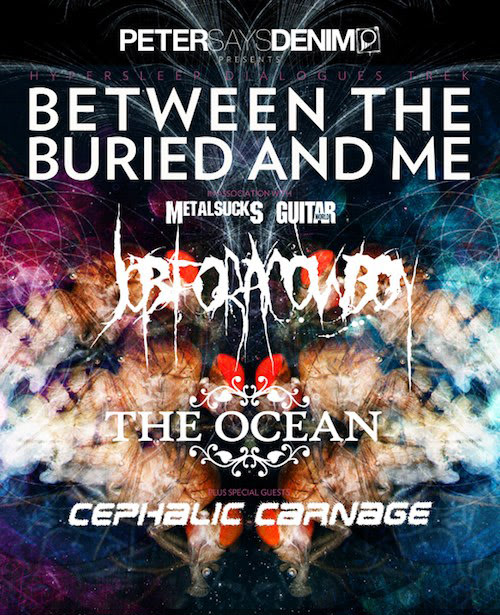 http://www.theoceancollective.com/heliocentric
http://www.metalblade.com/theocean
http://www.facebook.com/theoceancollective
http://www.myspace.com/theoceancollective
http://twitter.com/OceanCollective
http://www.youtube.com/theoceancollective
http://www.metalblade.com