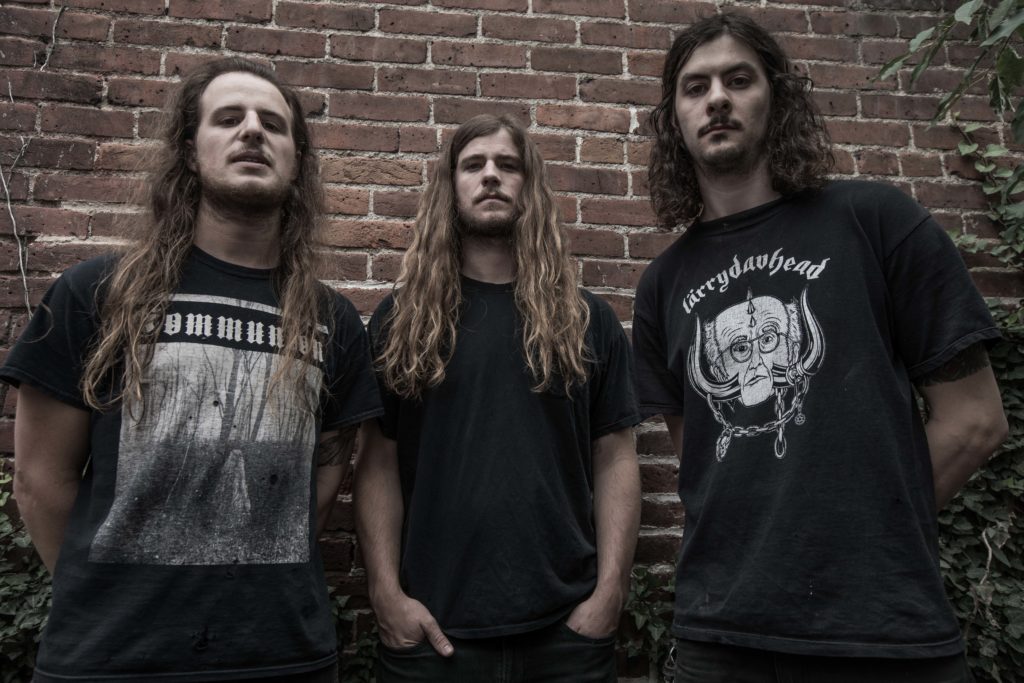 [photo by Underground Chuck]
Denver, Colorado-based THE MUNSENS will hit the road to perform at Psycho Las Vegas in the coming days. In conjunction with the festivities, the band has issued a single, "Dirge (For Those to Come)," which is pulled from their recently-completed new LP, Unhanded, which will see release this Fall.
THE MUNSENS make noise from a Colfax Avenue dungeon. Having carved out a place of their own in the much-lauded Denver metal scene, the band's debut full-length comes on the heels of a productive summer that included appearances at 71Grind IV, Austin Terror Fest, and Electric Funeral.
The band's impending Unhanded comprises five new tracks, running approximately forty minutes in length. It is the band's most caustic and critical release to date. "Though it's roughly the same running length as our last release, the Abbey Rose EP, we were able to put more time into the writing and recording of this one," issues the band. "For a number a reasons, this release feels like a much more comprehensive effort from us" says the band. Call it what you will."
Check out THE MUNSENS' crushing "Dirge (For Those to Come)" at YouTube RIGHT HERE, Spotify HERE, and Bandcamp HERE.
Recorded at Hoboken Recorders with Mike Moebius of Moonlight Mile Recording, who recorded the band's Weight of Night EP, and mastered by Dennis Pleckham (Comatose Studio), Unhanded is being finalized for release in the months ahead, with a release date and outlet to be announced.
THE MUNSENS will play their hometown this Monday, August 13th with Sourvein and Toke as a precursor for their performance at Psycho Las Vegas next week. The band plays Friday, August 17th alongside the likes of Witchcraft, High On Fire, Boris, Church Of Misery, Integrity, Rocket From The Crypt, and many others. A more extensive US tour will follow later this year; stand by for additional tour and album updates shortly.
THE MUNSENS Tour Dates:
8/13/2018 Streets of London Pub – Denver, CO w/ Sourvein, Toke
8/17/2018 Hard Rock Hotel & Casino – Las Vegas, NV @ Psycho Las Vegas
THE MUNSENS:
Michael Goodwin – bass/vocals
Shaun Goodwin – guitars/vocals
Graham Wesselhoff – drums
https://themunsensnj.bandcamp.com
https://www.facebook.com/themunsens
https://www.instagram.com/themunsens