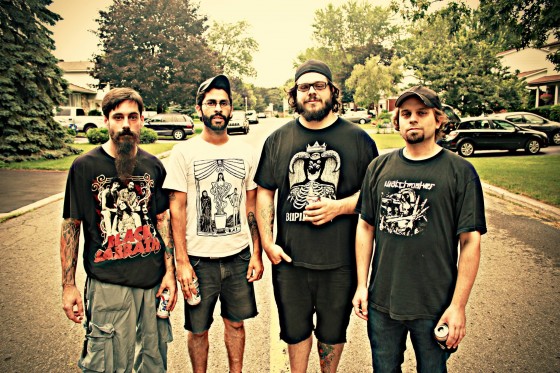 In just days, Dog Years, the third LP from Montreal's THE GREAT SABATINI will be officially released worldwide via French noise metal experts Solar Flare Records, and today the entire album has been unshackled by Decibel Magazine.
While virtually unavoidable influence from genre superheroes Unsane, the Melvins, The Jesus Lizard, Today Is The Day are evident within THE GREAT SABATINI's corrosive tones, the band tackles an endless array of approaches within the delivery of their well-honed and devastating hooks and vocal styles. The band's third proper full-length, Dog Years was recorded, mixed and mastered by Sean Pearson (Cursed, Shallow North Dakota), and boasts the band's raw, unpolished approach to capture n act with years of accumulated experience touring, writing and recording together. The aim was to create a hi-fi document with all of their lo-fi sensibilities, grit and live energy intact, and the results are astoundingly destructive.
Decibel Magazine's madcap internet void, The Deciblog, is now streaming all of Dog Years for your ears, alongside a painstaking interrogation of the band. Tune in and get your SABATINI on now AT THIS LOCATION.
Orders for the black and transparent red LP pressings in addition to CD and digital formats are available through Solar Flare Records HERE and via the band HERE.
THE GREAT SABATINI is currently out raking the continent's stones over the coals on the nearly three-week-long Dog Years North American tour. With several towns already soiled by the band's corrupted style, they invade Seattle this evening and then plod their way back across the Midwest, closing down with a hometown show on June 13th.
THE GREAT SABATINI Dog Years North American Tour [REMAINING DATES]:
5/29/2014 The Kraken – Seattle, WA
5/30/2014 The Know – Portland, OR w/ Rabbits, Drunk Dad
5/31/2014 Cafe Infoshop – Fresno, CA
6/01/2014 The Rogue Bar – Scottsdale, AZ
6/02/2014 Sister Bar – Albuquerque, NM
6/03/2014 BarBar – Denver, CO
6/04/2014 Burt's Tiki Lounge – Salt Lake City, UT
6/05/2014 Black Sparrow Tattoo Club – Billings, MT
6/06/2014 Dicken's – Calgary, AB
6/07/2014 The Mercury Café – Regina, SK
6/09/2014 Black Pirate's Pub – Thunder Bay, ON
6/10/2014 Moose Lodge – Sault Ste Marie, ON
6/11/2014 Café Dekuf – Ottawa, ON
6/13/2014 Turbo Haus – Montreal, QC
http://www.thegreatsabatini.com
http://thegreatsabatini.tumblr.com
http://solarflarerds.blogspot.com
http://facebook.com/solarflarerecords
http://solarflarerds.bigcartel.com