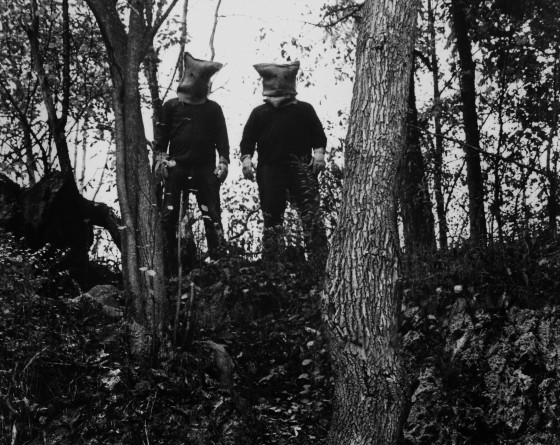 Master, We Perish, the newest vile EP from nomadic doom duo THE BODY, is available worldwide today via At A Loss.
Preaching three new anti-life messages, Master We Perish takes the distinctive style and matchless power of this earthmoving cult to its most corrosive and ominous yet. The EP's blackened bursts of noise-drenched, low-fi doom are fueled by percussionist Lee Buford's hypnotic, tribal rhythms, the melee infiltrated by guitarist/vocalist Chip King's penetrating vocal screech, recorded at Providence, Rhode Island-based Machines With Magnets (Battles, Daughters, Lightning Bolt, Chinese Stars). THE BODY also recruited Leslie Weitz (Otesanek), Chrissy Wolpert (Assembly Of Light Choir) and Reba Mitchell (Whore Paint) for vocal contributions throughout the torrid endeavor adding an array of eerie dynamics to the songs.
In praise of the arrival of Master, We Perish, the harrowing new video for the EP's closing track, "Worship," is now infiltrating the airwaves. As with the video for the EP's opening track "The Ebb And Flow Of Tides In A Sea Of Ash" — released earlier via Pitchfork HERE — the "Worship" visual recording was directed by Richard Rankin. Witness the coming of the end with the drawn-out tribal buildup as humans weep, fear, repent, and await the immense, mangled, feedback and effects-laden closing via Invisible Oranges AT THIS LOCATION.
Find Master, We Perish as a 12″ EP, CD, cassette and digital download on via At A Loss Recordings, the label responsible for the reissue of THE BODY's self-titled LP, their collaborative release with Braveyoung, and most notoriously, their revered and feared 2010-released All The Waters Of The Earth Turns To Blood.
THE BODY will be taking their terror door-to-door this Spring and Summer with an eleven-town cross-country trek now scheduled in the first half of May. June will see them handling two nights in Brooklyn with different opening lineups mid-month. At the end of June THE BODY will join Los Crudos, Iron Lung, Talk Is Poison and more at This Is Not a Step Fest in Berkeley, California, followed by a West Coast run with support from Subservient Fuck. Stay tuned, as more live excursions are being devised.
THE BODY Lives:
5/07/2013 Red Room – Boise, ID
5/08/2013 The Salt Haus – Salt Lake City, UT
5/10/2013 PUA Gallery – Kansas City, MO
5/11/2013 Gabe's Oasis – Iowa City, IA
5/12/2013 Bourbon Theatre – Lincoln, NE
5/13/2013 Eronel – Dubuque, IA
5/14/2013 Empty Bottle – Chicago, IL
5/15/2013 Now That's Class – Cleveland, OH
5/16/2013 Grindlab Skatepark – Harrisburg, PA
5/17/2013 Heaven's Gate – Philadelphia, PA
5/19/2013 Machines With Magnets – Pawtucket, RI
6/09/2013 The Acheron – Brooklyn, NY w/ Mutilation Rites, Geryon
6/10/2013 The Acheron – Brooklyn, NY w/ Sannhet, Theologian, Hasj
6/30/2013 This Is Not a Step Fest – Berkeley, CA
7/03/2013 Black Lodge – Seattle, WA w/ Subservient Fuck
7/04/2013 1234 Go Records – Oakland, CA w/ Subservient Fuck
7/05/2013 Bridgetown – La Puente, CA w/ Subservient Fuck
7/07/2013 Blood Orange – Riverside, CA w/ Subservient Fuck
7/08/2013 Che Café – San Diego, CA w/ Subservient Fuck
http://www.thebody.bigcartel.com
http://www.facebook.com/pages/the-body/334047229514
http://www.atalossrecordings.com
https://www.facebook.com/atalossrecordings