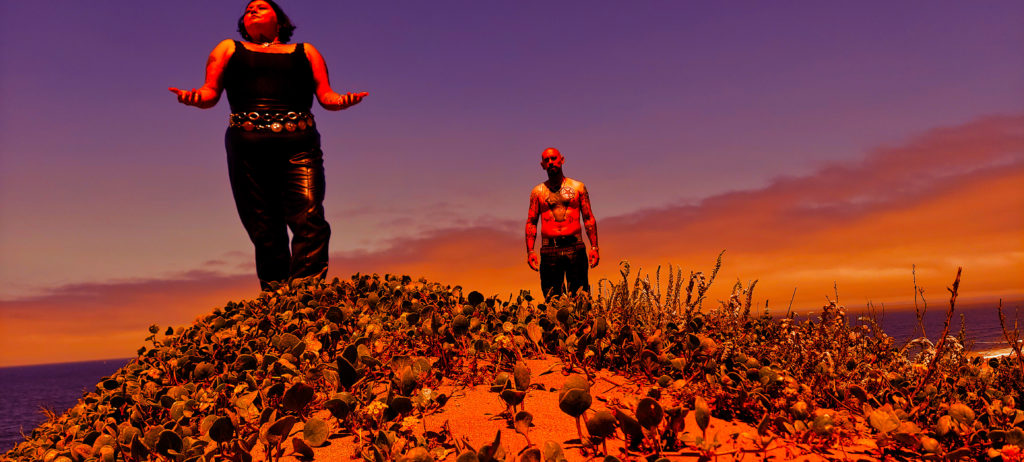 photos by S. Zamora
"…fans of classic occult rock like Coven, along with newer bands like The Oath, Lucifer, and Royal Thunder will enjoy the spooky and entrancing atmosphere created by THANGORODRIM." – Decibel Magazine
Today, San Jose, California-based occult rock collective THANGORODRIM unveils their spellbinding and epic debut album, Liberation In Unbound Chaos 666, out now through Nuclear Blast's digital subsidiary, Blood Blast Distribution.
THANGORODRIM delivers fire and fury with their unique blend of soulful, Satanic hymns, matched with an intoxicating, chaotic groove. The band aims to spread their Anti-Kosmic Chaos far and wide, channeling mysticism with a psychedelic edge. Drawing on influences such as legends Roky Ericson of The 13th Floor Elevators and Jon Nodtveidt of Dissection, this commanding collective demonstrates a sound, direction, and devotion unlike no other. The mission behind THANGORODRIM is to pay homage to the Devil and bring chaos back to rock n' roll. Prepare to witness the band's testimony and worship.
Liberation In Unbound Chaos 666 was engineered, mixed, and mastered by Ryan Perras, and completed with cover art created by Seventh Bell Artwork.
With the dawn of their maiden album's release upon us, THANGORODRIM declares, "Once again beyond music and time, once again pushing through this mundane existence, once again for the devil and the end of ends, once again chaos reigns supreme, now we have formed our satanic bond that transcends beyond time and space."
Channel the energy of THANGORODRIM's Liberation In Unbound Chaos 666 now at YouTube RIGHT HERE.
Liberation In Unbound Chaos 666 is out now on Nuclear Blast's digital subsidiary Blood Blast Distribution, streaming on all platforms including Bandcamp where a limited physical edition is available HERE. Also watch the "Through The Devil's Door" artwork video HERE and the "Thirst For The Bleeding Womb" visualizer HERE.
Watch for additional videos, live dates, and much more to be posted over the weeks ahead.
Having developed their sound naturally through the course of several independent releases – their eponymous debut EP in 2015, Soul Of Fire EP in 2016, and the "Time Is The Blood Of Death" single in 2017 – in 2018, THANGORODRIM signed an international management deal with New York based agency Extreme Management Group, joining iconic acts such as Suffocation, Cattle Decapitation, Misery Index, and Decrepit Birth on the agency roster.
In 2020, THANGORODRIM entered District Recording Studio in their hometown of San Jose to summon and create their maiden full-length release, Liberation In Unbound Chaos 666. With eleven spellbinding movements, the band delivers a massive record which beholds more than eighty-five minutes of "The Devil's Rock N Roll." The core members, bassist/guitarist S.K.B. and vocalist C.G. BloodCrown, were joined by drummer C. C. in the studio for the recording of Liberation In Unbound Chaos 666.
https://thangorodrim.bandcamp.com
https://www.facebook.com/ThangorodrimOfficial
https://www.instagram.com/thangorodrimofficial
https://www.youtube.com/c/ThangorodrimOfficial
http://www.bloodblast.com
http://www.facebook.com/BloodBlastDistribution
http://www.instagram.com/bloodblastdistribution