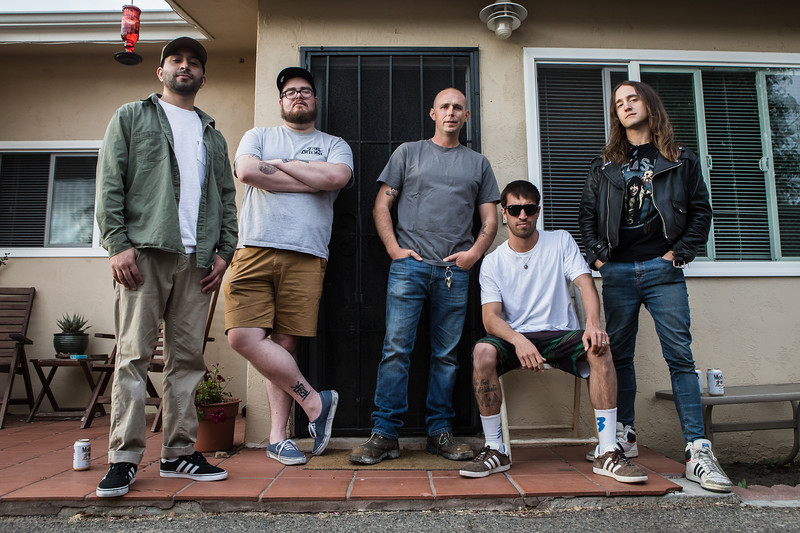 [photo by Veronika Reinert]
Chula Vista, California-based hardcore outfit TAKE OFFENSE will release their new EP, Tensions On High, through Flatspot Records next week, and Revolver Magazine is dishing out a dose of the record's bruising ways with a premiere of the track '"Just Because You Believe."
Drawing from Suicidal Tendencies, Agnostic Front, DRI, and the '80s hardcore visionaries who pioneered hardcore and metal's earliest experiments, TAKE OFFENSE pushes their sound to dizzying heights on Tensions On High, forging a sound that's as familiar as it is fresh. Tensions On High was recorded at Jet To Mars Studios by Nick Jett (Terror), mixed and mastered at Casa Sonido by Nick Jett, and finished with cover art by Gera Vega with layout and design by Jose Gonzales.
With their premiere of "Just Because You Believe," Revolver Magazine calls the track, "a deceptively complex ripper serving as Tensions On High's closing track. A Red Fang-Metallica hybrid clocking in at nearly five minutes long (an eternity by hardcore standards), it leavens the band's acrid, Agnostic Front-y chaos with sludgy textures and psychedelic flourishes, leaving us with one of the most dynamically nuanced pit-starters of recent memory."
Stream TAKE OFFENSE's "Just Because You Believe" RIGHT HERE.
Also hear the EP's "Trust" at No Echo HERE.
Flatspot Records will release Tensions On High on cassette and digital platforms next Friday, March 30th; find preorder options HERE.
Following several records through Reaper Records and others, TAKE OFFENSE returns with another dose of concrete solid, blazing metallic hardcore with Tensions On High. Established in 2004, TAKE OFFENSE could easily slide into the "established band" pattern of putting out a passable, if uninspired album every few years. Instead, spending the past five years touring, refining and dialing in the five new tracks on Tensions On High yields only the most prime, crucial outbursts the band has to offer.
TAKE OFFENSE will join Madball, Death Threat, Turnstile, Shark Attack, and many more at United Blood XII in Richmond, Virginia on April 6th and 7th. Upon their return to California, they'll tear through the state supporting Sheer Terror on four shows, playing April 12th through 15th in Pomona, Sacramento, San Francisco, and San Diego. May will see TAKE OFFENSE supporting Life Of Agony in San Diego on the 22nd. Two new shows have been confirmed for Europe in August, including a set at the massive Ieper Hardcore Fest with Converge, Ramallah, High On Fire, Death Threat, Conflict, and tons of others, as well as the Still Cold BBQ with Risk, Harm/Shelter, Scope, and more. Watch for additional new tour dates to be announced.
TAKE OFFENSE Tour Dates:
4/06-07/2018 The Canal Club – Richmond, VA @ United Blood XII w/ Madball, Death Threat
4/12/2018 Characters – Pomona, CA w/ Sheer Terror, Easy Money
4/13/2018 Den Of Sin – Sacramento, CA w/ Sheer Terror, Easy Money
4/14/2018 Thee Parkside – San Francisco, CA w/ Sheer Terror, Easy Money
4/15/2018 Space Bar – San Diego, CA w/ Sheer Terror, Easy Money
5/22/2018 Brick By Brick – San Diego, CA w/ Life Of Agony
8/10-12/2018 Ieper Hardcore Fest – Iper, BE w/ Converge, Ramallah, Death Threat, Conflict
8/12/2018 Kulturzentrum Faust – Hannover, DE @ Still Cold BBQ w/ Risk, Harm/Shelter, Scope
https://twitter.com/takeoffensecvhc
https://www.instagram.com/takeoffensecvhc
https://www.facebook.com/takeoffensecvhc
https://takeoffensecvhc.bandcamp.com
http://www.flatspotrecords.com
http://www.facebook.com/flatspotrecords
https://flatspotrecords.bandcamp.com