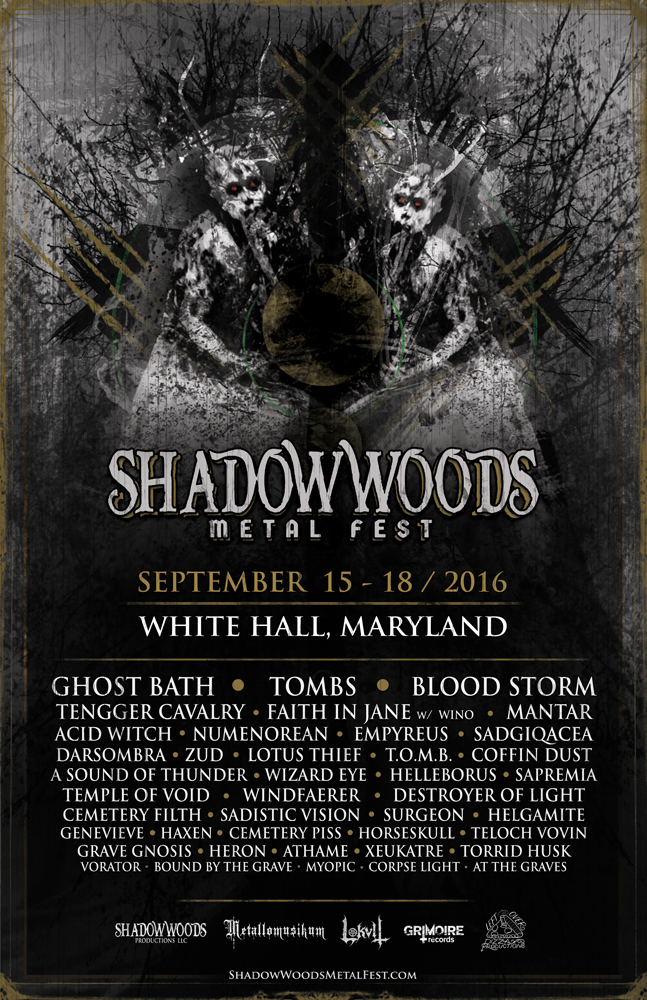 SHADOW WOODS METAL FEST, the Mid-Atlantic's only open-air camping metal party, announces several updates to this September's installment of the event, including the addition of Mantar and more.
Check out the new the new full-length trailer HERE and the condensed version HERE.
SHADOW WOODS METAL FEST has added German duo, Mantar, for a special appearance Thursday, September 15th. The pair joins the mysterious Ghost Bath, Canada's Numenoren, Baltimore's Darsombra and several others to kick-off the three-day event, which continues through the morning of Sunday, September 18th at Camp Hidden Valley, in White Hall, Maryland. Now in its second year, SHADOW WOODS METAL FEST will host forty-one metal bands, representing diverse subgenres, on three stages at the same charming Summer camp where the fest was held previously.
"Mantar, who will be on tour with Cobalt this fall, had a free day that Thursday that fit perfectly into the schedule," says festival organizer Mary Spiro of Metallomusikum.com / Shadow Woods Productions LLC. "Mantar blew everyone's mind at the 2015 Maryland Deathfest, and SHADOW WOODS METAL FEST is extremely excited and deeply honored to have them help launch our second party in the woods."
The entire festival lineup is stacked. Friday night headliners include Brooklyn's post black metal pillagers Tombs, Mongolian folk metal warriors Tengger Cavalry, Detroit's horror-death conjurers Acid Witch, and a special reunion performance from Philly's blackened doom two-piece Sadgiqacea. On Saturday, black-thrash alchemists Blood Storm, Chicago's mystic black metal kings Empyreus, and Maryland's doom metal godfather Scott "Wino" Weinrich and friends from Faith In Jane will headline Saturday night. The fest will close that night with the return of Maine's black metal-blues shredders, Zud.
This year's SHADOW WOODS METAL FEST lineup also boasts several acts that have never performed on the East Coast, such as the blackened space-rock pair Lotus Thief from San Francisco, which features Otrebor of Botanist on drums, and Colorado's Helleborus, powered by the Houseman brothers (Akhenaten; ex-Execration), who specializes in psychedelic black metal tinged with sexual mysticism. The complete lineup (listed below) surpasses the ferocity of the fest's inaugural installment in both diversity and scope of metal styles.
Grimoire Records, the Baltimore-based hybrid recording and distribution label founded in February 2013, has become a co-producer with Shadow Woods Productions, LLC, and has several bands featured throughout the weekend, including Corpse Light, Genevieve, Myopic, and Torrid Husk. Promotional help comes from partners in Lokvlt Productions out of Philadelphia, Pennsylvania and Leftover Pizza Productions from Frederick, Maryland, as well as Washington, DC area metal hype-machine LCnK Promotions and online metal blog Metal Junkie Zine.
Attendees will be able to munch of a plethora of food choices throughout the weekend including the return of the high octane Zeke's Coffee, vegan selections from Headbangin' Hotdogs, gourmet snacks from Baltimore's Clementine, and more traditional fair foods from Funtastic Foods and Pond View Pit Beef. Along with sponsors Grimoire Records, vendors so far this year featured in the Hall Stage building include Runk the Skunk Jewelry, FTG Illustrations, Barnacle Bones Bindery, FiberParty KnitWorks, Mount Vernon Body Art and a variety of other music and arts producers. Yoga sessions will again be held every morning for those willing to brave a downward dog with a hangover and other workshops TBA have also been planned. The fest is BYOB and is 21 and up only.
Weekend Passes for SHADOW WOODS METAL FEST are available for $130 at BrownPaperTickets.com.
Tent camping is included with the weekend pass. People who want to reserve cabin beds can do so for an additional $20 for the duration of the fest. Only 400 weekend passes will be available and about one-third have sold so far. A limited number of day passes will go on sale in August.
SHADOW WOODS METAL FEST 2016 Complete Lineup:
A SOUND OF THUNDER (DC) **traditional old-school heavy metal
ATHAME (MD/WV) **black
AT THE GRAVES (MD) **solo doom-sludge
ACID WITCH (Detroit) **horror death
BLOOD STORM (PA/TX) **black thrash
BOUND BY THE GRAVE (Baltimore) *death
CEMETERY FILTH (TN) ** death
CEMETERY PISS (Baltimore) **black
COFFIN DUST (Philadelphia) **death
CORPSE LIGHT (Baltimore) *doom
DARSOMBRA (MD) **psychedelic drone
DESTROYER OF LIGHT (Austin, TX) **sludge
EMPYREUS (Chicago) **black
FAITH IN JANE featuring WINO (MD) ** doom trio joined by the godfather of the sound
GENEVIEVE (MD) **experimental black
GHOST BATH (ND) **suicidal depressive black
GRAVE GNOSIS (St. Petersburg, FL) **black
HAXEN (Rhode Island) **black
HELGAMITE (VA) **doom/stoner/sludge
HELLEBORUS (Manitou Springs, CO) **black
HERON (NC) **black
HORSESKULL (NC) **sludge/doom
LOTUS THIEF (CA) **blackened space rock
MANTAR (GERMANY)**power sludge
MYOPIC (DC) **death/doom
NUMENOREAN (Calgary, AB) **post-black
SADGIQACEA (Philadelphia) **doom/sludge/black
SADISTIC VISION (PA/NC) **death
SAPREMIA (New Jersey) **death
SURGEON (Philadelphia) **progressive
TELOCH VOVIN (NY) **black
TEMPLE OF VOID (Detroit) **doom
TENGGER CAVALRY (NY/CHINA) ** Mongolian folk
T.O.M.B. (Philadelphia) **ritual noise
TOMBS (Brooklyn) ** black/post-metal
TORRID HUSK (WV) **depressive/melodic black
VORATOR (VA)**death thrash
WINDFAERER (NJ) ** Iberian folk metal
WIZARD EYE (PA) **doom
XEUKATRE (Baltimore) **black
ZUD (Maine) ** black
What some of the metal press had to say about the 2015 SHADOW WOODS METAL FEST:
"The atmosphere of SHADOW WOODS cannot be undersold, as the stages ranged from a small club-like inside stage, to a large field venue where space was a premium, to the near-occult-like amphitheater that lay down a trail surrounded by trees." – No Clean Singing
"For a first metal camping experience, I couldn't have asked for a more rewarding environment. The organization of the event was top-notch, the facilities were apropos, and I made so many new friends I'm still trying to process it all." – Metal Junkie Zine
"It is at gatherings like these where real magick is bound to happen. And happen it did – not only among attendees, but on the three masterfully crafted stages and within every square inch of the camp. Metal heads and musicians sat by firesides, stood stoically, stumbled down paths after dark and stirred up pits together. There were those who consorted by the cabins, others who hopped among the many tents scattered around the perimeter or tucked away in the surrounding forest. To my knowledge, not a single unfortunate event occurred throughout the weekend. Not one fight, not one mishap, not one unpleasant incident. From what I was able to gather and observe, everyone there had an incredible time." – The Metal Maiden
"People traveled from as far away as Maine, Texas, the Florida Keys, and Ontario to have a good time and listen to dozens of bands they may not get a chance to see. Some firsts happened at the festival including the blackened thrash band Midnight playing the longest set of their career and the appearance of the black metal band, Wormreich, the first since their accident in April." – National Rock Review
http://www.shadowwoodsmetalfest.com
http://www.facebook.com/shadowwoodsmetalfest