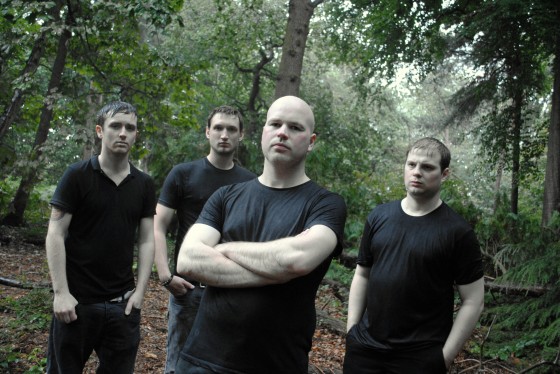 Candlelight Records today announces the next album in its Cult Series. The Giants of Auld from Scotland's CNOC AN TURSA will see North American release on March 26th. It's the debut release from the Pagan metal band and adds to the label's growing developmental artist series. The Giants of Auld, already released in Europe, was produced by Chris Fielding (Primordial, Electric Wizard, Napalm Death).
Chock full of intense, epic ballads that draw inspiration from old Scottish poetry, The Giants of Auld was recorded at Foel Studios in Wales. Early media has praised the record with Heathen Harvest calling it, "A potent mixture of black metal riffage and rousing, epic atmosphere." Ave Noctum says, "Candlelight have picked a Pagan/folk metal gem… a highly melodic but driving sound that should be on the shopping list of any fan of pagan or folk metal," while No Clean Singing adds, "put this album on your radar screen."
Falkirk-based CNOC AN TURSA was formed in 2006 by vocalist/guitarist Alan Buchan and guitarist/keyboardist Rene Hill. With the later addition of bassist David Anderson and drummer Bryan Hamilton, the band caught the ear of Winterfylleth/Lone Vigil Recordings founder Chris Naughton after the release of a single demo recorded and released by the band in 2008. Discussing the rise of Isle bands with Decibel Magazine last November, Naughton noted, "When we spoke a few years ago, we were talking about a scene in its relative infancy; one that was starting to bring through some great bands with strong ideas. We are now a few years down the line and starting to see bands like A Forest of Stars and Wodensthrone flourish. If anything I would say now is the time all the British bands are starting to hit their stride and bring their music to the world in a way they have never been able to before. There is a great undercurrent of bands like CNOC AN TURSA, Fyrdsman and Nine Covens coming through that represent a scene that is bearing some real fruit."
CNOC AN TURSA has toured alongside Taake, Winterfylleth, and Wodensthrone to date. Sample the album's fourth track "Hail Land of My Fathers," on Candlelight Records' free Cult Series Winter sampler at THIS LOCATION.
The Giants of Auld Track Listing:
1. The Piper O'Dundee
2. The Lion of Scotland
3. Bannockburn
4. Hail Land of My Fathers
5. Ettrick Forest in November
6. The Spellbound Knight
7. In Shadowland
8. Winter-A Dirge
9. Culloden Moor
10. Blar na h-Eaglaise Brice
Other artists available now via Candlelight's Cult Series include: Wodensthrone (Curse), Khors (Wisdom of Centuries), Kontinuum (Earth Blood Magic), Nine Covens (On the Dawning of Light), Reverence (The Asthetic Ascension), and Zatokrev (The Bat The Wheel and a Long Road to Nowhere).
Upcoming Candlelight Cult releases include: Nonexistence/Antartica (out June 4), Voices/From The Human Forest Create A Fuge Of Imaginary Rain (out June 4), Crown/Psychurgy (out June 11), and Shade Empire/Divine Codex (out June 11).
https://www.facebook.com/cnocantursa
http:/www.candlelightrecordsusa.com
https://www.facebook.com/CandlelightRecordsUSA