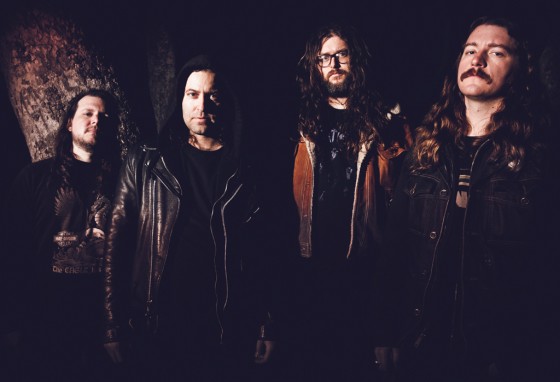 With four full-lengths and seven EPs to their name over and having played in an astounding twenty-one countries, Oakland, California-based metal unit, SAVIOURS, continues to forge ahead with their towering riffs, colossal rhythms, infectious guitar harmonies and an obsession with the end of times, the occult, psychedelics and the arcane. Still building upon the foundation that Black Sabbath, Iron Maiden, Thin Lizzy and Motörhead laid, SAVIOURS opens a new chapter in their winding career with a partnership with French label Listenable Records who will release the band's new album this Fall.
Said SAVIOURS in a collective statement: "We're very happy to finally announce our deal with Listenable. They're true supporters of what we do and have been a pleasure to work with thus far. Since last June we've been beating the new songs into submission and now it's really starting to take shape and sound killer. There are some doomy crushers and faster ragers in the mix so it's sounding like a natural and logical continuation of where we left off with Death's Procession. In March we'll play some West Coast shows then begin recording at Type Foundry in Portland with the inimitable Billy Anderson. Can't wait to get this new record out, it's been too fucking long!"
Further SAVIOURS news updates to be transmitted in the weeks to come. Stand by.
SAVIOURS:
Austin Barber – guitar, vocals
Sonny Reinhardt – guitar, vocals
Scott Batiste – drums
Andy Anderson – bass
"A dual-guitar riff-fest inspired by NWOBHM and '70s proto-doom." –Revolver
"You know you're playing a good set when your music not only commands the attention of the likes of J Mascis and Matt Pike, but you're sounding so tight that it compels the two guitar greats to air shred like a couple of Maiden fans circa 1980." – Decibel
http://ww.facebook.com/pages/Saviours/142771603462
http://www.killforsaviours.blogspot.com
http://www.saviours.bandcamp.com
http://www.facebook.com/listenablerecs?fref=ts
http://www.listenable.net
=