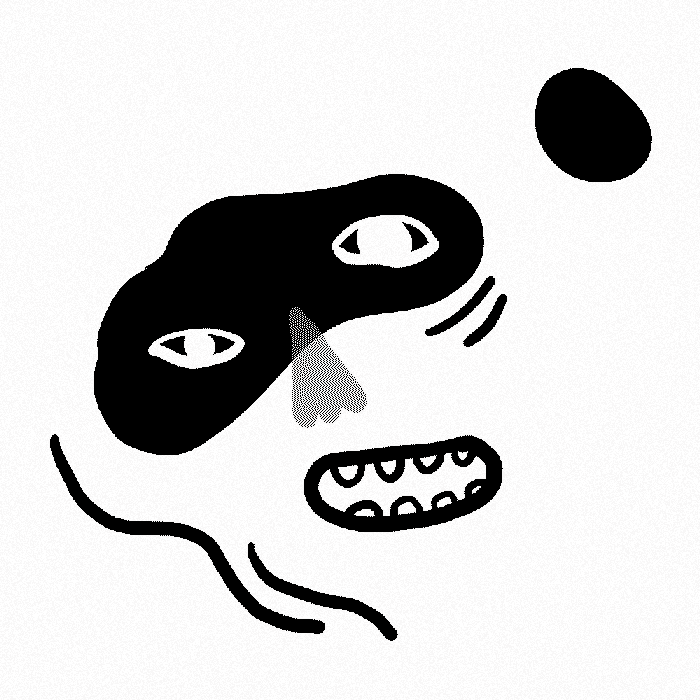 IN THE COMPANY OF SERPENTS: Denver Doom Duo To Release Ain-Soph Aur; Video Teaser Posted – Denver doom duo IN THE COMPANY OF SERPENTS will release their long-awaited new studio offering this March. Titled Ain-Soph Aur, the entrancing six-track recording was captured last year at Flatline Audio in their home city by Dave Otero (Cattle Decapitation, Khemmis, Cephalic Carnage). Ain-Soph Aur takes its name from the three veils of negative existence which precede the manifestation of the material universe in the philosophy of Hermetic Qabalah, a Western esoteric tradition involving mysticism and the occult. [MORE…]
SYK: No Clean Singing Premieres "Fong" Video From Italian Avant Extreme Metal Collective; I-Optikon Out Now On Housecore – "…a trip through the empty, shattered halls of someone's emotional insane asylum. It's kind of like a soundtrack to a really good Dario Argento film; it's music to swallow glass by." – Skulls 'N' Bones Italian avant extreme metal collective SYK unleashed their maniacal I-Optikon full-length via Housecore Records last month. In commemoration of its release, today No Clean Singing hosts the video companion to "Fong." [MORE…]
SO THIS IS SUFFERING: Revolver Premieres New Video From Technical Death Metal Legion; Palace Of The Pessimist Preorders Available – Palace Of The Pessimist is the impending new full-length from California technical death metal unit and recent Unique Leader signees SO THIS IS SUFFERING. Set for a February 24th unveiling, the ten-track offering was captured at Interlace Audio and features artwork by Chris Panatier (Dopelord, Totem Skim). In advance of its release, today Revolver Magazine is pleased to reveal the visual companion to fifth album cut, "Columbine." [MORE…]
MOLOCH: Argento Records To Release Remastered Vinyl Version Of Verwüstung Album In February – Argento Records is aligning several new titles for release early this year, beginning with a remastered vinyl version of the out-of-print Verwüstung album by Ukrainian black metal horde, MOLOCH.
Birthed in 2002 as solo act of Carpathian artist Sergiy Fjordsson (Psilocybe City Life, Saturn Form Essence, Silver Sphere Moon), MOLOCH delivers cold, misanthropic, and desolate mid-tempo black metal, influenced by second wave artists like Burzum and early Darkthrone. Amidst the relentless torrent of demos, EPs, splits, albums, and other recordings over the past thirteen years, Verwüstung – German for "devastation" – is arguably the most belligerent and riff-powered chapter of Moloch's prolific discography. The collection of eleven raw and stripped-down songs shows minimalistic aggression, enriched by few synth driven, meditative, ambient passages, with Fjordsson handling all instruments except drums, which were executed by session member Gionata Potenti (Acherontas, Ad Hominem, Darvaza, Deathrow, Fides Inversa, ex-Glorior Belli, ex-Krieg). [MORE…]
ROZAMOV Issues Artwork And Trailer For This Mortal Road Album Due In March Through Battleground Records And Dullest Records; Preorders Posted – Boston-based ROZAMOV has issued the details and a brief trailer for their upcoming debut full-length, This Mortal Road, which is set for co-release through Battleground Records and Dullest Records in March. With five monolithic passages consuming over forty minutes of textured, melody-laced doom metal, This Mortal Road presents a sonic catharsis featuring the longest, heaviest, and most progressive tracks ROZAMOV has ever created. The crushing production was recorded and mixed by Jon Taft at New Alliance Audio, and mastered by Nick Z at New Alliance East Mastering, the album finalized with photography by Andrew Weiss and layout by Matt Martinez. The cover art, track listing, and a brief trailer for This Mortal Road, featuring a clip of audio, have been issued. [MORE…]
XIBALBA To Issue EP Through Closed Casket Activities; Track Playing At Clrvynt + Preorders And Tour Dates Announced – Pomona, California's XIBALBA will unleash their latest set of recordings in the form of Diablo, Con Amor… Adios, a new three-song EP set for release in February through Closed Casket Activities, with a new track now playing at Clrvynt. One year since the release of their Southern Lord-released Tierra Y Libertad LP, XIBALBA returns with three monstrous new acts of vengeance on Diablo, Con Amor… Adios, the EP delivering the gritty, downtuned, metallic hardcore grooves the band's followers have come to expect from the quintet over the past seven years. As with their prior titles, Diablo, Con Amor… Adios was recorded at The Pit Recording Studio with longtime cohort Taylor Young (Nails, Twitching Tongues, Disgrace) and mastered by Brad Boatright at Audiosiege (Integrity, Nails, Harm's Way), XIBABLA also once again secured artwork from Dan Seagrave (Dismember, Entombed, Suffocation) to visually depict the wrath of these three relentless tracks. [MORE…]
WOE: Black Metal Unit To Unveil Hope Attrition Via Vendetta Records; New Track Posted + Festival Dates Announced – US black metal legion, WOE will release their long-awaited new full-length this March via their new label home of Vendetta Records. Titled Hope Attrition, the alarming seven-track offering, and first in four years, was penned throughout the end of 2015 and most of 2016. Featuring founding guitarist/vocalist Chris Grigg alongside a monster lineup of longtime contributing bassist Grzesiek Czapla, guitarist Matt Mewton, and drummer Lev Weinstein, Hope Attrition is a dark, mournful work that draws from WOE's darkest black metal influences while drawing out dormant death metal undertones, bolstered by the crushing production of renowned engineer Stephen DeAcutis (Evoken, Dim Mak) at Sound Spa Studios in Edison, New Jersey. Hope Attrition is a personal commentary on the chaos of the modern world that only WOE can offer. [MORE…]
POWER TRIP Unveils "Executioner's Tax (Swing Of The Axe)" And Extends North American Tour; Nightmare Logic Preorders Posted – POWER TRIP strikes again with the second single from their upcoming Nightmare Logic LP, "Executioner's Tax (Swing Of The Axe)," as additional tour dates and preorders for the album are issued. Lyricist/vocalist Riley Gale explains that "Executioner's Tax (Swing Of The Axe)" was written in relation to, "Christian European countries where it was common for the person sentenced to death to have a chance to repent. If they did, they were given a bag of coins, silver or alike. For if they were particularly vile or the executioner felt lazy, it may take more than one swing of that axe to get that person's head off and that kind of death is certainly one you'd want to be as painless as possible. Hence, the Executioner's Tax to ensure a strong, lights-out kind of death. It's more subtly an allegory about that being the motive for a lot of people these days and how the people that feed and heal us (The Executioner and The Priest). They love to get us addicted, fat, sick – so they can feed us, medicate us and nearly quite literally kill many of us. We pay for pleasure of making it taste good or being numb to it all. We are all slowly paying our way out and our lives are built around the Executioner's Tax – hopefully going out quick and easy. We subconsciously crave for our end, a spoiled one." [MORE…]
KHEMMIS Confirmed To Support Oathbreaker On Spring US Tour – Following a trio of sold-out headlining shows – one in their hometown of Denver, followed by one-off shows in Chicago and New York – KHEMMIS has been confirmed to provide direct support for Oathbreaker on their upcoming US Spring tour. The newly-announced tour will see KHEMMIS delivering their epic, classic doom/metal to audiences across the western half of the country with Oathbreaker for twelve days. The first show takes place in Mesa on March 26th, the tour then winding through San Diego, Los Angeles, San Francisco, Portland, Seattle, Boise, Salt Lake City, Denver, Kansas, Chicago, and ends in Detroit on April 6th. [MORE…]
BILL & PHIL: Decibel Streams Songs Of Darkness And Despair From Project Uniting Horror Icon Bill Moseley And Metal Legend Philip H. Anselmo; Record Drops This Week Via Housecore – "In a world where weirdness is the norm, this will certainly be one of the strangest releases in 2017, but it may also prove to be one of the best. It has a dark, heavy rock vibe alongside an occult melancholy that allows for five tracks of varying structure, dark humor, and atmosphere that consistently challenges and thrills." – Maximum Volume Music
This week marks the official release of BILL & PHIL's Songs Of Darkness And Despair, the collaborative release between horror icon Bill Moseley – most notable as Chop Top in Texas Chainsaw Massacre 2, and Otis in Rob Zombie's House Of 1000 Corpses and Devil's Rejects – and extreme music legend Philip H. Anselmo (Down, Pantera, Superjoint, Scour, Philip H. Anselmo & The Illegals, Arson Anthem etc.). [MORE…]
FULL SCALE RIOT Issues "Rising Tide" Lyric Video Via Idioteq – New Jersey/New York-based socio-political hardcore punk outfit, FULL SCALE RIOT, has just released a new lyric video for the track "Rising Tide," which hails from their Eulogy Recordings-released debut album, empower. Recorded to 2″ tape at Trax East Recording Studio (Misfits, Turmoil, Hatebreed), engineered and co-produced by Eric Rachel with assistance from Eric Kovortec, FULL SCALE RIOT's empower features a widespread network of guest vocalists, including Jimmy Gestapo (Murphy's Law), rapper Chris Rivers (son of the late great rapper Big Pun), and Tsarina Romanoff, and guest guitar contributions from Marc Rizzo (Soulfly, Misfits), and blues/rock/reggae/soul singer/multi-instrumentalist and activist Ben Harper. [MORE…]
DIE CHOKING To Play Three 1Fest Events With ACxDC, Cloud Rat, And More; Artwork Feature Running At Heavy Blog Is Heavy – Philadelphia hypergrind trio DIE CHOKING does not remain stationary for long, proving it once again as the band prepares to play a trio of 1Fest shows taking place across the Northeast next weekend. Additionally, Heavy Blog Is Heavy has issued an in-depth feature on DIE CHOKING's intense graphics. The piece includes an interview with the entire band highlighting their dense, socio-political lyrical landscapes and deep-rooted beliefs that fuel their content and concepts, and how it's all delivered visually through the talents of guitarist and graphic artist Jeffrey V. Daniels. [MORE…]
Latest Installment Of CVLT Nation's Compilation Series Now Playing With BLACK SABBATH's Self-Titled Debut – CVLT Nation is proud to present the next in their series of underground classic compilations with BLACK SABBATH's legendary and timeless self-titled debut album, released nearly 47 years ago. For their latest collection, the esteemed blog has enlisted eight of underground doom's finest to bring a fresh take on BLACK SABBATH's iconic sound: Beastmaker, CHRCH, Jupiterian, Mindkult, Witchthroat Serpent, Frown, Trapped Within Burning Machinery, and Space Bong all kill it on this comp! [MORE…]
BLACK ANVIL Kick Off North American Tour With Mayhem And Inquisition – New York City's BLACK ANVIL kicked off their North America tour supporting black metal legends Mayhem and Inquisition. The trek will march its way through over two dozen cities,coming to a close on February 19th on their home turf. [MORE…]
FEN: Atmospheric Black Metallers Reveal Details Of Upcoming Fifth Full-Length Album Set For Release Via Code666 This March – Atmospheric black metallers FEN have announced details of their fifth full-length album, set to see release via Aural Music imprint Code666 on March 10th. Titled Winter, the six-track production was captured by Jaime Gomez Arellano at the Orgone Studios in London (Ulver, Altar Of Plagues, Grave Miasma, Primordial, Solstafir) and stands among the band's most enticing piece of work yet for the English three-piece; rich in sound, beguilingly delicate, and shrouded in darkness. [MORE…]
DYING WHALE: Georgia Punk/Hardcore Trio Unloads New Track From Nefarious Industries-Bound Last Moments Of Misery Via IDIOTEQ – Georgia's DYING WHALE has issued a new single from their Nefarious Industries-bound Last Moments Of Misery album, releasing "The Cloud I Hold" through IDIOTEQ webzine. Unifying elements of metal, sludge, and hardcore with ferociously raw emotional delivery, DYING WHALE's Last Moments Of Misery molds the listening experience and will leave you breathless. Thematically, the record revolves around the dark periods in our lives, and the idea of not having a place in this world or a home in the afterlife has fueled the storyline. [MORE…]
CONDEMNED: San Diego Brutal Death Metalists To Release His Divine Shadow Via Unique Leader This March; New Track Streaming – San Diego brutal death metalists CONDEMNED make their long-awaited return with their third full-length His Divine Shadow. Set for worldwide release via Unique Leader Records on March 10th, CONDEMNED's latest endeavor was recorded and edited by producer John Haddad (Abysmal Dawn, Phobia, Intronaut etc.) at Trench Studios in Santa Ana, California, mixed by Art Paiz at Mana Recording in St. Petersburg, Florida and mastered by Alan Douches (Cannibal Corpse, Converge, Black Breath, Mastodon etc.) at West West Side Music in New Windsor, New York. His Divine Shadow comes swathed in the cover art of Swedish artist and designer Par Olofsson (Deeds Of Flesh, Cult Of Luna, Immortal, Immolation etc.), with album logo art by the lord of logos, Christophe Szpajdel (Emperor, Moonspell, Old Man's Child etc.). [MORE…]
NECROT: Old-School Death Metal Merchants Announce February Tour With Phrenelith; New Record Underway – Oakland-based old-school death metal merchants NECROT will return to the road next month on a two-week tour alongside Danish death dealers Phrenelith. The US/Canadian West Coast journey will commence on February 3rd in Los Angeles, California and run through February 18th in Oakland, California, where they will support Marduk and Incantation, with an included stop at Famine Fest in Portland, Oregon. [MORE…]
SCREAM: Legendary DC Hardcore Punk Outfit Issues New Trump Protest Video, "Politics Is Entertainment," As Southern Lord Confirms Reissue Of No More Censorship LP – As a massive shift in power takes place in the US this week, the members of influential Washington, DC-based hardcore/punk outfit SCREAM have issued a brand new video for a previously-unreleased protest track, "Politics Is Entertainment." This comes as Southern Lord the impending remixed reissue of the band's No More Censorship LP. [MORE…]
EYEHATEGOD: IX Lives IX Lives For The Sick Benefit Update – Day-To-Day Lineup Posted – EYEHATEGOD frontman Mike IX Williams successfully underwent a liver transplant last month and is currently on the slow road to recovery. To help with his mounting medical expenses, several benefit shows are being organized, the first of which will run from February 3rd through the 5th in Williams' hometown of New Orleans. The three-day, festival-styled event will take place at Siberia and Poor Boys venues and includes appearances by Eyehategod, Crowbar, Goatwhore, Thou, Classhole, Mountain Of Wizard, and many more acts bound together for the cause. [MORE…]
EARSPLIT DISTRO: Be sure to raid EARSPLIT DISTRO for all titles from The Compound Recs including CLASSHOLE (featuring members of Eyehategod, Mountain Of Wizard, haarp, and more), DIE CHOKING, LAE (featuring Steve Austin from Today Is The Day), GRIDFAILURE, GODHUNTER, and more, in addition to hundreds of imported/distributed titles from Selfmadegod Records, Supernatural Cat, 20 Buck Spin, Indisciplinarian, Exile On Mainstream, and many others. [GO HERE]
Contact liz@earsplitcompound.com, dave@earsplitcompound.com or pr@earsplitcompound.com for interviews with the above artists, or bands listed below with current and/or pending tour dates; keep up to date on all Earsplit-related tour offensives at our Live Actions page HERE.
ABNORMALITY – ALL PIGS MUST DIE – ALLEGAEON – AMON AMARTH – ARTIFICIAL BRAIN – BLACK ANVIL – BRUCE LAMONT – CATTLE DECAPITATION – CANDIRIA – CHILD BITE – CLASSHOLE – CLITERATI – COGNITIVE – THE CRAZY WORLD OF ARTHUR BROWN – DIE CHOKING – THE DRIP – DYING WHALE – DYSRHYTHMIA – ENDORPHINS LOST – ETERNAL SLEEP – EYEHATEGOD: IX LIVES IX LIVES FOR THE SICK BENEFIT – GATECREEPER – GOATWHORE – GUST – GUST – HARM'S WAY – HE WHOSE OX IS GORED – IN THE COMPANY OF SERPENTS – KHEMMIS – LÃ…NGFINGER – MARTYRDÖD – MAYHEM – MIRRORS FOR PSYCHIC WARFARE – MOTHER FEATHER – MOUNTAIN OF WIZARD – NEUROSIS – NO LIGHT – POWER TRIP – POWER TRIP – PSALM ZERO – PSYCHO LAS VEGAS – REALITY SLAP – RIVERS OF NIHIL – ROZAMOV – SLEEP – SO THIS IS SUFFERING – SUNN O))) – SUPERJOINT – TELOCH VOVIN – THE OMNIOUS CIRCLE – THIS WILL DESTROY YOU – TOMBS – VARAHA – WAILIN STORMS – WHITECHAPEL – WOE – WOLVES IN THE THRONE ROOM – YOB
http://www.earsplitcompound.com
http://www.facebook.com/earsplitpr
http://www.twitter.com/EarsplitPR
http://www.soundcloud.com/earsplit
http://www.instagram.com/earsplitpr
http://www.earsplitdistro.com
http://www.thecompoundrecs.com
http://www.facebook.com/thecompoundrecs
http://www.thecompound.bandcamp.com