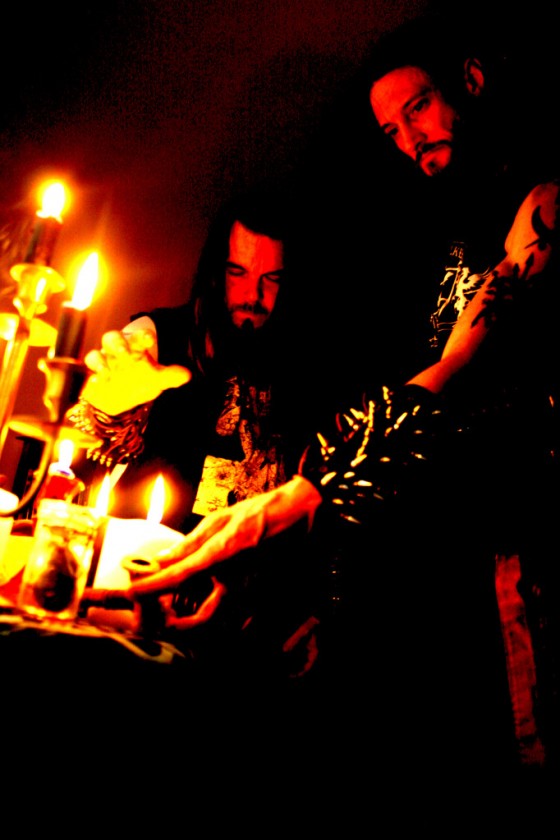 Initially unveiled via Cvlt Nation in the Fall, today Decibelmagazine.com is streaming For His Satanic Majesty's Glory, the latest long player from Indiana black metal miscreants PTAHIL, in its entirety. Already released in North America on November 14, 2011, the record will make its European debut on January 16, 2012 via Wraith Productions.
Sit back and summon the forces of darkness at THIS LOCATION. (You'll also get the added bonus of learning some interesting background behind the band's mysterious name).

For His Satanic Majesty's Glory is an imposing assault of Satanic doom/punk/black metal on the senses, composed and recorded in complete adversarial ritual.
"This ranks right up there with the new Absu as one of the best occult metal albums of the year!" — Wormwood Chronicles
"This will scar you mentally as well as aurally…. this gives you those moments of when Black metal was new and a very hidden art form on the world. Well done, PTAHIL." — AZM
"These two creatures of the dark universe have conjured up nine songs that will sting you like the lash of the whip of your underworld master." – Cvlt Nation
"PTAHIL appreciate how to disturb the listener to good effect." – Alternative Matter
"…be prepared for a violently blissful ascension toward their goal of annihilation." – Forbidden
"Lightly melodic black metal which from time to time is reminiscent of Watain…The more you listen to the album the more captivating and stronger it becomes… PTAHIL is a band to keep an eye on." – Lords of Metal
"…if you like your metal dirty, with a punk attitude and aesthetic that often shifts into more traditional metal leanings, and are gung-ho for some "hail satan!" shenanigans, then this record is probably going to satisfy you…" – Music Emissions
http://www.myspace.com/ptahil
http://www.wraithproductions.net