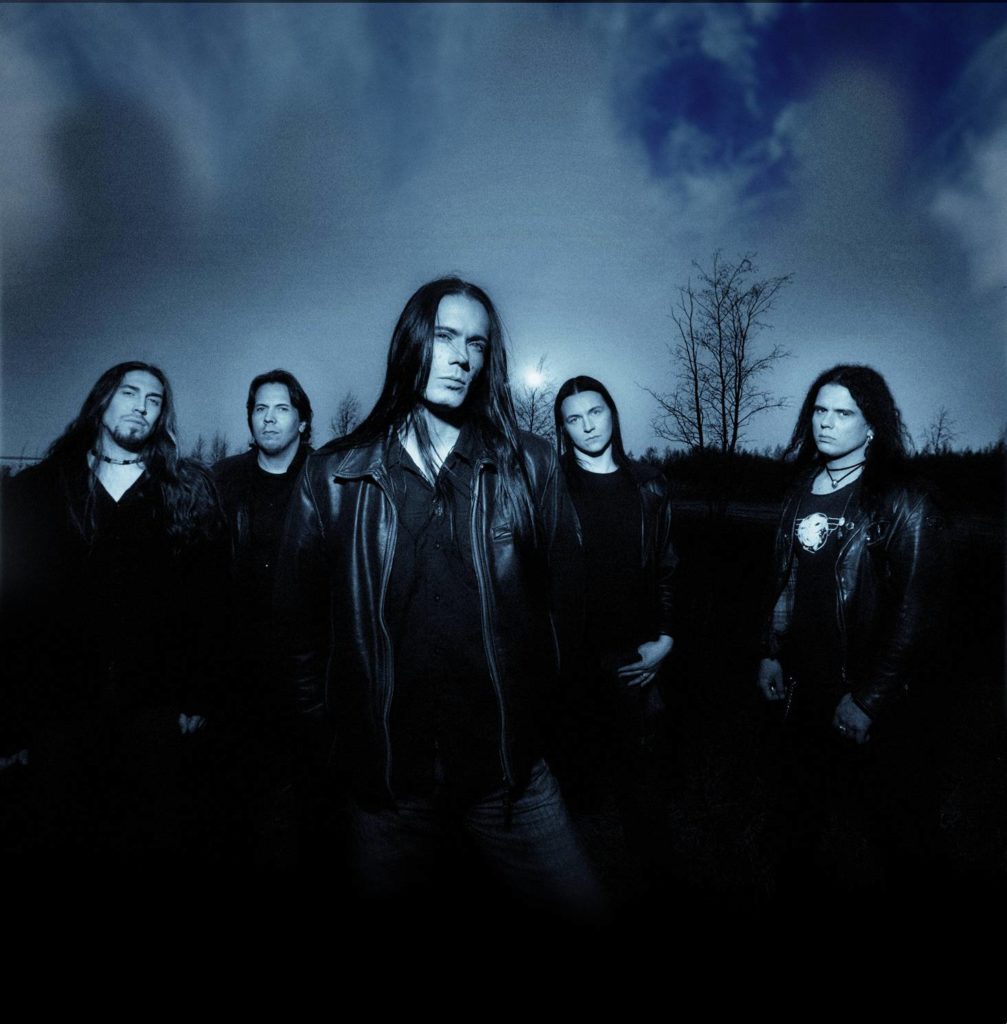 This Spring, Transcending Records will issue first time ever limited vinyl editions of Escapexstacy and Lust Stained Despair full-lengths from now-defunct Finnish gothic metal unit, POISONBLACK.
Led by singer and guitarist Ville Laihiala of Sentenced, POISONBLACK was a musical outlet for songs that were not suitable for Laihiala's primary band. Charon singer Juha-Pekka Leppäluoto was hired to sing on the band's debut album Escapexstacy, after which Laihiala took over vocals. From then on, POISONBLACK's sound began to shift towards more traditional heavy metal/hard rock territory. Following Sentenced's disbanding in 2005, POISONBLACK became Laihiala's main band. They released six albums between 2003-2013 before going on an indefinite hiatus in August of 2015.
Escapexstacy was initially released in 2003 via Century Media. The record reaped critical acclaim with CMJ New Music Monthly writing, "Escapexstacy boasts gorgeous and progressive Euro-rock, which never gets too heavy…" Maximum Metal crowned it a, "cold-weather inspired, wintery album that's dark and depressing with nowhere to go," adding, "Sometimes records like these are divine healing power to depressed souls already longing for a sea to drown in. If you are searching for a musical companion to share your occasional dark days, then POISONBLACK is a valid candidate." The song "Exciter" was featured in an episode of Viva la Bam, entitled "Where's Vito?," during a scene where Vito Margera destroys Bam Margera's beloved Hummer via being pushed into a quarry.
Transcending's pressing of Escapexstacy is limited to 1000 copies, with 500 already sold out. Remaining color variants available are transparent red and red with black splatter. Find preorders at THIS LOCATION.
Lust Stained Despair is POISONBLACK's second album. Provisionally titled "The Music For The Junkies" by Laihiala, the album was initially released in 2006 via Century Media after a three-year hiatus due to the search for a new singer following the departure of Juha-Pekka Leppäluoto. Lust Stained Despair reached number two on the Finnish albums chart upon its first week of release. In an eloquent review of the record, Brave Words wrote, "POISONBLACK isn't afraid to get both gothic and proggy, somewhat akin to the passions housed within Katatonia and classic mid-years Amorphis. Ville's pained roar is there, and when the band rock out – such as on opener 'Nothing Else Remains', 'Never Enough' or the hugely moving 'Rush' – Sentenced is both gloriously recalled and then just as quickly, forgotten, ash giving rise to this flaming phoenix… Ville's voice brings this band a classy, proud vibe that reminds of both Amon Amarth and Korpiklaani, even Paradise Lost when they were about to be the new Metallica back in the golden age of moors-mad goth… they're all bands on a mission, and POISONBLACK's got one too, to be both weighty and universal, their doom accessible, their melodies on their sleeves, their speeds thudding and weighed down by the obligation of artists making art…"
Transcending's pressing of Lust Stained Despair is limited to 500 copies and comes in three color variants: standard black, marble, and splatter. Find preorders at THIS LOCATION.
http://www.transcendingrecords.com
http://www.facebook.com/transcendingrecords
http://www.instagram.com/transcendingrecs
http://www.twitter.com/transcendingrec