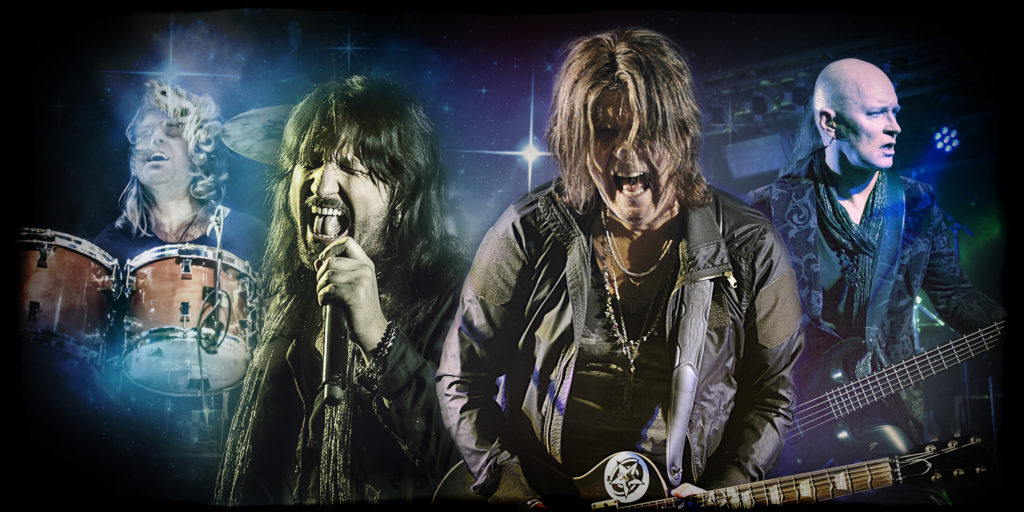 What makes a song a good song? Craft? Passion? Production? Chemistry? On their soaring, self-titled debut, melodic hard rock supergroup OUT OF THIS WORLD skillfully underlines that it's a combination of all of these things: a perfect and rare constellation when the stars are aligned correctly. Forged by Kee Marcello of Europe fame, vocal thunder Tommy Heart (Fair Warning), bassist Ken Sandin (Alien), and drummer Darby Todd (Devin Townsend, Gary Moore, The Darkness), Out Of This World is a dream come true for everybody out there who is mourning the loss of quality melodic hard rock. It's no wonder this record has already become a massive hit in Japan.
Today, the group is proud to announce their signing to Atomic Fire Records, who will release their self-titled debut album, including three bonus tracks as well as a seven-track bonus live album on January 14th, 2022.
"Our eponymous Out Of This World may sound like a hard promise to keep, but honestly, it describes it to a tee," comments Kee Marcello.
Tommy Heart states, "After having released our first record in Japan, we are super pumped to let our music be heard from the rest of the world as well. Very happy to be a part of the Atomic Fire Records family! We are working together since only a couple of months, but I can already tell, I have a great feeling about this team that understands our music and our vision so well!"
"Asked about my all-time favorite hard rock albums, I would always mention the self-titled Fair Warning classic from 1992, it's a true masterpiece," says Atomic Fire Records CEO and label manager Markus Wosgien. He adds, "And if we talk about Europe, I think everyone grew up with their '80s and early '90s classics. To be working with Kee Marcello as well as Tommy Heart now is a dream come true. Close your eyes, enjoy this beautiful album and you will feel like a lovestruck teenager again."
To mark the occasion, OUT OF THIS WORLD presents first single, "Hanging On" alongside a lyric video. View it at YouTube now at THIS LOCATION.
Preorder the album in various formats (2xCD-digipak, blue 2xLP), pre-save it, or preorder Out Of This World digitally to receive "Hanging On" instantly now, here: https://music.atomicfire-records.com/outofthisworld.
Out Of This World Track Listing:
Twilight
Hanging On
In A Million Years
Lighting Up My Dark
Staring At The Sun
The Warrior
Up To You
Ain't Gonna Let You Go
Only You Can Teach Me How To Love Again
Not Tonight
Bonus Tracks:
Twilight (Demo Version)
In A Million Years (Demo Version)
Lighting Up My Dark (Demo Version)
Bonus Live CD/LP:
Let The Good Times Rock
Burning Heart
Save Me
Open Your Heart
Momentum (Instrumental)
Superstitious
Ready Or Not
It's no coincidence that Marcello's latest endeavor bears the name of that legendary multi-platinum Europe album released back in 1988. "When I told people about my new project, someone suggested I call it something like Kee Marcelo's Europe. But that's terrible," he laughs. "I hated it. Tommy suggested to call it OUT OF THIS WORLD, simple as that. Just as the Black Sabbath guys and Dio did with Heaven And Hell."
The same vibe, the same ear for melody, the same hooks permeate an album that was brought to life with the vigor and passion you wouldn't exactly expect in a rock star who's seen it all and done it all in the past forty years. "I've always concentrated on music, and my passion for that never changed," he says. "I've never changed style; I've never tried to do anything I'm not doing well."
Out Of This World beams with a freewheeling and overflowing sense of fun, musicianship, and togetherness. It's an effortless flux that's just not normally found on a debut. "You have to remember that Darby, Ken, and I go way back," the legendary axe-man notes of his rhythm section. "We did hundreds of gigs together and are as tight as a thumbscrew. Same thing goes for Tommy and I. We clicked instantly when working together for the first time a couple of years ago. We have this almost brotherly connection. We're literally reading each other's minds, man. There was no stumbling block, it was all a self-playing piano."
It's the same for vocalist Tommy Heart who's been around in this game forever as well. "You meet, you play, and sparks begin to fly," he describes the chemistry between the members. "We don't even talk that much. We simply let the music speak. We touch our hearts when we play which is something that's incredibly rare to find. Nobody has to explain himself; everybody is doing just what anybody else would do at that moment." Heart was instantly hooked when he realized that OUT OF THIS WORLD was more than a one-off thing between bored musicians in lockdown. "I don't like these temporary projects," he muses. "This here is the real deal."
"With OUT OF THIS WORLD, though, it never felt like a project," says Marcello and he admits: "It felt like a band from day one. This is why the album turned out so well. It has a genuine band feel to it." At their very first rehearsal session in Marcello's hometown of Gothenburg, they sketched a couple of songs that would later wind up on their debut, namely "Twilight," "Lighting Up My Dark," and "In A Million Years." "We actually found ourselves right in the middle of our first recording session without even knowing it," he marvels. "Everything felt so natural and so good that writing the rest of the songs was a walk in the park."
Graced by additional key wizardry courtesy of Deep Purple's very own Don Airey and embellished by a Ron Nevison mix (Kiss, Bad Company, Ozzy Osbourne, Meat Loaf, Heart, Chicago, Damn Yankees, etc.) who reunited with Marcello for the first time since producing Europe's Out Of This World a staggering thirty-three years ago, the songs masterfully transport the bygone era of melody driven, anthemic hard rock into the present. From uptempo rocking first single "Hanging On" via "In A Million Years," originally written for Europe's Prisoner In Paradise, to colossal anthem "Lighting Up My Dark," and prog-rock playground "Staring At The Sun," OUT OF THIS WORLD solitarily resurrect a genre we thought was lost long ago.
OUT OF THIS WORLD:
Tommy Heart – vocals
Kee Marcello – guitars, keyboards
Ken Sandin – bass
Darby Todd – drums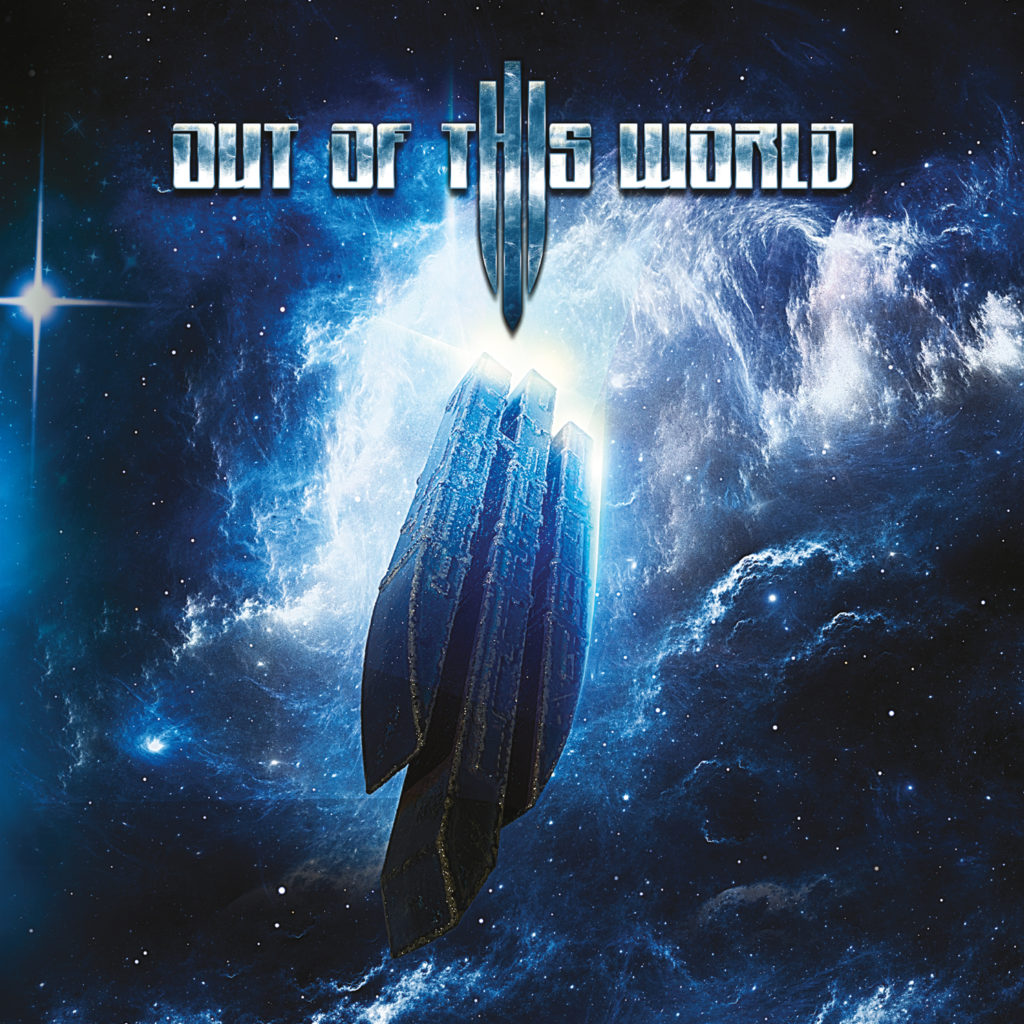 http://www.outofthisworld.se
http://www.facebook.com/ootwtheband
http://www.instagram.com/ootwtheband
http://www.atomicfire-records.com
http://www.facebook.com/atomicfirerecords
http://www.instagram.com/atomicfirerecords
http://www.twitter.com/atomicfirerec