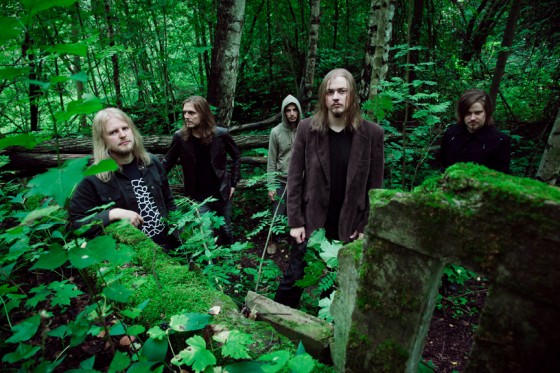 As Finnish cosmic black metal collective ORANSSI PAZUZU prepares for their sophomore LP, Valonielu, to see release in less than a month, today mainstream entertainment source PopMatters unveils the luminous album opening "Vino Verso (Askew Sprout)." The plodding track follows a set course, with a seemingly unwavering beat pounding solidly through the nearly five-minute anthem, yet a constant barrage of the band's investigational riff tactics and celestial effect experimentation unwinding and uncoiling ceaselessly, the tension escalating until the implosion at the song's crescendo.
Explore the borderless depths of "Vino Verso" at PopMatters now AT THIS LOCATION.
Also hear the album's "Olen Aukaissut Uuden Silmän" streaming at Pitchfork RIGHT HERE.
The innovative Valonielu will see release on CD and LP via 20 Buck Spin in North America on October 15th preceded by the European release via Svart Records on October 11th. Here the adventurous ORANSSI PAZUZU has sharpened their songcraft into succinct and salient statement, formidably invoking '90s era Darkthrone, yet boldly reaching farther out into the multiverse of the psych and ExperiMental side they have always inhabited. Valonielu offers a vibrant, colorful cataclysm of psych, space rock and black metal that cannot be easily categorized as any one particular genre or any single influence.
http://www.oranssipazuzu.com
https://www.facebook.com/pages/Oranssi-pazuzu/58437793552
http://www.20buckspin.com
http://www.facebook.com/20buckspin
http://twitter.com/20buckspinlabel