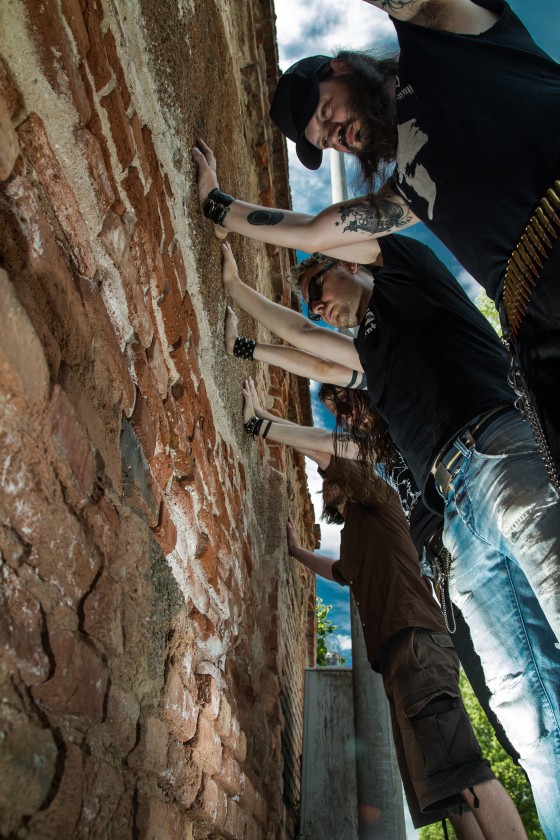 Doomseekers everywhere, listen up, for today Pitchfork is streaming the public's first run-in with some of the year's best thundering riffage, courtesy of German quartet OBELYSKKH. The band's organic, sonic tsunami continually morphs into something new and more memorable with each release, and building on what they've cultivated on their heralded Mount Nysa debut and last year's follow-up White Lightnin', OBELYSKKH have truly shown what they are fully capable of on their pending third LP, Hymn To Pan.
A perfect example of OBELYSKKH's seamless marriage of peaceful transcendentalism with brilliantly crushing audibility is possibly best captured in the epic eight and-a-half minute anthem, Hymn To Pan's lumbering second cut, "The Ravens," playing now at Pitchfork RIGHT HERE.
Since 2008, OBELYSKKH has held a solid reputation within their respective scene, each album delivering a more intense and expanded take on their visionary practices. Their third LP, Hymn To Pan, while captured in sessions directly subsequent to the recording of their crushing White Lightnin' album, yet showcases this modest yet deadest quartet on an entirely new musical plateau. Audibly texturizing a more psychedelic flow the outfit here outlays their most advanced material to date, with six enormous tracks which test the boundaries of modern media at a massive one hour and eight minutes of otherworldly contemporary doom rapture. Hymn To Pan was recorded by the band and mastered by Brad Boatright (Sleep, Nails, High On Fire, Integrity) and is set for North American release on September 24th; the album is to be released on CD, digital and 2xLP.
http://www.facebook.com/TheObelyskkhRitual
http://www.mainstreamrecords.de
http://www.myspace.com/exileonmainstream