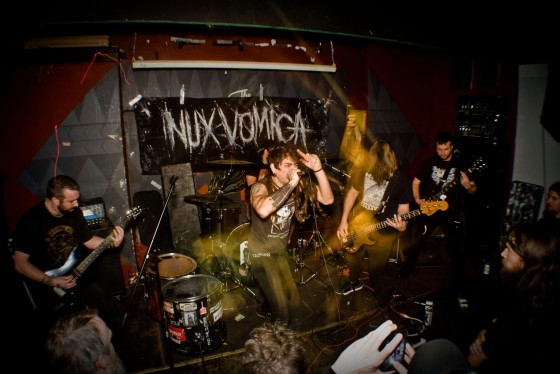 Advancing the self-titled Relapse debut from Portland, Oregon-based gloomy crust quintet, NUX VOMICA, the massive LP-opening track is now streaming at Vice Magazine's music channel, Noisey.
Following their previously released LPs — 2007's A Civilized World and 2009's Asleep in Ashes — among a plethora of splits and a 7″ release, NUX VOMICA's first recording for the mighty Relapse and first full-length from the band in over five years was recorded throughout 2011-2012 at Haywire Studios. Blending the suffocating atmospherics of the doom/sludge with the raw ferocity of black metal, punk and d-beat, NUX VOMICA constructs an organic heaviness comparably hanging somewhere in the balance between Neurosis and His Hero Is Gone. Their self-titled album delivers more than forty minutes of the band's torrid style through three massive works, creating an emotional odyssey into the depths of human darkness; a flawless combination of epic song structures with crushing melodies and colossal riffs with powerful dynamics. Stated the band collectively on the upcoming release of Nux Vomica, "We are proud to release our new LP, Nux Vomica, on Relapse Records! It's been a long time in the making, and is our third full length LP after a decade of being a band. We think it represents the pinnacle of our musical achievements so far. In other words… we think this is our best shit yet and we are fucking stoked!"
Unchain the opening track to Nux Vomica with "Sanity Is For The Passive" at Noisey, alongside a detailed interview with the band, RIGHT HERE.
The first single from the Nux Vomica, "Reeling," is also playing HERE.
Relapse will issue the album on CD, LP and digital formats on April 1st; preorders are now available HERE, and via iTunes HERE. Regional and widespread NUX VOMICA tour actions will be announced in the coming weeks.
https://www.facebook.com/nuxvomicaband
http://nuxvomicaband.bandcamp.com
http://www.abortedsociety.com
http://www.relapse.com
http://relapserecords.bandcamp.com
http://www.facebook.com/RelapseRecords