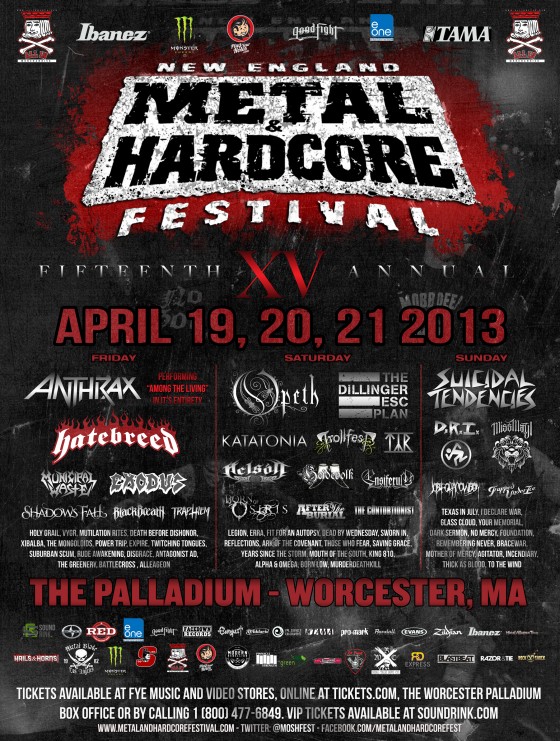 This week the promoters of the NEW ENGLAND METAL & HARDCORE FESTIVAL are pleased to welcome two new additions to this year's fest in the form of crossover legends D.R.I. and technical death metal battalion Job For A Cowboy!
This follows last week's unveiling of Mission Quest to Metal Fest. Formed to aid a few of this year's acts to and from NEMHF this year, the fourth annual tour curated by MassConcerts unifies Expire, Alpha & Omega, Power Trip, Twitching Tongues and Antagonist A.D. on a ten-date assault leading up to their individual performances at the event. See confirmed dates below. Further audio annihilation will come from the third annual Metal Alliance Tour featuring Exodus, Municipal Waste, Holy Grail and Friday headliners Anthrax performing their iconic Among The Living full-length in its entirety. Additional headliners include Hatebreed, Opeth and Suicidal Tendencies and nearly fifty more acts from all walks of the extreme music spectrum!
The three-day event will take place the weekend of April 19th, 20th and 21st at the historic Palladium in Worcester, Massachusetts marking its 15th anniversary. Info on the kick-off party on Thursday, April 18th will be announced in the coming weeks.
In addition, NEMHF has partnered with F.Y.E. to offer a VIP Flyaway package for the event! One lucky winner will get two (2) VIP passes to the festival as well as airfare and hotel accommodations. F.Y.E stores are currently offering an assortment of pummeling metal CDs for $9.99, each on a NEMHF endcap. Any purchase of these titles will receive a free NEMHF CD Sampler featuring tracks from Hatebreed, Holy Grail, Shadows Fall, Continents, Sister Sin and many more!
Enter to win the contest and grab some great metal CDs from F.Y.E. at THIS LOCATION.
Continuous updates will be made and coverage opportunities for the NEW ENGLAND METAL & HARDCORE FESTIVAL are available via Earsplit PR, an official sponsor of this year's event.
Mission Quest to Metal Fest
w/ Expire, Alpha & Omega, Power Trip, Twitching Tongues, Antagonist A.D:
4/08/2013 The Underground – Phoenix, AZ
4/09/2013 The Studio – Tucson, AZ
4/10/2013 The War Room – El Paso, TX
4/12/2013 The Low Key Parts – Hot Springs, AR
4/13/2013 The Hatch – Evansville, IN
4/14/2013 Skate Naked – Columbus, OH
4/15/2013 907 Lincoln – Ann Arbor, MI
4/16/2013 Funeral Home – Buffalo, NY
4/17/2013 West Side Park – Wilkes Barre, PA
4/18/2013 Moose Lodge – Glen Cove, NY
4/19-21/2013 The Palladium – Worcester, MA @ New England Metal & Hardcore Fest XV
Friday, April 19th: Anthrax, Hatebreed, Shadows Fall, Exodus, Municipal Waste, Black Breath, Holy Grail, VYGR, Multilation Rites, Trap Them, Death Before Dishonor, Xibalba, The Mongoloids, Power Trip, Expire, Twitching Tongues, Alleageon, Suburban Scum, Rude Awakening, The Greenery, Disgrace, Antagonist AD, The Greenery, Battlecross
Saturday, April 20th: Opeth, The Dillinger Escape Plan, Katatonia, Trollfest, Tyr, Hellsot, Heidevolk, Ensiferum, Alpha & Omega, Born of Osiris, After The Burial, Dead By Wednesday, The Contortionist, Legion, Erra, Fit For An Autopsy, Born Low, MurderDeathKill, Sworn In, Reflections, Mouth of the South, Ark of the Covenant, Those Who Fear, Saving Grace, Years Since The Storm, Mouth of the South, King 810
Sunday, April 21st: Suicidal Tendencies, Miss May I, Texas In July, Trapped Under Ice, Glass Cloud, Your Memorial, No Mercy, I Declare War, Foundation, Remembering Never, Bracewar, Mother of Mercy, Agitator, Incendiary, Thick As Blood, Dark Sermon, To The Wind, D.R.I., Job For A Cowboy
New England Metal & Hardcore Festival 2013 Ticket Prices/Packages:
Weekend Pass For All 3 Days – $90 [BUY HERE]
Thursday, April 18th – Kick Off Party – $12 In Advance/$15 Day-Of [BUY HERE]
Friday, April 19th: $35 In Advance/$40 Day-Of [BUY HERE]
Saturday, April 20th: $40 In Advance/$45 Day-Of [BUY HERE]
Sunday, April 21st: $35 In Advance/$40 Day-Of [BUY HERE]
VIP Three-Day Package – $165: Includes one three-day NEMHF Pass, entry to Thursday's pre-party, an NEMHF T-shirt, 18 x 24 NEMHF poster, NEMHF sampler CD, exclusive meet and greets with artists all weekend, early entry each day, NEMHF guitar picks, NEMHF button pack, raffles for exclusive gear, NEMHF beer koozie, NEMHF + Shock Clothing key chain, free Monster energy drink at the signing tent. [BUY HERE]
VIP One-Day Pass – $80: Includes one NEMHF day pass for Friday, Saturday or Sunday, a NEMHF T-shirt, 18 x 24 NEMHF poster, NEMHF sampler CD, exclusive meet and greets with artists all weekend, NEHMF guitar picks, NEMHF beer koozie, NEMHF + Shock Clothing key chain, free Monster energy drink at the signing tent. [BUY HERE]
https://www.facebook.com/metalandhardcorefest
http://metalandhardcorefestival.com
https://twitter.com/moshfest
http://www.massconcerts.com