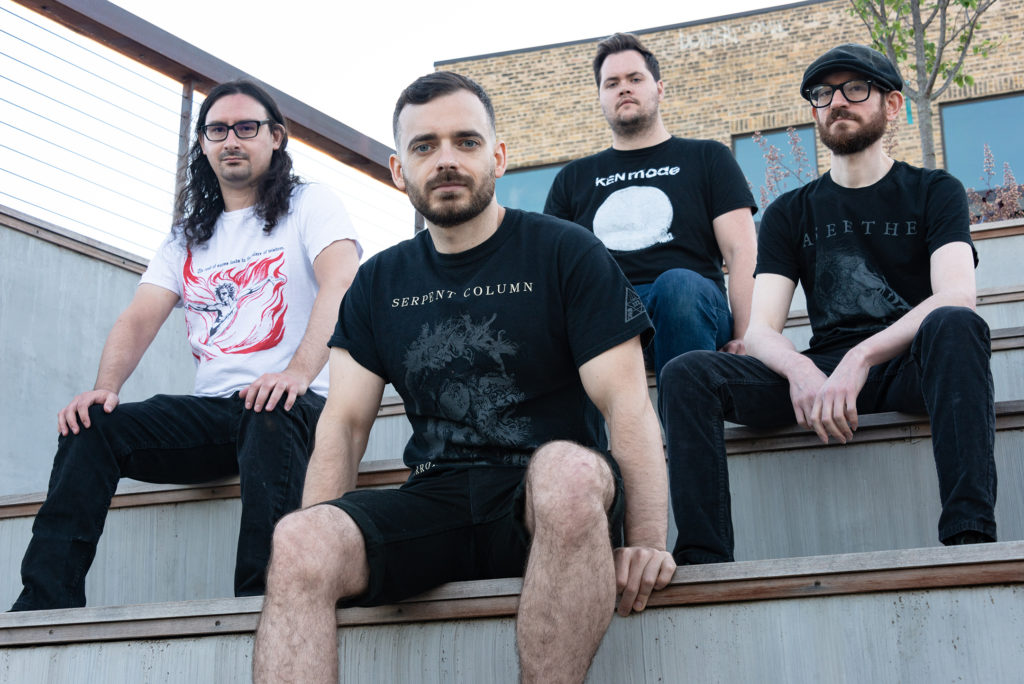 photo by Nicolas Côté
Chicago, Illinois-based metallic hardcore quartet NEQUIENT will release Collective Punishment, a new EP featuring both new and live material, through Nefarious Industries in early November. Preorders have been issued, and the band will donate this weekend's sales to Equal Justice Initiative.
Building on a foundation of thrashing d-beat, NEQUIENT draws influences from a broad spectrum of aggressive styles including grindcore, crust, sludge, death metal, black metal, and noise rock. The result is a uniquely punishing sound that emphasizes percussive intensity and razor-sharp hooks.
Formed in 2014, NEQUIENT's first official release was 2015's Infinite Regress EP, the start of a longstanding collaboration with producer Pete Grossmann (Immortal Bird, Something Is Waiting, Warforged) at Bricktop Recording in Chicago. Following a few personnel shifts, the group settled on its current configuration and forged a debut full-length, Wolves At The Door, issued in 2018 by Nefarious Industries. Decibel Magazine lent the album its "enthusiastic stamp of approval," declaring, "NEQUIENT comes blazing in on a misanthropy-fueled ICBM missile." Ghost Cult Magazine described the band as, "astute musical assassins," driven by the powerful drumming of "human tornado" Chris Avgerin.
NEQUIENT set out on a campaign of DIY touring in support of Wolves At The Door, playing every dive bar, basement, community center, banquet hall, and benefit festival that would have them. Those travels culminated in a late 2019 run with Danish avant-hardcore technicians, labelmates Oxx.
A few months later, NEQUIENT reconvened at Bricktop to track a new album, once again helmed by Grossmann, not realizing that the global pandemic would soon slow all further progress to a maddening crawl. In 2021, the band will at last make its comeback with the digital EP Collective Punishment, which acts as a harbinger for their second full-length, Darker Than Death Or Night. A succinct but damaging release, Collective Punishment features two exclusive tracks from the early 2020 sessions — "Collective Punishment" and "Strange Death Of Kings" – which were produced by Pete Grossmann at Bricktop Recording (Weekend Nachos, Like Rats) and mixed by Sanford Parker at Hypercube (Voivod, Yob, Eyehategod, Lord Mantis). The record also features live performances of "First Casualty" and "Coins For The Ferryman" recorded October 20th, 2019 by Alan Sifuentes at Valdosta DIY House and mixed by Patrick Conahan. The EP was mastered by Collin Jordan at the Boiler Room and completed with artwork and logo by M. G. Miller.
Stream NEQUIENT's live version of "Coins For The Ferryman" RIGHT HERE.
Nefarious Industries will release Collective Punishment on all digital platforms and in a limited run of cassettes on November 5th. Find preorders including merch bundles and more at the label webshop HERE. All proceeds from this weekend's presales will be donated to Equal Justice Initiative.
Watch for additional previews of the Collective Punishment EP to post over the coming days. Updates on Darker Than Death Or Night will follow directly afterward, as the LP is slated for release in the first quarter of 2022 in conjunction with US tour dates.
Collective Punishment Track Listing:
1. Collective Punishment
2. Strange Death Of Kings
3. First Casualty (live)
4. Coins For The Ferryman (live)
NEQUIENT:
Chris Avgerin – drums
Keenan Clifford – bass
Patrick Conahan – guitar
Jason Kolkey – vocals
https://nequient.bandcamp.com
https://www.instagram.com/nequientchicago
https://www.facebook.com/nequientband
http://nefariousindustries.com
http://www.twitter.com/NefariousInd
https://www.instagram.com/nefarious_industries