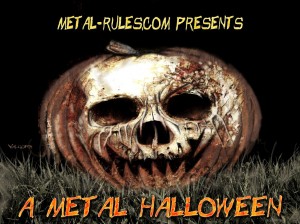 Metal-Rules.com has compiled video interview footage of hard rock and heavy metal notables weighing in on everything from their favorite Halloween candy to their favorite horror movies in Metal-Rules.com Presents: A Metal Halloween
Participating artists include: Alice Cooper, Anthrax, Anvil, Brian Posehn, Exodus, Hammerfall, Hirax, Lizzy Borden, MARDUK, Overkill, Paul Di'Anno, Queensryche, Satyricon, and The Iron Maidens.
A Metal Halloween also features a text roundup with a broad range of underground metal artists including members of Against The Plagues, Allegeaon, Black Brew, The Black Dahlia Murder, Common Dead, Demontuary, ENEMY REIGN, Excruciator, Exmortus, Gene Hoglan, GRIFTEGARD, Hammerwhore, Infernaeon, Kaos, Moth Eater, Omega Crom, Panzergod, Scythia, SONS OF TONATIUH, Special Ops, Spellcaster, The Accused, The Last Felony, Vindicator, Vex, Witches Mark, and Whore of Babylon.
Check it out HERE.