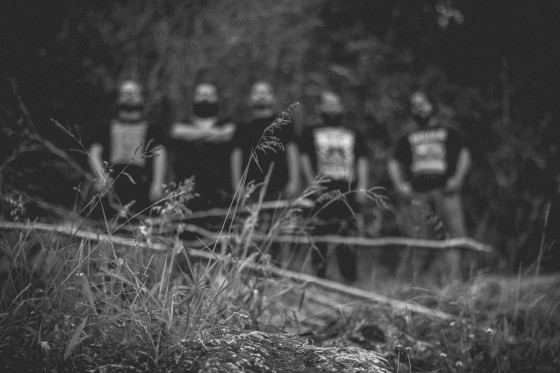 A pummeling new track from San Juan, Puerto Rico-based MARTYR'S TONGUE is now available via Cvlt Nation.
Laying down a landslide of pandemonium as corrosive as it is pulverizing, MARTYR'S TONGUE unloads a brand of metallic mayhem born of the dark lords of Cleveland, Ringworm and Integrity, jacked-up on noise, grime and electronic elements, putting them in the race with Rot In Hell, Full of Hell, Blind To Faith and the like. With several demos, splits and EPs released since 2010, the self-proclaimed "five audio terrorists preaching world genocide through sonic warfare" have created their most brutal material yet on the impending split 7″ with Pennsylvania-based Benchpress. MARTYR'S TONGUE's pair of contributions to the 7″ — "Deconstructive Process" and "Unholy Communion" — were mixed and mastered by Axel in San Juan, mercilessly overthrowing the B-side of this split platter.
Cvlt Nation is now displaying MARTYR'S TONGUE's opening B-side bomber, "Deconstructive Process," playing at THIS LOCATION.
The split's opening track, "Penance," courtesy of Benchpress, is also streaming at Revolver HERE.
Pennsylvania-based Get This Right Records will release the split EP on vinyl and digitally on May 6th. The first pressing of the 7″ will come in a run of 350 — 130 copies on black, 120 on bone white and 100 on clear with red/lavender/yellow/blue swirl/splatter — each copy joined by a digital download of the EP. There will also be a limited edition, numbered, screen-printed cover for all preorders placed. Preorders are posted HERE.
https://www.facebook.com/BENCHPRESSAD
https://www.facebook.com/martyrstongue
https://www.facebook.com/gtrrecords
http://getthisrightrecords.bandcamp.com
www.coldcutsmerch.com/gtrr