Massacre Records is proud to release the sophomore album from German/Italian melodic metal outfit LOVE.MIGHT.KILL in North America this November.
Featuring drummer Michael Ehré (Firewind, Uli Jon Roth, Metalium) and the brilliant singer Jan Manenti, LOVE.MIGHT.KILL appeared virtually out of nowhere in 2011 with their Brace For Impact debut, an album which perfectly combined the enthusiasm of a first appearance with the experience of a long songwriting career, instantly winning over a solid fanbase within the European hard rock/power metal scene.
One year later, LOVE.MIGHT.KILL are about to release their second opus, 2 Big 2 Fail, to North American audiences, following its very recent release in Europe. Boasting nearly an hour of incredibly hard-hitting, melodic power metal with a dozen anthems, 2 Big 2 Fail was produced by Michael Ehré, as with their first album. Being around for years as the drummer in bands like Gamma Ray, Firewind, Metalium or with artists like Uli Jon Roth, Matt "Gonzo" Roehr, Vinnie Moore and Kee Marcello, Ehré has made a strong impact in the national and international scene. The songs were then mixed and mastered by Markus Teske (Spock´s Beard, Saga, Vanden Plas) at his own Bazement-Studio.
Check out the video for the album's second track, "XTC," and more, right here: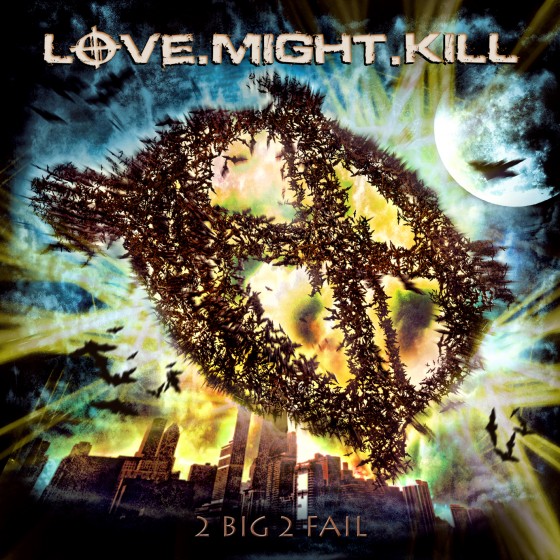 2 Big 2 Fail Track Listing:
1. Save My Soul
2. XTC
3. Burn The Night
4. The One
5. Restless Heart
6. Home
7. The Great Escape
8. Too Big To Fail
9. We Fall
10. Big Screen Pleasure (And Pain)
11. Alone
12. The Perfect Mistake
LOVE.MIGHT.KILL Lineup:
Jan Manenti – vocals
Christian Stöver – guitars
Stefan Ellerhorst – guitars
Jogi Sweers – bass
Sascha Onnen – keyboards
Michael Ehré – drums
http://www.lovemightkill.com
https://www.facebook.com/lovemightkill
http://www.massacre-records.com
https://www.facebook.com/massacrerecordseurope