View / Share LORD DYING's "Nearing The End Of The Curling Worm" At: https://youtu.be/co2eYmlH6Cc
Portland-based progressive sludge metal titans LORD DYING today unveil their stunning new video for "Nearing The End Of The Curling Worm."
The track comes by way of the band's Mysterium Tremendum full-length, released late last month via Entertainment One (eOne). Filmed by Nesto [www.nesto.co], the consuming, near-six-minute clip fuses performance footage with kaleidoscopic, often unsettling dreamscape imagery perfectly capturing the track's monolithic heaviness both in sound and theme.
View "Nearing The End Of The Curling Worm" below.
LORD DYING's Mysterium Tremendum was recorded at Los Angeles' West Valley Recording Studios in August of 2018 with producer Mike Plotnikoff (Fear Factory, In Flames), mastered by Howie Weinberg (Slayer, Nirvana, Pantera, Red Hot Chili Peppers), and boasts the arresting planetary landscape-inspired cover art of Steve R. Dodd. A colossal, riff-heavy concept album borne out of personal sorrow, Mysterium Tremendum delivers eleven heaving tracks that examine death and what may or may not lie beyond.
Stream Mysterium Tremendum in its entirety at THIS LOCATION.
Mysterium Tremendum is available on CD, 2XLP, and digital formats. For ordering options go to smarturl.it/LordDyingMT.
LORD DYING will kick off a North American headlining tour in support of Mysterium Tremendum on May 8th in Seattle, Washington. The journey will wind its way through more than two dozen cities, concluding on June 8th in the band's home city of Portland, Oregon. Support will be provided by psychedelic doom duo Year Of The Cobra. See all confirmed dates below.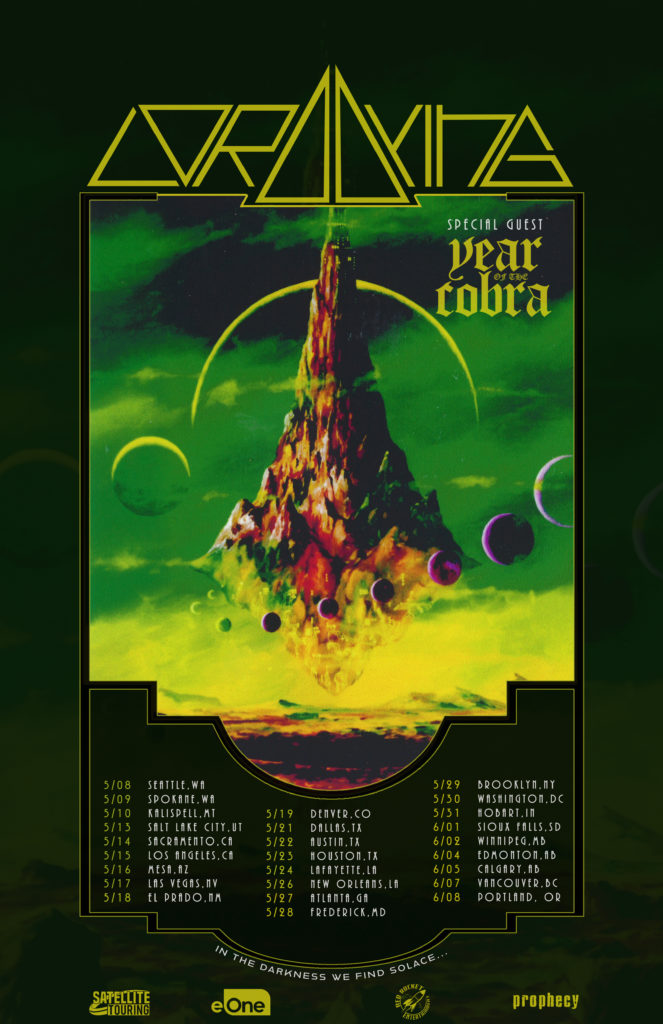 LORD DYING w/ Year Of The Cobra:
5/08/2019 Substation – Seattle, WA
5/09/2019 The Pin – Spokane, WA
5/10/2019 Old School Records – Kalispell, MT
5/13/2019 Urban Lounge – Salt Lake City, UT
5/14/2019 Den Of Sin – Sacramento, CA
5/15/2019 Lexington – Los Angeles, CA
5/16/2019 Club Red – Mesa, AZ
5/17/2019 Backstage Bar – Las Vegas, NV
5/18/2019 Taos Mesa Brewery – El Prado, NM
5/19/2019 Streets – Denver, CO
5/21/2019 Gas Monkey Bar – Dallas, TX
5/22/2019 The Lost Well – Austin, TX
5/23/2019 Rudyards – Houston, TX
5/24/2019 Freetown Boom Boom – Lafayette, LA
5/26/2019 Southport Hall – New Orleans, LA
5/27/2019 529 – Atlanta, GA
5/28/2019 Cafe 611 – Frederick, MD
5/29/2019 Saint Vitus – Brooklyn, NY
5/30/2019 The Pinch – Washington, DC
5/31/2019 Hobart Art Theatre – Hobart, IN
6/01/2019 Bigs Live – Sioux Falls, SD
6/02/2019 Park Theatre – Winnipeg, MB
6/03/2019 The Exchange – Regina, SK
6/04/2019 Temple – Edmonton, AB
6/05/2019 Dickens – Calgary, AB
6/07/2019 SBC – Vancouver, BC
6/08/2019 High Water Mark – Portland, OR
"…a layered, intricate, downright beautiful progressive-rock opus…" – Kerrang!
"…its slow build into soaring melodies and heavier sludge is extremely gratifying, feeling like a journey was accomplished over the song's runtime." – Decibel on "Freed From The Pressures Of Time
"Mysterium Tremendum makes guitar solos cool again…" — Exclaim!
"…its use of swelling melancholia during the two-minute introduction sounds like the prelude to demise, complete with hints of violin that seamlessly metamorphise into a new brand of LORD DYING sludge. Guitarist/vocalist Erik Olson's vocal range has expanded this time around, offering clear and refined death growls that complement the progressive and euphonious riffs." – MetalSucks on "Freed From The Pressures Of Time"
"LORD DYING's about-face came out of nowhere and it works despite the odds. Mysterium Tremendum is definitely album of the year caliber and rightfully so because it's more than an album, it's an experience." – Indy Metal Vault
"Mysterium Tremendum is an entirely different animal, mixing the band's masterful use of heavier-than-thou bucketfuls of sludge with more progressive musical leanings, acoustic interludes, and actual singing. The result is a massive and mature musical study of the psychology of death and what might await us in the afterlife, replete with any and all misgivings we might harbor regarding our collective mortality. This album, and its concept centered around death signals a triumphant rebirth for LORD DYING as a band. Do not miss out on this experience." — Heavy Music HQ Best Heavy Metal Albums April 2019
http://www.facebook.com/LordDying
http://twitter.com/Lorddying
http://instagram.com/lorddying
http://www.entertainmentone.com
http://www.facebook.com/eOneMusicUS
http://twitter.com/eonemusicus