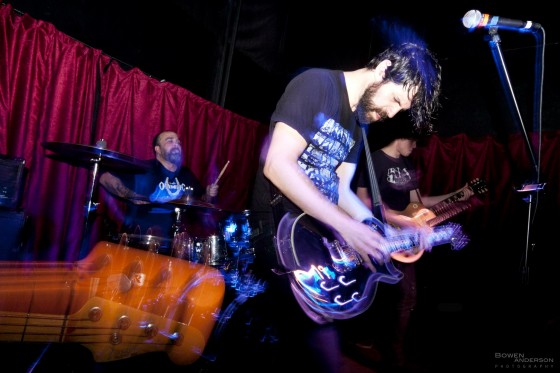 [photo by Bowen Anderson]
Neurot Recordings is very pleased to welcome San Francisco-based sludge/noise rock unit KOWLOON WALLED CITY to their family for the CD release of the band's as-yet-untitled third full-length, expected this Fall, with Gilead Media handling the release on vinyl.
Comments Neurot's Steve Von Till, "KOWLOON WALLED CITY is a hardworking, no-nonsense group of people, who deliver no-nonsense, in-your-face aggressive music. We couldn't be happier."
Adds the band, "It goes without saying but we're all honored and excited about this. Literally every interaction we've had with the Neurosis camp has been great – they are super solid people who 100% get it. The same goes for Gilead Media. All right, back to work."
Named after a now-demolished Hong Kong region notorious for its brothels, opium dens and casinos, KOWLOON WALLED CITY was formed in 2007 and have since released an EP, two full-lengths and a number of splits. Their most recent long player – 2013's Container Ships, released via Brutal Panda Records – reaped the praise of fans and critics both stateside and abroad with Lambgoat dubbing it, "their most impressive release to date," and the The Sludgelord commending the band's, "hard-hitting brilliance," placing it among the year's best offerings. As AllMusic notes, "KOWLOON WALLED CITY take the sound pioneered by bands like the Jesus Lizard and Unsane and push it into new dimensions of heaviness."
Further KOWLOON WALLED CITY news will be announced in the weeks to come. In the meantime, sample the band's previous releases at their official Bandcamp page at THIS LOCATION.
http://www.inthewalledcity.com
http://www.facebook.com/kowloonwalledcity
http://www.neurotrecordings.com
http://www.facebook.com/neurotrecordings
http://www.gileadmedia.net
https://www.facebook.com/gileadmedia