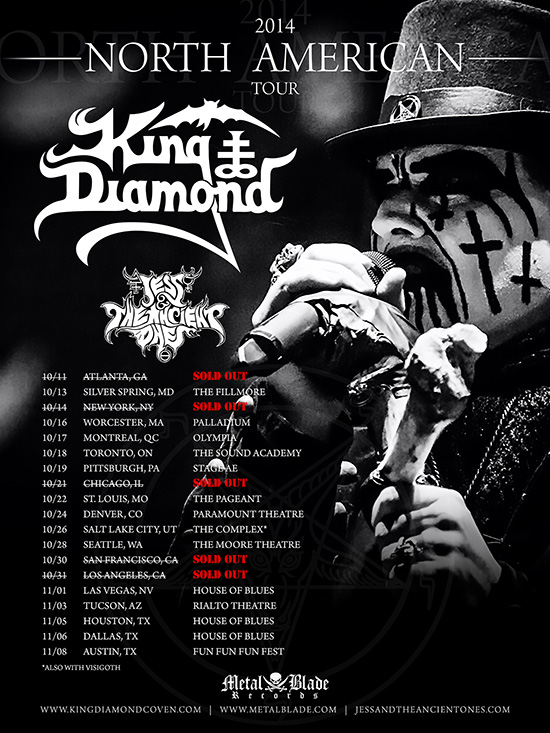 KING DIAMOND would like to welcome Jess And The Ancient Ones as the opening act for the North American tour this Fall.
Jess And The Ancient Ones, personally selected by KING DIAMOND himself to be the openers on the trek, is an occult rock band from Kuopio, Finland. This seven-headed entity was given birth by Thomas Corpse and Thomas Fiend, its purpose being the exploration of magical realms beyond the mundane. The band's lyrical concept is based upon the personal occult experiences of the writers, which combined with music, creates a strong mystical atmosphere. With the vocal talent, Jess, as their frontwoman and three guitars in the lineup, JATAO draw inspiration from heavy metal and rock groups of the classic era, such as Mercyful Fate, Roky Erickson, Iron Maiden and Abba. Watch their latest video for "Astral Sabbat" on YouTube HERE. For more information, visit their official website at THIS LOCATION.
In other news, the Atlanta, New York, Chicago, San Francisco, and Los Angeles shows on the tour are SOLD OUT! Additionally, only a handful of tickets remain for the Seattle date. Get your tickets now before they are gone!
KING DIAMOND W/ Jess And The Ancient Ones:
10/11/2014 Center Stage – Atlanta, GA (SOLD OUT)
10/13/2014 The Fillmore – Silver Spring, MD
10/14/2014 Best Buy Theatre – New York, NY (SOLD OUT)
10/16/2014 The Palladium – Worcester, MA
10/17/2014 Olympia – Montreal, QC
10/18/2014 The Sound Academy – Toronto, ON
10/19/2014 Stage AE – Pittsburgh, PA
10/21/2014 The Vic Theatre – Chicago, IL (SOLD OUT)
10/22/2014 The Pageant – St. Louis, MO
10/24/2014 Paramount Theatre – Denver, CO
10/26/2014 The Complex – Salt Lake City, UT *
10/28/2014 The Moose Theatre – Seattle, WA
10/30/2014 The Warfield – San Francisco, CA (SOLD OUT)
10/31/2014 The Wiltern – Los Angeles, CA (SOLD OUT)
11/01/2014 House Of Blues – Las Vegas, NV
11/03/2014 Rialto Theatre – Tucson, AZ
11/05/2014 House Of Blues – Houston, TX
11/06/2014 House Of Blues – Dallas, TX
Fun Fun Fun Fest
11/08/2014 Auditorium Shores – Austin, TX
*also with Visigoth
http://www.kingdiamondcoven.com
http://www.facebook.com/kingdiamondofficial
http://www.facebook.com/kingdiamondmercyfulfateofficial