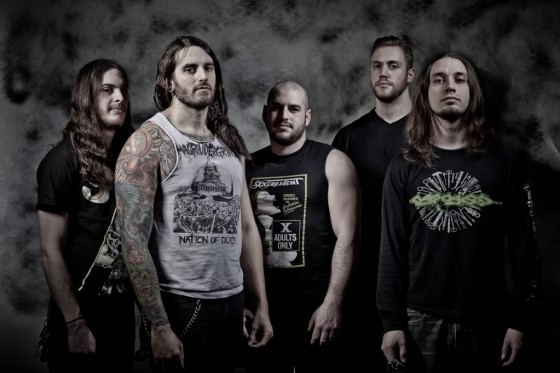 JOB FOR A COWBOY are currently readying for their month-long Summer Slaughter trek, set to commence next week in Los Angeles. Bassist Nick Schendzielos will be forced to sit out part of the run due to a family emergency. The band will be joined temporarily by The Red Chord guitarist Mike "Gunface" McKenzie.
Comments Schendzielos: "Hey friends: On June 28, immediately after landing in Boston to rehearse for Puerto Rico/Summer Slaughter, my girlfriend was in a head-on collision on her scooter. She sustained very serious head and bodily injuries. I flew right home, and we've been in the ICU for a week and are still in the hospital to make sure everything is okay. She needs 24/7 supervision for at least two weeks once we get out of here, so I'm very grateful to announce that Gunface from The Red Chord is going to help me out filling in on Summer Slaughter until I can meet back up with it. We love the dude very much and it's going to be really cool for both JFAC and TRC fans to see. Enormous thanks for understanding this difficult situation and I'll be back as soon as possible!"
Adds McKenzie: "I'm excited to be playing with JFAC on this tour. Great dudes in this band as well as in the bands on Summer Slaughter. Playing bass is a little different for me but definitely an interesting challenge. I'm definitely looking forward to getting out on the road again. Nick's bass work is incredible and I'm working hard to get all of his parts down. Sending positive vibes out to him and his lady."
JOB FOR A COWBOY will be touring in support of Demonocracy, released earlier this Spring through Metal Blade Records. Called "…an ass-kicking, skull-cracking record," by Alternative Press and "…a very strong exercise in slickly-produced, technically sound death metal…" by Decibel, the maniacal Jason Suecof-produced masterwork tackles a host of political and economic themes and continues to raise the eyebrows of fans and media alike. Don't miss the band on Summer Slaughter!
JOB FOR A COWBOY – Summer Slaughter Festival 2012
w/ Cannibal Corpse, Between The Buried and Me, The Faceless, Periphery, Veil of Maya, Goatwhore, Exhumed, Cerebral Bore
7/20/2012 House of Blues – Los Angeles, CA [TICKETS]
7/21/2012 SOMA – San Diego, CA [TICKETS]
7/22/2012 House of Blues – Las Vegas, NV [TICKETS]
7/25/2012 House of Blues – Dallas, TX [TICKETS]
7/26/2012 White Rabbit – San Antonio, TX [TICKETS]
7/27/2012 Pharr Events Center – Mission, TX [TICKETS]
7/28/2012 House of Blues – Houston, TX [TICKETS]
7/30/2012 The Ritz – Tampa, FL [TICKETS]
7/31/2012 Revolution – Ft. Lauderdale, FL [TICKETS]
8/01/2012 The Masquerade – Atlanta, GA [TICKETS]
8/02/2012 The Valarium – Knoxville, TN [TICKETS]
8/03/2012 Amos – Southend Charlotte, NC [TICKETS]
8/04/2012 The National – Richmond, VA [TICKETS]
8/05/2012 The Trocadero – Philadelphia, PA [TICKETS]
8/07/2012 Starland Ballroom – Sayreville, NJ [TICKETS]
8/08/2012 Irving Plaza – New York, NY [TICKETS]
8/09/2012 Northern Lights – Albany, NY [TICKETS]
8/10/2012 The Palladium – Worcester, MA [TICKETS]
8/11/2012 Heavy Montreal – Montreal, QC [TICKETS]
8/12/2012 Heavy Toronto – Toronto, ON [TICKETS]
8/14/2012 House of Blues – Cleveland, OH [TICKETS]
8/15/2012 St. Andrew's – Detroit, MI [TICKETS]
8/16/2012 House Blues – Chicago, IL [TICKETS]
8/17/2012 The Rave – Milwaukee, WI [TICKETS]
8/18/2012 Expo Five – Louisville, KY * No Cannibal Corpse [TICKETS]
8/20/2012 Summit Music Hall – Denver, CO [TICKETS]
8/22/2012 The Showbox Sodo – Seattle, WA [TICKETS]
8/23/2012 Roseland Theater – Portland, OR [TICKETS]
8/24/2012 The Fillmore – San Francisco, CA [TICKETS]
8/25/2012 The Grove – Anaheim, CA [TICKETS]
"Fans of the band's death metal era will be blown away by this one, and fans of death metal (and tech-death) in particular will not want to miss this."– Mxdwn
"Demonocracy affords JOB FOR A COWBOY another album to legitimize their death metal sound, which was set forth starting with Ruination…Bringing in guitarist Tony Sannicandro and Cephalic Carnage bassist Nick Schendzielos translates to dynamics not heard on any JOB FOR A COWBOY album to date…" – About.com
"The album plays like a constant assault, and while never backing off it still manages to add enough structure for individual songs to become memorable… the soloing is surprisingly catchy and well-executed while still managing to sit well in the context of the songs." – Ultimate-Guitar
"There is only so much bone crushing metal a body can take. JOB FOR A COWBOY does a very good job of biting your synapses, chewing you up and spitting you out bruised and bloody." – This Is Not A Scene
http://www.metalblade.com/jobforacowboy
http://www.facebook.com/jobforacowboy