Death metal ministers JOB FOR A COWBOY today unleash their lyric video to "Imperium Wolves."
The tune comes off the band's latest studio recording, Demonocracy, released in North America on April 10 through Metal Blade Records. The maniacal, multifaceted Jason Suecof-produced masterwork tackles a host of political and economic themes and continues to raise the eyebrows of fans and media alike.
Check out "Imperium Wolves" HERE.
JOB FOR A COWBOY have a busy summer ahead. Having recently returned home from the triumphant Metal Alliance with The Faceless, Dying Fetus, 3 Inches Of Blood, Impending Doom, Wretched, and headliners, Devildriver, the band will bring their ruckus to Japan later this month month and wreak some serious havoc in San Juan, Puerto Rico this June before kicking off the Summer Slaughter Festival 2012 with Cannibal Corpse, Between The Buried and Me, The Faceless, Periphery, Veil of Maya, Goatwhore, Exhumed and Cerebral Bore! See all confirmed JFAC dates below.
JOB FOR A COWBOY:
5/18/2012 Shibuya Cyclone – Tokyo, Japan w/ United [Tickets]
5/19/2012 Sakae R.A.D – Nagoya, Japan w/ Infernal Revulsion, Death I Am, Hostile Eyes, Neuerwind [Tickets]
5/20/2012 Shibuya Milkyway – Tokyo, Japan w/ Arise In Stability, Metal Safari, Infernal Revulsion, Death I Am [Tickets]
5/21/2012 Chatan Salt & Papper – Okinawa, Japan w/ Illuminati, Shores, Roach, Shakes Beard
6/30/2012 La Respuesta – San Juan, PR
JOB FOR A COWBOY – Summer Slaughter Festival 2012
w/ Cannibal Corpse, Between The Buried and Me, The Faceless, Periphery, Veil of Maya, Goatwhore, Exhumed, Cerebral Bore
7/20/2012 House of Blues – Los Angeles, CA
7/21/2012 SOMA – San Diego, CA
7/22/2012 House of Blues – Las Vegas, NV
7/23/2012 Venue of Scottsdale – Scottsdale, AZ
7/25/2012 House of Blues – Dallas, TX
7/26/2012 White Rabbit – San Antonio, TX
7/27/2012 Pharr Events Center – Mission, TX
7/28/2012 House of Blues – Houston, TX
7/30/2012 The Ritz – Tampa, FL
7/31/2012 Revolution – Ft. Lauderdale, FL
8/01/2012 The Masquerade – Atlanta, GA
8/02/2012 The Valarium – Knoxville, TN
8/03/2012 Amos – Southend Charlotte, NC
8/04/2012 Sonar – Baltimore, MD
8/05/2012 The Trocadero – Philadelphia, PA
8/07/2012 Starland Ballroom – Sayreville, NJ
8/08/2012 Irving Plaza – New York, NY
8/09/2012 Northern Lights – Albany, NY
8/10/2012 The Palladium – Worcester, MA
8/11/2012 Heavy Montreal – Montreal, QC
8/12/2012 Heavy Toronto – Toronto, ON
8/14/2012 House of Blues – Cleveland, OH
8/15/2012 St. Andrew's – Detroit, MI
8/16/2012 House Blues – Chicago, IL
8/17/2012 The Rave – Milwaukee, WI
8/18/2012 Station 4 – St. Paul, MN
8/20/2012 Summit Music Hall – Denver, CO
8/22/2012 The Showbox Sodo – Seattle, WA
8/23/2012 Roseland Theater – Portland, OR
8/24/2012 The Fillmore – San Francisco, CA
8/25/2012 The Grove – Anaheim, CA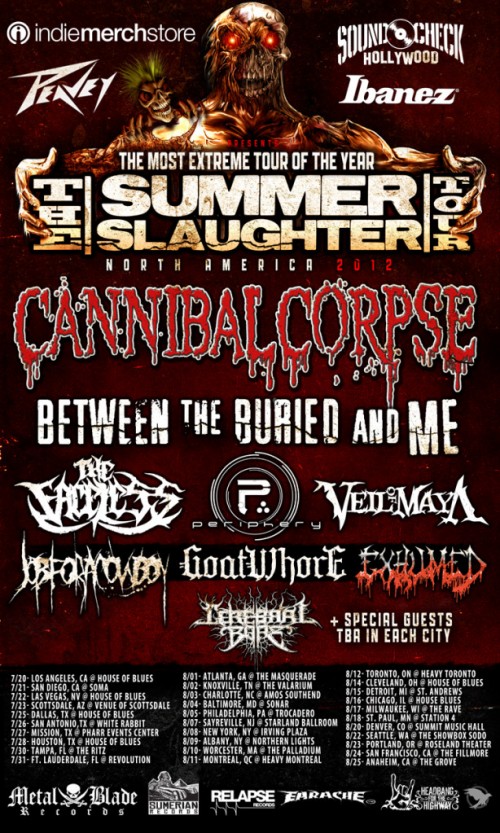 "…an ass-kicking, skull-cracking record." — Alternative Press
"…a very strong exercise in slickly-produced, technically sound death metal smart enough to know that a little variety can do a tech-death band a world of good." — Decibel
"Fans of the band's death metal era will be blown away by this one, and fans of death metal (and tech-death) in particular will not want to miss this."– Mxdwn
"Demonocracy affords JOB FOR A COWBOY another album to legitimize their death metal sound, which was set forth starting with Ruination…Bringing in guitarist Tony Sannicandro and Cephalic Carnage bassist Nick Schendzielos translates to dynamics not heard on any JOB FOR A COWBOY album to date…" — About.com
"The album plays like a constant assault, and while never backing off it still manages to add enough structure for individual songs to become memorable… the soloing is surprisingly catchy and well-executed while still managing to sit well in the context of the songs." — Ultimate-Guitar
"There is only so much bone crushing metal a body can take. JOB FOR A COWBOY does a very good job of biting your synapses, chewing you up and spitting you out bruised and bloody." – This Is Not A Scene
http://www.metalblade.com/jobforacowboy
http://www.facebook.com/jobforacowboy