photo by Zachariah Orbin
Anti-Corporate Music presents the seventh title in their acclaimed singer/songwriter series, The Magnolia Sessions, releasing a new performance by North Carolina-based multi-instrumentalist JEFF LOOPS, widely known for his role as bass player for the Lost Dog Street Band. In conjunction with the album's digital release today, The Sleeping Shaman is hosting an exclusive stream of the track "Give It All Away."
The Magnolia Sessions, which launched in September 2020, is a series which sees a new album released the first week of each month. Showcasing bluegrass, dark country, and folk singer/songwriter acts in an intimate outdoor setting at the Anti-Corporate Music/Black Matter Mastering headquarters in Nashville, Tennessee, the series has already spawned albums from Matt Heckler, Jason Dea West, Johno Leeroy, Cristina Vane, Nick Hans, and Casper Allen, all of which instantly caught the attention of the scene's passionate fanbase, and most of which have debuted on the Billboard Bluegrass Charts. Each installment features a different artist, some with additional guest musicians, who performs a live album of sorts, recorded outdoors by a large magnolia tree, as originally seen in Lost Dog Street Band's "September Doves" video for GemsOnVHS several years ago.
Anti-Corporate Music and Black Matter Mastering's Dan Emery, who engineers The Magnolia Sessions, writes about the new JEFF LOOPS installment, "This was the last session we recorded for 2020. It was actually on my birthday. The weather was really nice, and there were no issues that I can recall. Everything ran really smooth, and it was overall, just a pleasant night. Also, nobody is getting shot at in the background of this one."
JEFF LOOPS offers, "Recording the session was quite an experience in itself. Dan isolates you far into his backyard under a giant magnolia tree and records you from inside the house, to put it simply. But there was more to it than that. I actually felt alone and unhindered by the voyeuristic limitations of onlookers and on-listeners. There is some magic under that tree, I don't doubt it."
The Sleeping Shaman writes in part, "…when the first Friday of the month is on the horizon, I get a tingle down my spine as to what hidden gem Dan [Emery of Anti-Corporate Music and Black Matter Mastering] will uncover for the next instalment of the fascinating, and truly unique, The Magnolia Sessions. Well, the wait for this month is over as it's been revealed that JEFF LOOPS brought his mellow take on country folk to get the magnolia treatment… Instantly reminding me of the wonders of Townes Van Zandt, along with a grittier nod to James Taylor…"
Stream JEFF LOOPS' "Give It All Away" first at The Sleeping Shaman RIGHT HERE.
The Magnolia Sessions titles are available directly through Anti-Corporate Music's webshop HERE.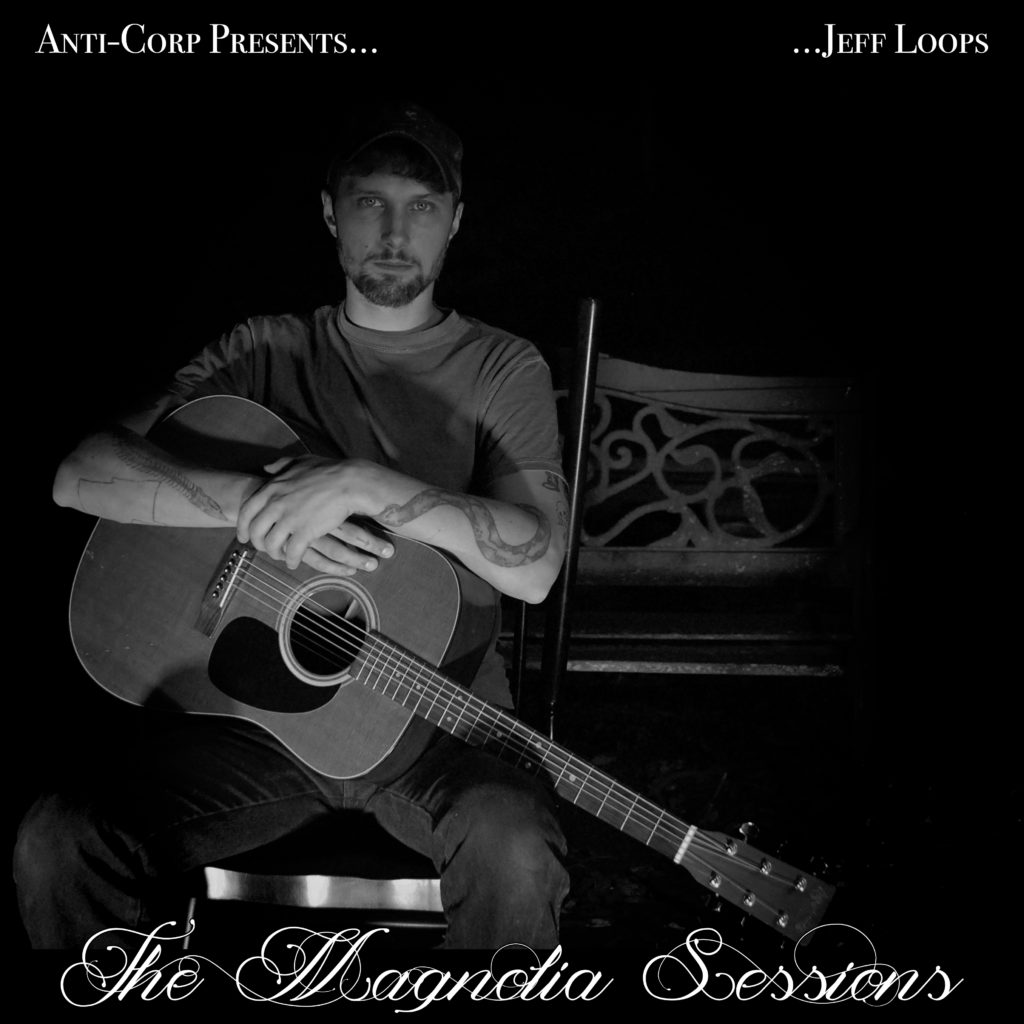 JEFF LOOPS – The Magnolia Sessions Track Listing:
1. The Ferryman
2. Into The Night
3. Come Back Baby
4. Powder Dreams
5. What You Don't Own
6. Dark As A Dungeon
7. Give It All Away
JEFF LOOPS' music is for the heart, from the heart. There is honesty in his writing yet it's rife with subtlety and mystery. After years of supporting roles as upright bassist/backing vocalist in Deep Chatham and Lost Dog Street Band, he took a step to the front of the room and shared his own music with his debut release Into The Night. The album is driven by acoustic guitar and upright bass, then brought to life with Loops' characteristically gravelly voice, and finished off with dark resonant electric guitar and violin.
https://www.facebook.com/JeffLoopsMusic
https://jeffloops.bandcamp.com
https://www.instagram.com/jeff_loops
http://anticorporatemusic.com
http://facebook.com/anticorpmusic
http://www.blackmattermastering.com
https://www.facebook.com/blackmattermastering
https://www.instagram.com/black_matter_mastering