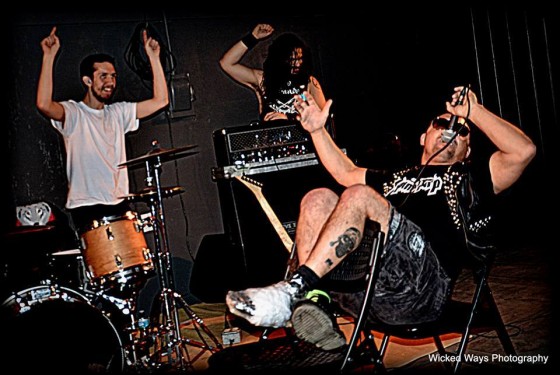 Grab your mosh attire and extra taco sauce and tune in to Decibel Magazine's interwebs-based Deciblog to hear Minneapolis-based IN DEFENCE shred their entire unruly, independently-released Don't Fuck With The Dungeon Master album now if you know what's good for your face.
In addition to having just unveiled their new record, IN DEFENCE has locked up brand new tours of both the North American West Coast and Japan for the coming months.
With eleven brand new, rapidly deployed, jaw-clenching tracks of side-splitting crossover packed into Don't Fuck With The Dungeon Master, IN DEFENCE wages all out war on poseurs, punk-ass chumps and the pizza industry with equal parts tongue-in-cheek terrorism and mangling mega mosh riffs. Recorded, engineered and mastered by Adam Tucker at Signaturetone Studios, and mixed by Joel Grind at Audiosiege, the Twin Cities quintet bring their best lyrical lashings and hyperspeed bashings to date to the plate on their newest monstrosity, appropriately bedecked in lunatic cover art by Andrei Bouzikov.
Decibel Magazine is going metal thrashing mad, showing their pleasure to kill with an entire stream of Don't Fuck With The Dungeon Master in support of its manly release, showing all haters that it's game over. Says part of their jacked-up breakdown of the new IN DEFENCE album alongside the auditory killing spree, "Weekend Nachos are nice after a hangover, but face it: they're not a full meal. You're lazy and bloated; might as well order P-John's or Dominos, right? Minneapolis thrash-core merrymakers IN DEFENCE say fuck no to that. Forthcoming self-released full-length Don't Fuck With the Dungeon Master features call to arms 'Tacos Til Death,' belittling pizza's snacking monopoly while praising their true god: May the taco be your savior, Let that salsa cleanse your soul, Bring you down into that spicy hell, To light the flames of fury That pizza fucking stole."
To get nuts with IN DEFENCE's entire new album, poke your little mouse on out and CLICK THIS.
Don't Fuck With The Dungeon Master is available directly from the IN DEFENCE legion on CD RIGHT HERE. Support!
Following their Southeastern US tour earlier this year, IN DEFENCE is about to stomp the entire West Coast US, including a stop in Mexico, with a three-week tour, running from August 16th through September 6th. Less than a week later, they will take part in the inaugural open-air Full Terror Assault Fest in Cave-In-Rock, Illinois where they'll shred with the likes of Napalm Death, Obituary, Terrorizer, Eyehategod and dozens more. This Fall will see the henchmen embarking on their maiden voyage across the Pacific to raid Japan, with a week-long run of tour dates from November 7th through 14th.
IN DEFENCE Tour Dates:
8/16/2015 The Aquarium – Fargo, ND
8/17/2015 The Railyard – Billings, MT
8/18/2015 The Pin – Spokane, WA
8/19/2015 Highline – Seattle, WA
8/20/2015 The Charleston – Bremerton, WA
8/21/2015 The Shakedown – Bellingham, WA w/ The Freeze
8/22/2015 Ash St. Saloon – Portland, OR
8/23/2015 Black Forest – Eugene, OR
8/25/2015 House Show – Medford, OR
8/26/2015 Press Club – Sacramento, CA
8/27/2015 Thee Parkside – San Francisco, CA
8/28/2015 TBA – Los Angeles, CA
8/29/2015 Mi Pueblito Bar – Tijuana, MX
8/30/2015 Che Cafe – San Diego, CA
8/31/2015 TBA
9/01/2015 51 West – Tempe, AZ
9/02/2015 TBA
9/04/2015 The Flux Capacitor – Colorado Springs, CO
9/05/2015 The Flux Capacitor – Denver, CO
9/06/2015 TBA – Omaha, NE
9/12/2015 Full Terror Assault Fest – Cave-In-Rock, IL w/ Napalm Death, Obituary, Terrorizer, Eyehategod
11/07/2015 Pit Bar – Tokyo, JP
11/08/2015 Pit Bar – Tokyo, JP
11/10/2015 Hokage – Osaka, JP
11/11/2015 Gattica – Kyoto, JP
11/12/2015 Kieth Flack – Fukuoka, JP
11/13/2015 Crazy Mama – Okayama, JP
11/14/2015 King Cobra Squat – Osaka, JP
http://www.indefence.bandcamp.com
http://www.facebook.com/InDefencepunx
http://www.indefence.bigcartel.com