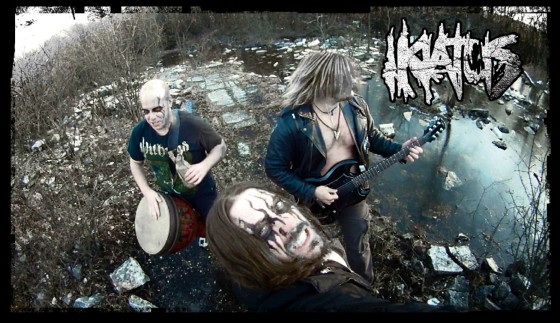 The sprawling Kether, the sophomore full-length from the unique, depraved Chicago trio known as I KLATUS, is out now digitally as well as via an extremely limited one-time pressing direct from the band.
Self-described by the band as "beyondcore, sludge, and shamanistic method doom," Kether is an otherworldly and intense journey, an album that undeniably places I KLATUS apart from many acts lost in a sea of predictable doom metal templates. With the dark spirit of Chicago in mind and the mysteries of the Cosmos at heart, the all-consuming devastation achieved on Kether takes the pummeling morphing of sludge/grime/doom the I KLATUS clan has previously attained to even more warped and exploratory realms through nearly an hour of continually-engaging material in same realms as Spaceboy, Gasp, Ufomammut, Rwake, Noothgrush and YOB.
The riffologists at underground music commune The Obelisk today host a descriptive track-by-track breakdown of the myths and madness on Kether, alongside a full stream of the entire album RIGHT HERE.
Self-released by I KLATUS, the mammoth Kether came out in an extremely limited 2xLP version at the end of 2012 followed by an official digital release in April. The album lies in the wake of the tragic passing of I KLATUS' bassist Tariq Ali and features the artist's last recordings. The three surviving members of the collective — drummer Chris Wozniak (Lair of the Minotaur, Earthen Grave), bassist John Bomher (Yakuza, Indian) and guitarist/vocalist/visual artist Tom Denney (known for art created for Soilent Green, Kylesa, Saint Vitus, Black Cobra, Rwake, Samothrace among countless others) — have dedicated the album to Tariq's memory and pay thanks to his family members. Kether also features guest contributions from Leon Del Muerte (Intronaut, Murder Construct) and Bruce Lamont (Yakuza, Bloodiest), among others.
I KLATUS will infiltrate audiences locally and abroad in the months ahead with new info to be released shortly.