Coming to Deathwish Records' forward-thinking roster of hardcore acts early this Summer is a release that stands in heavy contrast from its peers, as the label prepares to set loose the debut release from eclectic Philadelphia-based entity HARM WÃœLF.
From a vagabond spirit rooted within dissimilar worlds, but both yielding a dim outlook, HARM WÃœLF perpetuates a vagabond emotiveness; a non-complacent style of America. Fusing elements from multiple genres and eras into something both classic and contemporary, HARM WÃœLF is the bedroom musical entity of G. Hirsch. Known for his moving lyrical and vocal contributions in Philadelphia's hardcore purveyors Blacklisted, Hirsch's debut solo venture There's Honey In The Soil So We Wait For The Till is a collection of songs which touch upon the dark and rustic themes of solitude and aging disappointment, songs inspired by a wide range of artists, from the tranquil resonance of Low, rhythmic acoustic strumming of Strength Through Joy and the ascending power of Angels Of Light, to the insular, grotesque Americana of Cormac McCarthy and Flannery O'Connor. At most times the passages are sparse and austere, others are apocalyptically orchestrated, the album intertwining elements of sadness and strength, and casting a foreboding outlook on tomorrow.
Following his debut live show in Philly, Hirsch will bring HARM WÃœLF to the live setting again in the coming weeks, laying the path for the release of There's Honey In The Soil So We Wait For The Till, with a trio of California gigs supporting cohorts Nails, Xibalba, Power Trip and Palm, preceded by a hometown show in Philly this Sunday, May 26th with hometown shoegaze act Nothing.
Stay tuned for updates on HARM WÃœLF live actions, more music from There's Honey In The Soil So We Wait For The Till and more in the coming weeks.
HARM WÃœLF Live:
5/26/2013 Gunners Run – Philadelphia, PA w/ Nothing
6/07/2013 Gilman – Berkeley, CA w/ Nails, Xibalba, Power Trip, Palm
6/08/2013 The Echo – Los Angeles, CA w/ Nails, Xibalba, Power Trip, Palm
6/09/2013 Unit B – Santa Ana, CA w/ Nails, Xibalba, Power Trip, Palm
Deathwish has released the sixth track from There's Honey In The Soil So We Wait For The Till, "Spectrum Blues."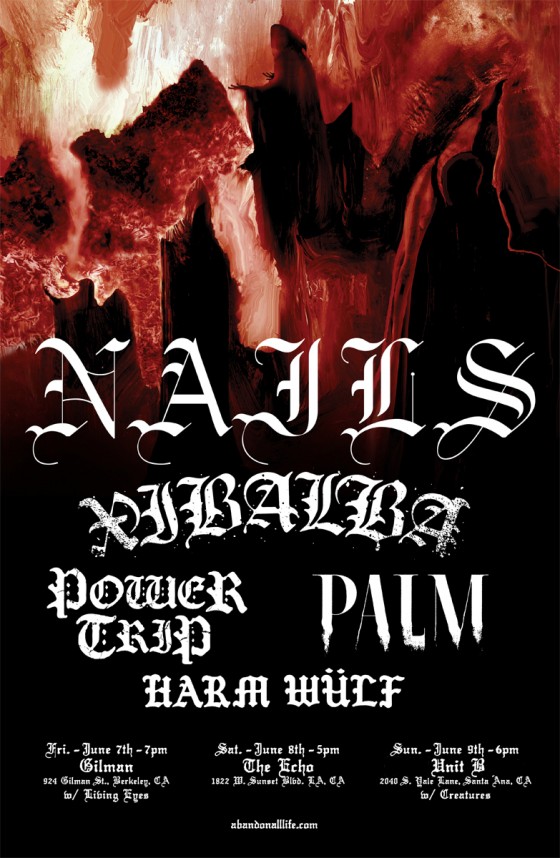 http://www.deathwishinc.com
https://www.facebook.com/deathwishinc
http://www.twitter.com/deathwishinc