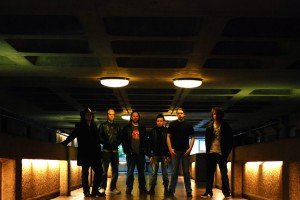 HAKEN are arguably the most exciting sound to emerge from the modern progressive movement.
Formed in 2007, HAKEN is a virtuosic progressive rock/metal band from London, England, comprising some of the country's finest young musicians. Featured in the band are members of To-mera and Linearsphere. In July 2007, HAKEN showcased their music for the very first time to a packed out London bar with a great response, followed the next week by a sold out show at The Peel in Kingston. Within months of this double-debut performance, the band were billed in support of Riverside at Camden's prestigious Underworld. HAKEN continued performing sets to packed houses throughout London and on UK tours in support of cult metal bands King's X Bigelf, and To-Mera and continue to extend their fan base. One of the band's demo tracks was featured on the cover CD for the second issue of 'Classic Rock presents Prog' magazine in 2009.
The band melds metal with progressive rock, drawing influences from contemporary bands like Dream Theater and IQ as well as "old school" icons Genesis and Queen. Aquarius is their debut release – a 72 minute, larger than life conceptual sci-fi/fantasy work filled with bombastic keyboard flourishes, stunning vocals, and lethal guitar work. The album was recorded in The Netherlands at Spacelab Studios (Delain, Everon, Wolverine) and mastered in Germany at Eroc's Mastering Ranch. Graphics has been created by Dennis Sibeijn at Damn Engine to tie in with the Aquarius story. Check out an extended preview of the album here:

In their brief existence, HAKEN are already highly respected within the British metal community, and their unique and imaginative genre-bending approach to music has garnered praise from all corners of the globe.
Aquarius will be released on March 29th, 2010. Promotional copies of the album and interviews with HAKEN are available now via Earsplit.
http://www.myspace.com/hakenmusic
http://www.lasersedgegroup.com