The Sleeping Shaman is hosting the video premiere of "Wish To Disinvent," by New York City-area hostile faction GRIDFAILURE. Joining GRIDFAILURE's creator David Brenner on the new song are guests Chuck Schaaf (Deadbird, Pinebox), his wife Star, and their children, Izzie and Mason. "Wish To Disinvent" is found on the incoming Sixth Mass-Extinction Skulduggery II – the second installment in five-album concept series – which is nearing release on June 5th via Nefarious Industries.
GRIDFAILURE's Sixth Mass-Extinction Skulduggery II features guest contributions from members of Deadbird, Vastum, T.O.M.B., Chrome Waves, Mountaineer, A Fucking Elephant, Megalophobe, The Third Kind, Cutworm, Fuck Your Birthday, Fyrhtu, Feel Happiness, and musicians who've played with likes of David Bowie and Miles Davis, and more.
The video for "Wish To Disinvent" was filmed and created by Brenner, with additional footage from Graham Scala (Bleach Everything, Interstitia) and public domain footage of nuclear atrocities.
Brenner offers, "While I was writing the lyrics for 'Wish To Disinvent,' Chuck and I were discussing collaborating on something where he played drums, while he usually plays guitar in Deadbird. However, I was not expecting the track to be accompanied by his entire family playing alongside him until he sent the track. I loved the fact that his family wanted to take part in this, and the material gave me the groundwork to finish the song immediately. It's one of the most straightforward pieces of the SMES II album. To depict a disorienting and harsh a post-war environment for the video, I infused imagery from abandoned Cold War-era Army bases – some filmed by Graham Scala in North Carolina and more by myself at a different base in New York."
The Sleeping Shaman writes, "There are those rare times when the good old heavy riff just doesn't quite cut it, especially right now as the world around us has been thrown into the realms of chaos, so only a short, sharp shock of cerebral torture will set things right. In step New York's GRIDFAILURE, the brainchild of the creative, although some might say disturbed, David Brenner, along with a myriad of collaborators, whose sole aim is to destroy your inner sanctum with their harsh, abrasive and devastating aural and visual assault."
View GRIDFAILURE's "Wish To Disinvent" video at The Sleeping Shaman RIGHT HERE.
Sixth Mass-Extinction Skulduggery II was performed/arranged, recorded, and mixed by GRIDFAILURE's David Brenner at The Compound in Valley Cottage, New York, who also drew the cover art. The record was mastered by Dan Emery at Black Matter Mastering in Nashville, Tennessee (Kool Keith, Benjamin Tod, Krieg, Thetan).
Sixth Mass-Extinction Skulduggery II will see digital release through Nefarious Industries on June 5th with a limited physical version to follow. Find digital preorders where "No Defensive Wounds To Be Found" is streaming HERE.
Also see a full live set from Queens, NYC just days before the city went into COVID-19 quarantine rule HERE.
As resources are depleted, so are morals. This is the underlying theme of GRIDFAILURE's Sixth Mass-Extinction Skulduggery II. Marauding factions, societal collapse, revenge, organ harvesting, nuclear warfare, pandemic contagion, unfathomable storms, cannibalism, and other grim topics poetically permeate this intense album which fully envisions the extreme, anti-genre, experimental vision more than any prior release from GRIDFAILURE to date, and even infuses elements which were recorded outdoors and in live/extreme weather conditions.
The album features GRIDFAILURE's primary live members – Benjamin Levitt (Megalophobe), Greg Meisenberg (Oxx, Maid Myriad, A Fucking Elephant), and Richard Muller (The Third Kind, Vise Massacre, Great Planes) – as well as Mac Gollehon (David Bowie, Miles Davis, Onyx, Madonna, Blondie), Liz Ciavarella-Brenner, Faith Ciavarella, Pete Tsakiris, Leila Abdul-Rauf (Vastum, Fyrhtu), Nathan Verrill (Fyrhtu, Cardinal Wyrm), No One (T.O.M.B., Dreadlords), Clayton Batholomew (Mountaineer, ex-Secrets Of The Sky), Dave Small (Cutworm), Christian Molenaar (Those Darn Gnomes), Lane Oliver (Feel Happiness, Yatsu), Christopher Henry (Fuck Your Birthday, Humans Etcetera), Jeff Wilson (Chrome Waves), Matt Bacon, Andrew Hess, and Chuck Schaaf (Deadbird, ex-Rwake) and his family Star, Izzie, and Mason Schaaf.
GRIDFAILURE recently released its split album with Chrome Waves, and is immersed in collaborative albums with Megalophobe, Fyrhtu, Pornohelmut, Feel Happiness, Interstitia, Rack, and more.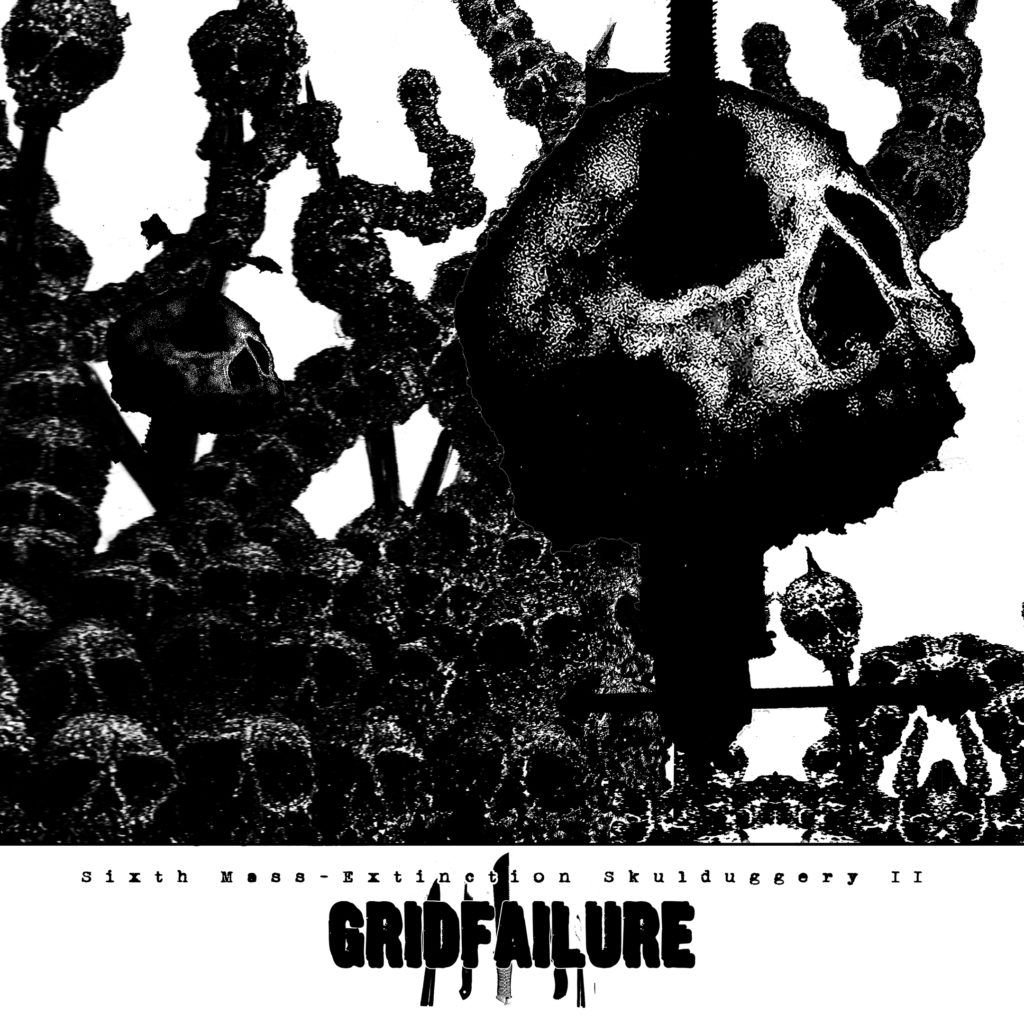 http://www.facebook.com/gridfailure
http://www.gridfailure.bandcamp.com
https://twitter.com/GRIDFAILURE
https://www.instagram.com/gridfailure
https://www.youtube.com/channel/UCRbk4oQvuhLgZmUZ1hyceog
http://nefariousindustries.com
http://www.facebook.com/NefariousIndustries
http://www.twitter.com/NefariousInd
https://www.instagram.com/nefarious_industries