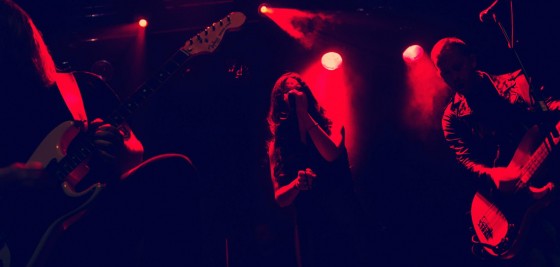 As they prepare to sedate the masses with their rich style of soulful rock, at this year's massive Roaburn Festival, The Netherlands' own act GOLD has this week released their second official video, culled from their debut full-length, Interbellum, released via Ván Records at the end of 2012.
Filmed for the song "Love, The Magician," the stark black and white concept, art direction and production handled by Natasa Heydra and Studio Waan and shows a staged live setting becoming infiltrated with a horde of scantily clad temptresses in an artistic fashion. Stated GOLD's guitarist Thomas Sciarone (ex-The Devil's Blood) on the concept and creation of the new video: "Love, The Magician" is a compelling piece about lust and willingly losing control. Natasa Heydra and Studio Waan created a photographic clip that serves as an ode to the odes to women; such as classic works like Salvator Dali's Voluptas Mors and Jimi Hendrix' cover for Electric Ladyland. Photography team Mathijs Labadie and Pim Top captured this all beautifully in a video clip that's a true stylistic feast for the eye, released as a warm-up to the band's appearance at this year's Roadburn Festival."
Those flocking to the annual Roadburn Festival in Tilburg, Netherlands this week can witness GOLD live this Saturday, April 20th, followed by several other gigs across their homeland with shows in Amsterdam, Asten and Venlo over the coming days.
GOLD Live Performances:
4/20/2013 Roadburn Festival 2013 introduces GOLD – Tilburg, Netherlands
4/29/2013 Pacific Parc – Amsterdam, Netherlands
5/03/2013 OJC Jonosh – Asten, Netherlands
5/04/2013 Perron 55 – Venlo, Netherlands
The entire Interbellum album is streaming at rock/metal portal PureGrainAudio.
http://www.facebook.com/thebandGOLD
http://www.thebandGOLD.com
http://www.facebook.com/vanrecs
http://www.van-records.de