New Orleans' most toured metal unit GOATWHORE will kick off their final live takeover of the year with hometown comrades, Crowbar, tonight November 30th. The co-headlining trek will begin in Pensacola, Florida and run through December 14th in Macon, Georgia. Support will be provided by Lillake. From there, GOATWHORE will play three more headlining shows in Florida in Winter Park, Fort Lauderdale, and Tampa respectively before heading home for the holidays. The band's latest excursions follows their recent US mini tour with The Blood Royale which included a pulverizing performance at Ozzfest in San Bernardino, California.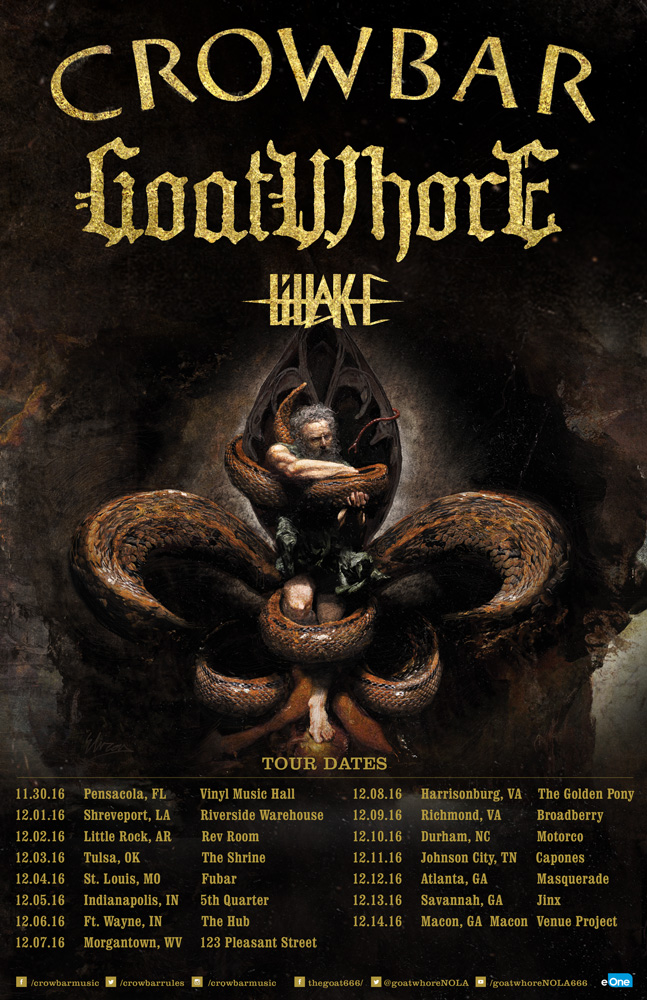 GOATWHORE w/ Crowbar, Lillake:
11/30/2016 Vinyl Music Hall – Pensacola, FL
12/01/2016 Riverside Warehouse – Shreveport, LA
12/02/2016 Rev Room – Little Rock, AR
12/03/2016 The Shrine – Tulsa, OK
12/04/2016 Fubar – St Louis, MO
12/05/2016 5th Quarter – Indianapolis, IN
12/06/2016 The Hub – Ft Wayne, IN
12/07/2016 123 Pleasant Street – Morgantown, WV
12/08/2016 The Golden Pony – Harrisonburg, VA
12/09/2016 Broadberry – Richmond, VA
12/10/2016 Motorco Music Hall – Durham, NC
12/11/2016 Capone's – Johnson City, TN
12/12/2016 Masquerade – Atlanta, GA
12/13/2016 The Jinx 912 – Savannah, GA
12/14/2016 Macon Venue Project – Macon, GA
12/15/2016 Haven Lounge – Winter Park, FL **
12/16/2016 Kreepy Tiki Tattoos & Boutique – Fort Lauderdale, FL **
12/17/2016 The Orpheum – Tampa, FL **
** GOATWHORE only
GOATWHORE recently completed tracking the follow-to their globally adored Constricting Rage Of The Merciless full-length at Earth Analog recording studio near Champaign, Illinois. Further details to be unveiled in the coming weeks.
Issued in 2014 via Metal Blade Records, Constricting Rage Of The Merciless debuted at #81 on Billboard's Top 200 chart, topping their last entry position of #171 with Blood For The Master. Crowned their most "varied record to date, as well as their strongest," by Pitchfork and, "unrelentingly pummeling and brutally oppressive," by PopMatters, Constricting… also hit the #21 spot on Billboard's Rock chart, #7 on the Hard Rock chart, and #13 on the Independent chart. Purchase your copy today at metalblade.com/goatwhore where you'll also find a host of videos, including a special edition of "FBS," compiled from fan-filmed footage from around the globe.

http://www.facebook.com/thegoat666
http://www.twitter.com/goatwhorenola
http://www.youtube.com/Goatwhorenola666
http://www.metalblade.com/goatwhore