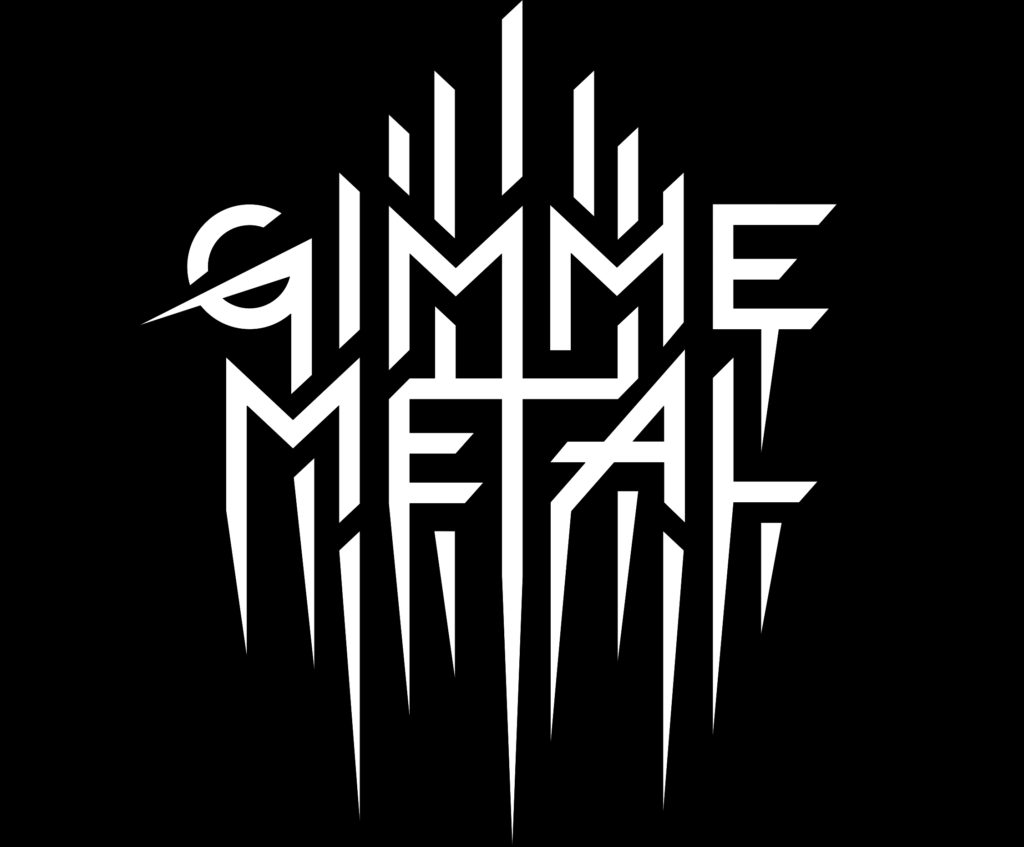 Each week, GIMME METAL publishes its radio chart listing the top 40 tracks played on the station. Already the best metal discovery service online, the GIMME METAL chart is a powerful tool for listeners, labels, and artists for staying up to date on the best new metal released by established greats and up-and-coming underdogs, all handpicked by GIMME's knowledgeable DJ roster and editorial team.
GIMME METAL Chart – June 7th, 2021:
1. Powerwolf – "Beast Of Gévaudan"
2. Vulture – "Malicious Souls"
3. At The Gates – "Spectre Of Extinction"
4. Withered – "Casting In Wait"
5. Amenra – "De Evenmens"
6. Alustrium – "Join The Dead"
7. Red Fang – "Why"
8. Cirith Ungol – "Route 666"
9. Burning Witches – "The Witch Of The North"
10. Mr. Bungle – "Loss Of Control (Live)"
Click HERE for the full Top 40 List.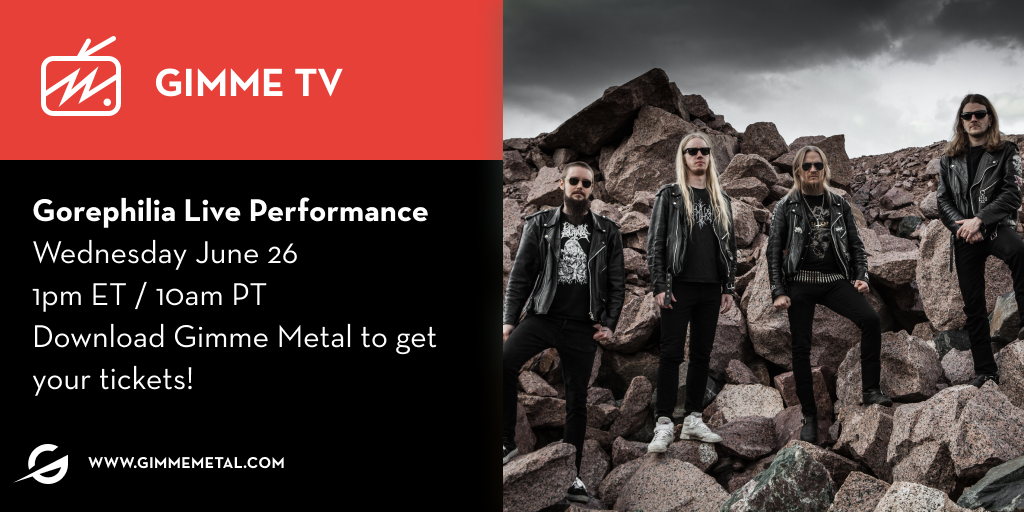 Gorephilia Death Dream Live Performance On GIMME METAL TV! – GIMME METAL TV has teamed up with Dark Descent Records to bring a brutal, punishing, mind-mangling performance from Finnish death metal practitioners, Gorephilia! Dubbed the Death Dream performance and pre-recorded exclusively for GIMME METAL, join the gore-some foursome in the Live Chat as they spew forth ravenous death metal conjurings from their decade-plus discography. Only on GIMME METAL TV! Don't miss it! Download the GIMME METAL app to get your ticket for a cool $5 today: gimmemetal.app.link/GimmeGorephilia.
This week on GIMME METAL Radio:
Red Fang Guest DJ Special – After a five year sitout, Red Fang returns stridently with Arrows, out now on Relapse Records. Red Fang is Aaron Beam (bass, vocals, guitar, keyboards), Bryan Giles (guitar, vocals), John Sherman (drums), and David Sullivan (guitars). Over the course of their sixteen-year career, the Portland, Oregon-based band has released five studio albums, joined Fred Armisen in an epic battle against invading zombie hordes, were joined by Paul Shaffer during a standout performance on The Late Show with David Letterman, and have created the best music videos in recent history. Arrows, which was completed in 2019, feels loose, full of the same elements that have endeared them to dedicated hordes in the past; the melodic mastery and crushing guitars, a familiar yet much welcome return. Guitarist Bryan Giles checks in with GIMME METAL for a ripping two-hour blast of metal! Don't miss it!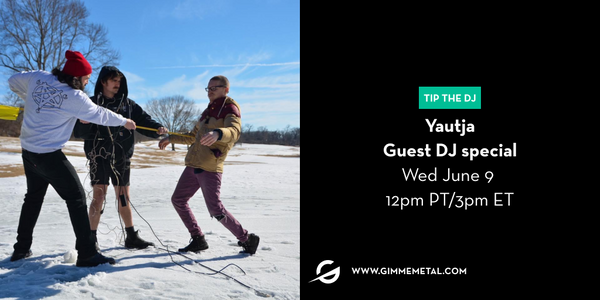 Yautja Guest DJ Special – Nashville underground trio Yautja made their Relapse debut with their highly anticipated new album The Lurch. Released late last month via Relapse Records and recorded by Scott Evans at Steve Albini's legendary Electrical Audio studio in Chicago, The Lurch amalgamates metal, punk, and noise rock into a ferocious hybrid that has propelled the band from the obscurity of the American South onto the international stage. Featuring members of several other musical projects including Thou, Coliseum, Mutilation Rites, and more, Yautja's palpable malaise, malcontent, and sharpened edges are matched by the album's production – the attack of noisy, whirring guitars constantly veering on dissonance are met with a destructive, mangled low end, as they march on to some of the most creative drumming in the genre. The Lurch showcases a band that is daring, experimental, and unrelenting. GIMME METAL welcomes the band to their first ever guest DJ special. Join the Live Chat for a chance to win some swag!
SLAM Spectacular with Andee Connors and Anthony Bartkewicz – It's always a treat when these two GIMME METAL DJ veterans get together! Battleflutes And Sideways Skulls host Andee Connors teams up once again with Grave Convulsions host Anthony Bartkewicz to spotlight one of the hardest-hitting metal subgenres… literally! Catch their SLAM spectacular and join the duo in the Live Chat as together they can surely raise some serious hell!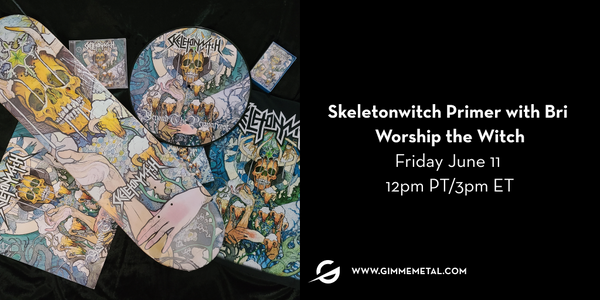 Worship The Witch: A Skeletonwitch Primer w/ Bri – The next GIMME METAL Vinyl Club release is Skeletonwitch's blackened-thrash classic Beyond The Permafrost! (Sign up for your copy today: https://found.ee/GimmeMetalVinylClub) To celebrate, GIMME METAL community manager, chat moderator, and 'Witch worshipper Brihailey will spotlight her all-time favorite band! Come join in a rare show from Bri and bask in her enthusiasm because once you've enjoyed Skeletonwitch through Bri's ears, there's no going back!
Seventh Son's Pride Month Listener Show: Rainbow In the Dark – Celebrate Pride Month with GIMME METAL listener, proud pansexual, and black-blooded metalhead Justin Schorah AKA Seventh Son! He brings us a cleverly crafted metal show focusing on bands and songs celebrating the LGBTQ community. GIMME METAL will have a tip jar set up with proceeds going to IGLA (International Lesbian, Gay, Bisexual, Trans and Intersex Association: https://ilga.org/). Hang out with Schorah in the Live Chat to talk metal, pride, or just life in general!
This week on GIMME METAL TV: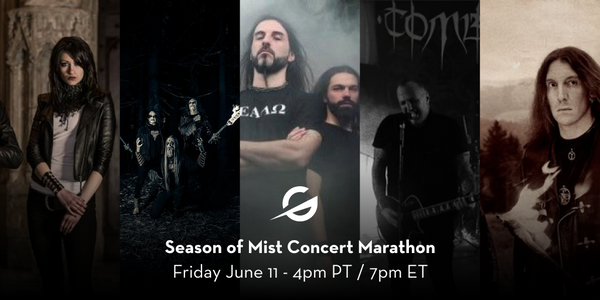 Season Of Mist Concert Marathon – Season Of Mist has provided GIMME METAL with a glut of live concerts, and viewers can't seem to get enough! So Friday, GIMME METAL TV will host a Season Of Mist concert marathon featuring a three-hour lineup of killer live performances from bands such as Eths, Imperium Dekadenz, Rotting Christ, Tsjuder, and Tombs! Get your mosh on in the Live Chat!
Brutal Truth: For The Ugly And Unwanted; This Is Grindcore – Back by popular demand, enjoy your Saturday with grindcore legends Brutal Truth and their phenomenal performance from their prime live album/DVD released by Season Of Mist! When Brutal Truth announced their comeback at the end of 2006 a collective sigh of relief swept through the grindcore community. The legend was back. Founded by prolific ex-Anthrax, S.O.D., and Nuclear Assault bassist Danny Lilker in 1990, the New York extremists quickly gained recognition worldwide and a large following within the grindcore and metal scenes alike. Several tours around the globe helped the band to establish an even larger fanbase, one that continues to expand to this day… For The Ugly And Unwanted: This Is Grindcore features a five-camera captured, career-spanning live performance. Catch "Stench Of Profit," "Foolish Bastard," "God Player," and twenty-three other tunes live on GIMME METAL TV for a pure, brutal grind experience!
Upcoming on GIMME METAL:
6/15 Crypta
6/16 Blazon Rite
6/18 Frozen Soul
6/21 Michael Alago
6/22 Alustrium
6/23 Cerebral Rot
6/25 Thy Catafalque
6/29 At The Gates
6/30 Withered
7/02 Pestilence
7/07 Autopsy
7/13 Powerwolf
7/13 The Lion's Daughter
7/16 Amenra
7/19 Fulci
7/21 Memoriam
7/23 Tee Pee Records Label Special
7/28 Ingested
7/30 No Clean Singing Site Special
8/18 Hooded Menace
8/27 Wormwitch
Don't miss it! Visit GIMME METAL: http://gimmemetal.com.
About GIMME METAL:
Founded by digital music veterans from Apple Music, Google Play, Beats Music, and Napster, parent company GIMME Radio builds highly engaged communities for the passionate fan on a genre-by-genre basis. The company launched its first community in June of 2017: the world's first 24/7 metal-focused service. Fans tune in to hear world class DJs playing metal they can't hear anywhere else – for free. The GIMME METAL app and streaming radio service allows the fans and the DJs/artists to communicate directly with one another in a live feed, in real-time, while they listen. Its roster of 70-plus DJs includes Dave Mustaine of Megadeth, Jessica Pimentel, star of Orange Is The New Black, Brian Posehn, and Randy Blythe of Lamb Of God, among many others.
http://gimmemetal.com
http://www.facebook.com/gimmemetal
http://twitter.com/gimmeradio
http://www.instagram.com/gimmeradio