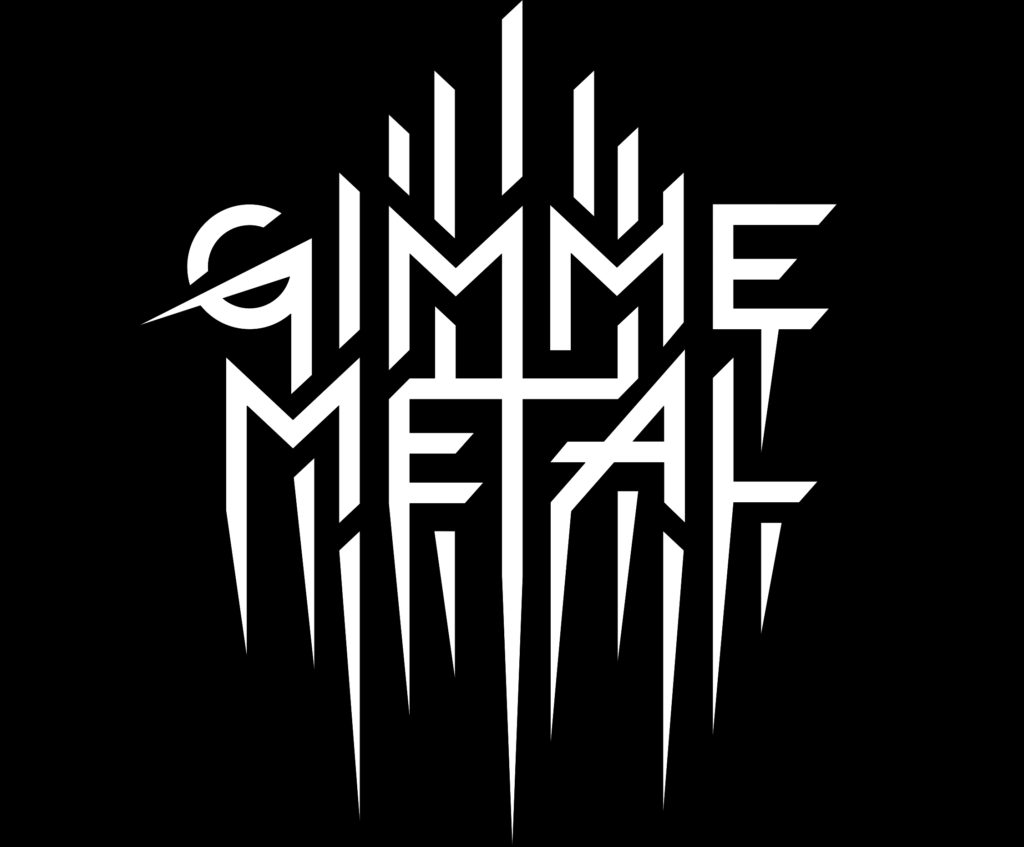 Each week, GIMME METAL publishes its radio chart listing the top 40 tracks played on the station. Already the best metal discovery service online, the GIMME METAL chart is a powerful tool for listeners, labels, and artists for staying up to date on the best new metal released by established greats and up-and-coming underdogs, all handpicked by GIMME's knowledgeable DJ roster and editorial team.
GIMME METAL Chart – February 15th, 2021:
1. Nervosa – "Venomous"
2. Gaerea – "Null"
3. Gatecreeper – "Depraved Not Deprived"
4. The Crown – "Motordeath"
5. The Lion's Daughter – "Neon Teeth"
6. Accept – "Zombie Apocalypse"
7. Genghis Tron – "Dream Weapon"
8. The Body – "A Lament"
9. Tomahawk – "Business Casual"
10. Ektomorf – "Ebullition"
Click HERE for the full Top 40 List.
The GIMME METAL T-Shirt Club – This month's T-Shirt Club print is "Bastrop Bat" from long time anti-hero skateboards graphic artist Dennis "Wolfbat" McNett! This hypnotic and intense creature, coupled with a red GIMME logo on the back, comes in military green and is available in both men and women's fits! The run is limited to 200. Sign up today HERE.
This week on GIMME METAL: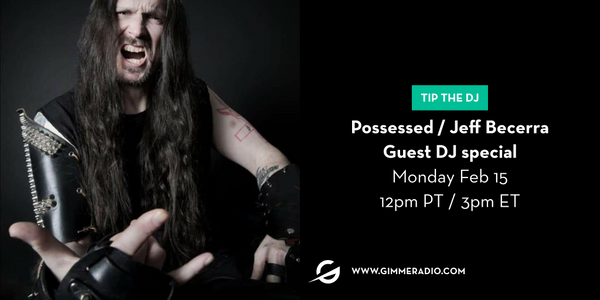 Possessed All-Star Request Guest DJ Special – Jeff Becerra is back with a show jam-packed with requests from his pals: Igor Cavalera (Sepultura, Cavalera Conspiracy), Sigurd Wongraven aka Satyr (Satyricon, Black Diamond, Brigade, Thorns), Tony Dolan (Venom, Inc. Atomkraft), Dino Cazares (Fear Factory, Divine Heresy, Brujería), Daniel Dekay (Exciter, Banger TV), David Austin (Nasty Savage), Ozzfest (John Fenton), Larry LaLonde (Possessed, Primus), Mike Leon (The Absence, Soulfly), Chad Gailey (Necrot, Mortuous), Anders Odden (Cadaver, Magenta, Satyricon, Celtic Frost, Cult), John McEntee (Incantation), Danko Jones and Patrick Mameli (Pestilence). Don't miss it! And be sure to come hang out in the livechat with Jeff!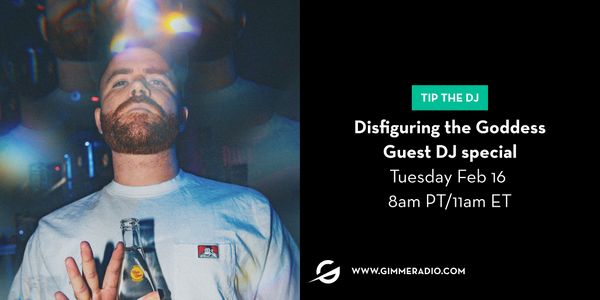 Disfiguring The Goddess Guest DJ Special – When Disfiguring The Goddess was forged in Nevada in 2006, the world was gifted with a series of LPs depicting some wild slam/brutal death metal that truly colored outside the proverbial lines. Disfiguring The Goddess's sole entity Cam Argon's musical DNA unapologetically covers a variety of musical terrain — he's also known as dubstep DJ Big Chocolate — and this is most evident with latest full-length, Sooth, which oozes over with some 16 RPM bowel-rumbling vocal sludge and sample-delic sorrow.
Brian Posehn All-Anthrax Special w/ Frank Bello on Grandpa's Metal Stash – Comedian and metal fan/connoisseur Brian Posehn brings a Fistful Of Metal to the airwaves with an all-Anthrax episode on the latest edition of Grandpa's Metal Stash this Tuesday! As if that alone isn't enough to leave listeners in a State Of Euphoria, Posehn also talks with Anthrax bassist Frank Bello in a show that promises to be "Metal Thrashing Mad!" Don't miss it.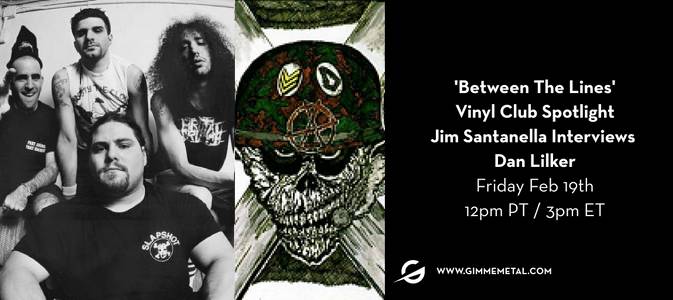 Between The Lines Vinyl Club Spotlight w/ Jim Santanella: S.O.D – Hosted by former GIMME 5 proprietor Jim Santanella, Between The Lines is a monthly special that takes an in-depth look at the artist being featured as part of GIMME METAL's Vinyl Club! In honor of this month's reissue of S.O.D.'s iconic Speak English Or Die debut, Santanella catches up with S.O.D. bassist Dan Lilker (Nuclear Assault). Not a member of GIMME METAL's Vinyl Club? Sign up today at THIS LOCATION.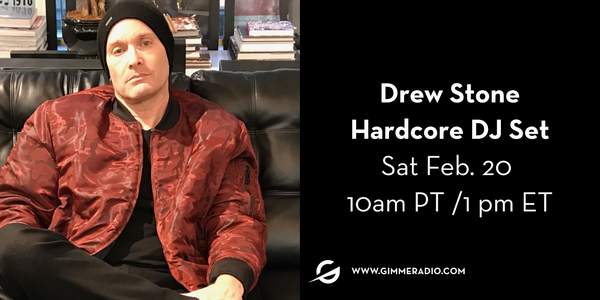 Drew Stone All-Hardcore Guest DJ Special – Filmmaker and a veteran of the Boston and NYC hardcore scenes (he was a member of The Mighty C.O.'s and The High & The Mighty), Drew Stone has given us films like Who The F*** Is That Guy: The Fabulous Journey Of Michael Alago and All Ages: The Boston Hardcore Film. This Saturday, Stone will deliver a show featuring tracks from some of his biggest influences, past and present as well as a a preview of the new compilation A7: Back To The NYHC Roots. Following this hardcore matinee, head over to GIMME TV for a screening of Stone's New York Hardcore Chronicles documentary!
Gimli, Son Of Glóin Guest DJ Special – Named in honor of dwarf warrior Gimli, a fictional character from J. R. R. Tolkien's The Lord Of The Rings, internet sensation Gimli, Son Of Glóin arrives at GIMME METAL HQ fresh from the fields of battle, upon which they have slain competition and become the premier purveyors of Dwarf-themed brutalizing technical deathgrind. You can bet they will summon riffs, slams, and cuts as deep as the Mines of Moria.
Coming soon to GIMME METAL TV: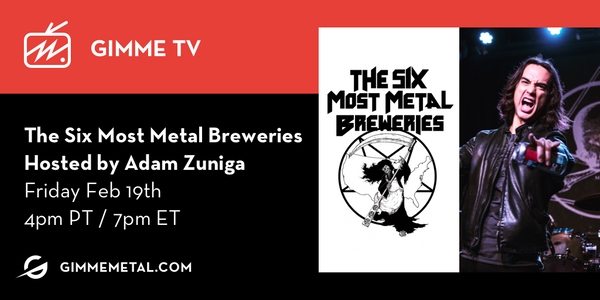 Six Most Metal Breweries Episode 1: Kings County Brewers Collective x Saint Vitus Bar – GIMME METAL… and Beer! The Six Most Metal Breweries pilot episode pairs Kings County Brewers Collective with Saint Vitus Bar in Brooklyn to create Morbid Hour Black Pilsner. Follow Advanced Cicerone® Adam Zuniga to the crossroads of craft beer and heavy metal. You can watch the making of Morbid Hour and get your hands on some by entering an upcoming contest (details coming Feb 19th when the show airs). Cheers!
The New York Hardcore Chronicles w/ Director Drew Stone – Following Drew Stone's killer hardcore guest DJ special on GIMME METAL, head over to GIMME TV to join Stone in the live chat and watch this compelling documentary. An incredible journey through the community, culture, straight edge and DIY ethics of the iconic New York hardcore scene, The New York Hardcore Chronicles contains more than 60 interviews, never-before-seen footage, photos, and a blazing soundtrack.
Saturday Horror Feature: Autopsy Hosted by Kelsey Chapstick – Kelsey Chapstick returns this week to host 1975 horror favorite, Autopsy directed by Armando Crispino and featuring a sinister score by Ennio Morricone. When the city of Rome is rocked by a wave of violent suicides, a young forensic pathologist, wracked by hallucinations of the living dead, and a priest, running from his dark past, begin an investigation. Together they uncover a deadly secret… and a chilling slab of unspeakable horror!
Upcoming on GIMME METAL:
2/24 – Gravesend
2/26 – Culted
2/27 – GIMME Global Day #2 on Metal 2 (International Specials)
3/05 – Cadaver All-Norwegian Special
3/09 – The Crown
3/10 – Wolf King
3/12 – Pupil Slicer
3/17 – Primordial All-Irish St. Patrick's Day Special
3/19 – Eyehategod
3/26 – Autopsy
3/31 – Genghis Tron
4/01 – Wode
4/07 – Horndal
4/09 – The Lion's Daughter
4/13 – Akiavel
4/20 – Bongzilla 420 Special
4/27 – Vreid
Don't miss it! Visit GIMME METAL: http://gimmemetal.com.
About GIMME METAL:
Founded by digital music veterans from Apple Music, Google Play, Beats Music, and Napster, parent company GIMME Radio builds highly engaged communities for the passionate fan on a genre-by-genre basis. The company launched its first community in June of 2017: the world's first 24/7 metal-focused service. Fans tune in to hear world class DJs playing metal they can't hear anywhere else – for free. The GIMME METAL app and streaming radio service allows the fans and the DJs/artists to communicate directly with one another in a live feed, in real-time, while they listen. Its roster of 70-plus DJs includes Dave Mustaine of Megadeth, Jessica Pimentel, star of Orange Is The New Black, Brian Posehn, and Randy Blythe of Lamb Of God, among many others.
http://gimmemetal.com
http://www.facebook.com/gimmemetal
http://twitter.com/gimmeradio
http://www.instagram.com/gimmeradio