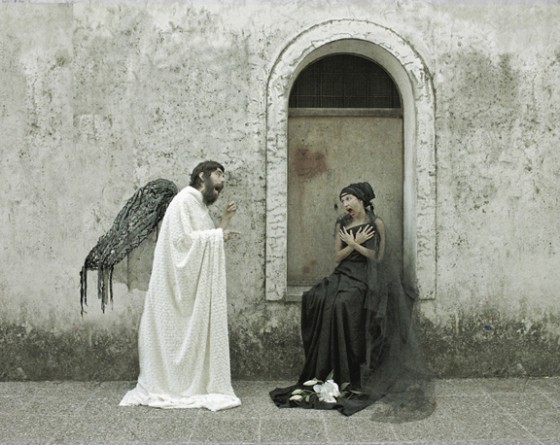 Following a successful journey through Mexico, Italy's favorite avant occult twosome, FATHER MURPHY, is bringing their séances to North American stages on another run of live rituals.
The twisted duo will levy their odes of oddities upon Brooklyn residents tonight at the Acheron with Theologian. From there the band — Rev. Freddie Murphy (vocals, guitar) and Chiara Lee (vocals, keyboards, percussions) – will spread their psychedelic soundscrapes to nearly two dozen cities, the caravan of curious resonances and eccentric hymns of decadence drawing to a close on November 2nd in Washington, DC. Additionally, FATHER MURPHY has been added to the prestigious Michael Gira (Swans)-curated Le Guess Who Festival on November 21 in the Netherlands with Swans, Xiu Xiu, Carla Bozulich, Prurient, Baby Dee, Savages and many more. Keep up with the band's passage via twitter HERE.
FATHER MURPHY Live Rituals:
10/09/2014 Acheron – Brooklyn, NY w/ Theologian, Onirogen, Of Earth And Sun
10/12/2014 The Cabbage Path – Philadelphia, PA w/ Unguent/Bruno, Strong & Sutton, SCC
10/14/2014 Machines With Magnets – Providence, RI
10/15/2014 Neverland – Boston, MA
10/16/2014 Bennington College – Bennington, VT
10/17/2014 La Vitrola – Montreal, QC w/ Iceage, Lower, Merchandise
10/18/2014 Gabba Hey – Ottawa, ON w/ Iceage, Femminielli
10/19/2014 Horseshoe – Toronto, ON w / Iceage
10/20/2014 TBA – Cleveland, OH TBA w/ Ssleaze, Nyodene D (DJ Set)
10/21/2014 PJ's Lager House – Detroit, MI w/ Iceage, Helm
10/22/2014 Empty Bottle – Chicago, IL w/ Iceage, Helm
10/23/2014 Space Oddities – Chicago, IL w/ Doll Food
10/24/2014 The Wisco – Madison, WI w/ Oozing Wound, Running & Yakuza
10/26/2014 Emma Bistrot – Nashville, TN
10/27/2014 The Gnarlington Cemetary – Cookeville, TN w/ Sheep Bella Tine
10/28/2014 Blurry Vision Records – Decatur, AL w/ Kudzu, Marrow
10/29/2014 Eyedrum – Atlanta, GA
10/30/2014 Caledonia Loounge – Athens, GA
11/01/2014 Pilot Light – Knoxville, TN
11/02/2014 Union Arts – Washington, DC w/ Thollem McDonas
11/21/2014 Le Guess Who Festival – Utrecht, NL w/ Swans, Xiu Xiu, Carla Bozulich, Prurient, Baby Dee, Savages more [info]
FATHER MURPHY continues to tour in support of their Pain Is On Our Side Now EP, released via Aagoo Records earlier this year. A concept album that centers itself on imminent failure, Pain Is On Our Side Now delivers four chilling tracks of eroticism, decadence and emotional/physical decay, each playable on their own merit but with the additional option of synchronized playback for tracks one and three, or two and four, conjoining into two new sonic excursions Aquarius Records christened, "…woozy and ominous, dreamy and dense, a glorious deathlike dirge…"
Evolving from twisted psychedelic pop into a far darker sonic exploration, FATHER MURPHY, a venture The Wire likened to "homemade Morricone and toytown Goblin,"manifests foreboding songs that crawl and twist and hiss like an old biblical serpent; their off-kilter, traumatic creations not only earning the critical accolades of media both statside and abroad but winning over the adoration of Julian Cope, Carla Bozulich, Deerhoof, Michael Gira and so many others.
"You've heard the phrase 'uneasy listening?' This is THAT. There is nothing cheery or comforting about FATHER MURPHY, but lordy, if you have a taste for dark, immersive, non-personality-based cine-music, this may be something to lose yourself in. Best recommended if you're a LAPSED Catholic or 'other' in the religious column, though. If you're still going to mass and taking communion, well, you're liable to head straight for confession after hearing this stuff." – Zacharymule

http://www.facebook.com/fathermurphyband?fref=ts
http://www.aagoo.com