Cadabra Records, purveyors of nightmares on vinyl, excitedly presents Zombie: Composer's Cut, by FABIO FRIZZI!
Lucio Fulci's Zombie has maintained status as a cult favorite in the horror world for over forty years, and the score by FABIO FRIZZI undoubtedly holds top-tier status as one of the most iconic and influential horror film soundtracks of all time. Following FABIO FRIZZI's international live performances for the Cadabra-released The Beyond: Composer's Cut LP, Covid hit and Italy shut down. At home with his instruments, the maestro began work on this new opus.
Zombie: Composer's Cut is not just a re-recorded rendering of the classic score, nor is it a completely re-imagined version. Keeping the vision of the original at the forefront, FRIZZI carefully orchestrates new music to this timeless score, infusing new elements to accent specific scenes in the film in the listener's mind, while adhering to Fulci's monstrous film.
The complete uncut score of FABIO FRIZZI's Zombie: Composer's Cut is here delivered in a plush vinyl edition, pressed on 150-gram colored vinyl in multiple variants, packaged in a deluxe heavyweight tip-on gatefold jacket, adorned in newly commissioned art by Jeremy Hush that starkly resembles the look of the original film and movie artwork. The inlay features brand new essays by Stephen Thrower and J. Blake Fichera, as well as liner notes from FRIZZI himself.
A foretaste of Zombie: Composer's Cut has been issued through an exclusive premiere of the record's second cut, "Paula's Eye," hosted by Rue-Morgue, who writes, "Cadabra Records, purveyors of such nightmares on vinyl as The Beyond: Composer's Cut and The Eyes Of The Cat Original Soundtrack reteams with macabre music maestro FABIO FRIZZI for what will surely be the genre music release of the year. Coming July 28th, Zombie: Composer's Cut features an all-new re-recorded version of the haunting, hard-driving score to Lucio Fulci's beloved living dead classic Zombie (aka Zombi 2, Zombie Flesh Eaters). More than merely a redux of Zombie's score, this release orchestrates new music to accent specific scenes in the listener's mind while keeping the original compositions firmly in the forefront."
Stream FABIO FRIZZI's Zombie: Composer's Cut track "Paula's Eye" at Rue-Morgue Magazine RIGHT HERE.
Zombie: Composer's Cut is now available for preorder and will be released on July 28th. Find preorders at the Cadabra Records website HERE.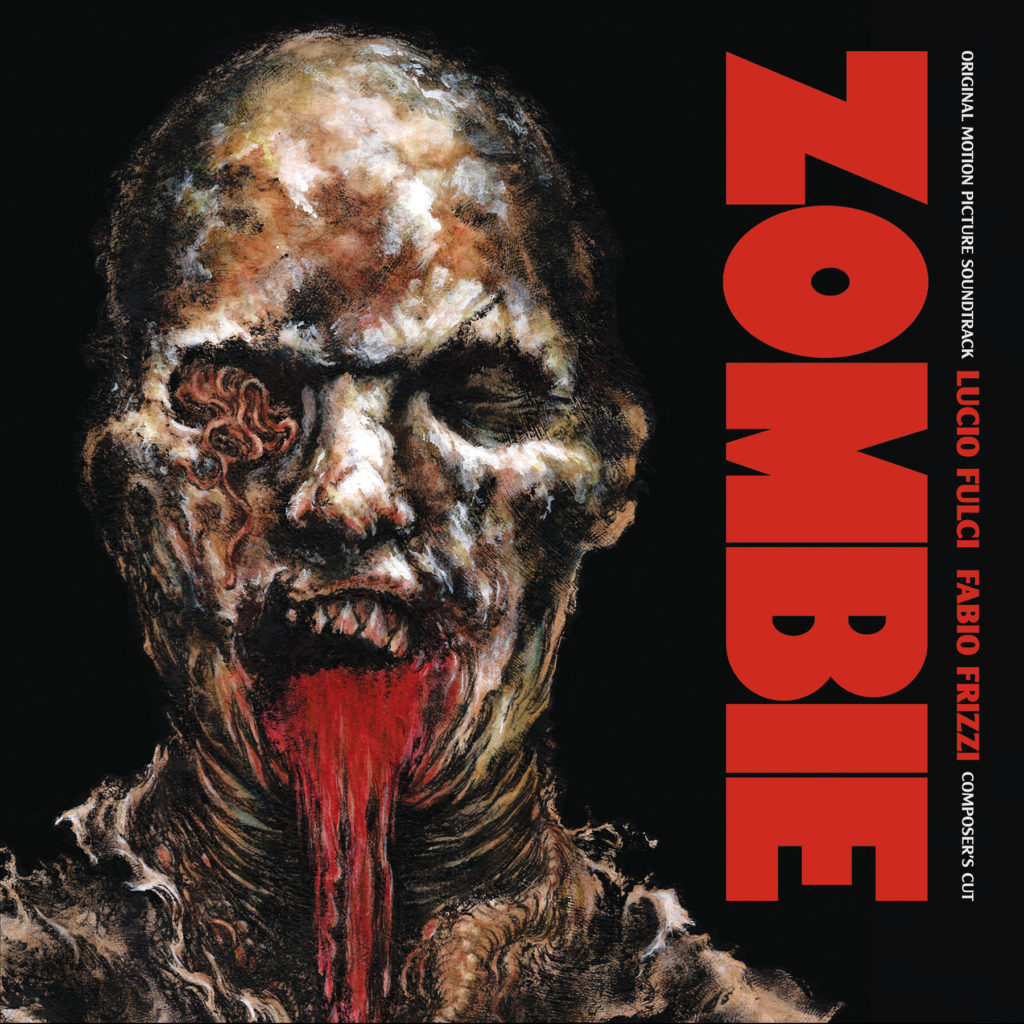 Zombie: Composer's Cut Track Listing:
Side A:
1. The Boat Can Leave Now, Tell The Crew
2. Paula's Eye
3. Cut Off From The Rest Of The World
4. Zombie vs. Policeman
5. Zombies Wake Up And Walk
Side B:
1. Afraid Of Voodoo
2. At The Door Of Menard's House
3. Cemetery For Spanish Conquistadores
4. Gruesome Banquet
5. Zombie vs. Shark
6. Blood Under A Microscope
7. Brooklyn Bridge (End Credits)
8. These Islands, Voodooism, Zombies…
9. Main Title
Stand by for additional previews of the record to post over the weeks ahead.
Other recent related titles through Cadabra Records include The Eyes Of The Cat Original Soundtrack LP by FABIO FRIZZI based on the graphic novel by Alejandro Jodorowsky and Moebius, the Dark Chamber 2xLP featuring acoustic renditions of the films of Lucio Fulci by FABIO FRIZZI with Riccardo Rocchi, Lucio Fulci's The Beyond: Composer's Cut by Fabio Frizzi 2xLP, among others.
Also coming soon, Backstage and Beyond: An Autobiography by Fabio Frizzi, will soon be available through Chiroptera Press. Watch for details to post HERE.
Excerpts from the essay by Stephen Thrower, author of Beyond Terror: The Films Of Lucio Fulci
FABIO FRIZZI's creative alliance with Lucio Fulci, spanning sixteen years from 1974 to 1990, remains a source of fascination for lovers of the fantastique. Like Badalamenti and Lynch, Rota and Fellini, Goblin and Argento, the teaming of FRIZZI and Fulci is so perfect that it seems almost cosmically ordained. FRIZZI 's ability to transcend the clichés of horror scoring lent haunting majesty to Fulci's extravagant and gruesome creations.
The movie that introduced FRIZZI to horror fans around the world was Zombi 2, released in the USA as Zombie, and known to the British as Zombie Flesh-Eaters. The film's strikingly unusual themes came at the listener from unexpected angles: woozily euphoric, mournful yet exciting, violent yet mysterious. In relation to Fulci's viscerally shocking images, FRIZZI offered new emotional flavors for the genre. When scoring to the shambling undead, he spurned the usual shock tactics and instead invoked a weird serenity and majesty.
While being careful to respect Fulci's intentions, FRIZZI has chosen here to expand the length and complexity of his cues, adding more detail and a bigger line-up to deepen and enrich the sound. The result merges old elements with new: tribal percussion, electric guitars, rock drums, synthesizers, bass guitar, and in a break with the original score, cello. Strings were an intrinsic part of the FRIZZI sound on City Of The Living Dead, The Beyond, and Manhattan Baby, so the addition of cello here brings Zombie closer to its illustrious successors. The instrument appears on tracks such as "The Boat Can Leave Now", "Cemetery for Spanish Conquistadores" and "Blood under a Microscope," lending color and gravity to scenes that were originally scored purely with tribal drums.
So here we are, in 2023. It won't be long before we arrive at the fiftieth anniversary of Zombie. Does the film seem dated? Not a bit. Does the music creak with long-ago styles and tropes? Far from it. Instead, they have achieved what is surely the dream of all filmmakers and composers: timelessness.
http://www.cadabrarecords.com
http://www.twitter.com/cadabra_records
http://www.instagram.com/cadabrarecords