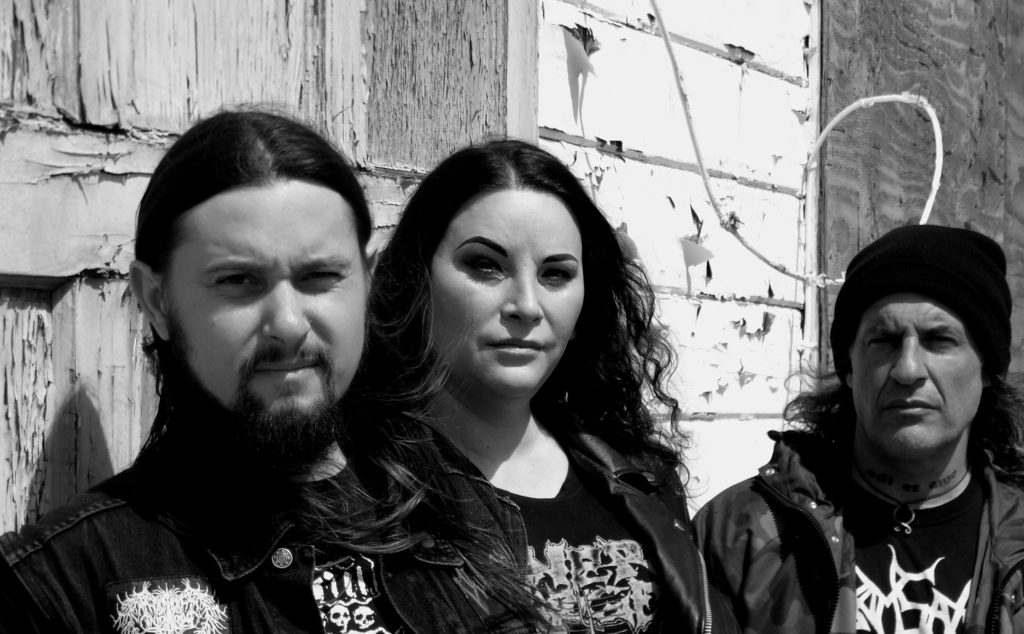 [photo by Aloysius V. Cummings]
Tune in to Invisible Oranges to hear "Occision," the latest track from Bay Area death crew EXTREMITY and their debut album, Coffin Birth, as 20 Buck Spin prepares the LP for release later this month.
Founded by members/ex-members of Vastum, Ludicra, Agalloch, Repulsion, Cretin, and more, Oakland-based EXTREMITY burst like a pustule onto the death metal scene in 2017 with their Extremely Fucking Dead mini-LP. Its five ferocious tracks gave the first taste of what was to come, and now the band returns with its debut full length album, Coffin Birth, a hideous ode to the genre's past and present.
With the release of "Occision," Invisible Oranges notes, "'Occision' is a cut from late in the record, a temporary reprieve from the death metal symphonies in miniature that comprise the vast majority of the album with a brief and fucking brutal slice of grind. There's a d-beat here, sure, but there's no denying the deathly intent of the riffs and the caveman growl of the vocals. While other tracks indulge in influences as wide within the field as Autopsy and Death, balancing the lingering dread of the riffs of the former with the harmonized ace riffing of the later, 'Occision' instead chooses to beat your ass stupid till drool and beer are flung from your wagging tongue."
EXTREMITY drummer Aesop Dekker notes of the song, "This is the most concise song on the record, a nod to d-beat punk and primitive grind, and one of my personal favorite tracks from Coffin Birth."
Hear EXTREMITY's "Occision" at Invisible Oranges RIGHT HERE.
20 Buck Spin will issue Coffin Birth on CD, LP, cassette, and digital formats July 20th; find preorders at the label webshop HERE and Bandcamp where "Grave Mistake" and "Like Father, Like Son" are also streaming HERE.
Right from the start of the menacing opening intro track "Coffin Birth/A Million Witches," EXTREMITY brutalizes with a hammer of pulverizing devastation and a defined melodic sensibility. Memorable and outright catchy songs that seamlessly veer from grinding speed to crushingly mid-paced unfold via a sordid concept that may reveal itself with careful attention.
As with its predecessor, Coffin Birth was recorded at Oakland's Earhammer Studios — the birthplace for so many of today's standout death metal releases – the album boasting both surgical clarity and pummeling raw aggression. In combination with the attention to detail in both song and lyric writing, EXTREMITY exhumes a debut album born straight from a coffin. Featuring vividly grim cover artwork by Andrei Bouzikov (Municipal Waste, Autopsy, Toxic Holocaust), and a guest appearance by Antti Boman of Demilich, EXTREMITY's Coffin Birth is a prime acquisition for those who feast upon the works of Exhumed, Repulsion, Autopsy, Carcass, Death, Bolt Thrower, Impaled, Vastum, and Entombed.
Watch for additional audio previews of Coffin Birth as well as EXTREMITY live actions and more over the weeks ahead.
https://www.facebook.com/extremedeath
http://www.20buckspin.com
http://www.facebook.com/20buckspin
http://twitter.com/20buckspinlabel
http://listen.20buckspin.com