photos by Scott Evans
Neurot Recordings is pleased to announce the recent signings and Bay Area post-hardcore quartet, EX EVERYTHING, formed by current and former members of Kowloon Walled City, Early Graves, Mercy Ties, Blowupnihilist, Less Art, and others. The label will release the band's debut album, Slow Change Will Pull Us Apart, on November 10th.
EX EVERYTHING has hope for the future. The caveat? "Hope without action is meaningless." For this band, action comes in the form of creation, and creation comes in the form of frenetic, raw music, full of rage but driving for change in the system and in our lives. Despite the pedigree of players, EX EVERYTHING will be the first to admit that this band is very much its own thing. Jon Howell says, "It addresses the part of us that wants to write fast, chaotic, knotty, messy, pissed off music."
EX EVERYTHING's debut full-length Slow Change Will Pull Us Apart showcases the band's fusion of Dischord-influenced math rock and noisecore; a nuanced rage that refuses to accommodate the passive listener. Jon Howell's percussive, angular playing is as impressive as it is baffling, with malformed chords and abstract melodies that still burrow effortlessly into your brain. Dan Sneddon's drumming is a stampede of frenetic time signatures, deceptively understated patterns and anthemic bashing, while Ben Thorne's bass roils underneath like a ship's hull scraping the ocean floor.
The band's true skill, though, lies in how their instruments interlock, the structuring of movements that grow songs from rotted dirges to triumphant war cries, rhythmic tension building until a riff explodes it into something unexpected and completely satisfying. Notably, the band welcomes Andre Sanabria to take over vocal duties. "Andre has been a musical force in all his previous bands; His vocal intensity is compelling," Howell says. Sanabria screams like he's trying to tear the songs apart, though he manages to find moments of almost Zen-like contemplation. It's a deft and mesmerizing performance, aided by his deeply thoughtful lyrics about, as Howell says, the steady dismembering of the things that bind us.
The band comments, "As a band rooted in the Bay Area, we have for years watched friends and family get priced out of apartments and pushed to the periphery. We've seen long-standing music venues and cultural centers get flipped or bulldozed, driven by investors and developers who have been sanding down the edges of Bay Area culture and replacing it with bland places built for bland people. The result is our community is spread thin and less connected. Add to that the California fires. Watching things burn year after year takes a toll. You feel helpless in the face of so much devastation and rage at the inadequate response."
Slow Change Will Pull Us Apart is the result of pent-up rage and even terror. "Making music is the only thing we know how to do," states the band.
While the album is a depiction of people losing connection with each other, the shows that the band put on see their audiences coming together in catharsis and fighting back against this separation. In this case, hope inspires action – a knock-on effect of community through art.
"We want these songs to move people the way they move us," Howell says. "Because this band is nothing without that."
Slow Change Will Pull Us Apart was recorded with Scott Evans over four days in February 2022 at Sharkbite Studios in Oakland, with overdubs completed at Antisleep Audio through early 2023. Evans' production was felt to have a clarity and intensity that made him the obvious choice for the band, and he also performs in the band Kowloon Walled City with Jon Howell and Dan Sneddon from EX EVERYTHING. The record was mixed by Evans, mastered by Amar Lal, and completed with artwork by Demian Johnson (Great Falls).
The first preview of EX EVERYTHING's Slow Change Will Pull Us Apart comes in the form of the album's opening track, "The Reduction Of Human Life To An Economic Unit," now playing at THIS LOCATION.
Neurot Recordings will release Slow Change Will Pull Us Apart November 10th on Black And Red Marble LP, CD, and digital platforms. Find preorders and presaves HERE.
Watch for additional audio previews, videos, and more to post ahead of the album's release.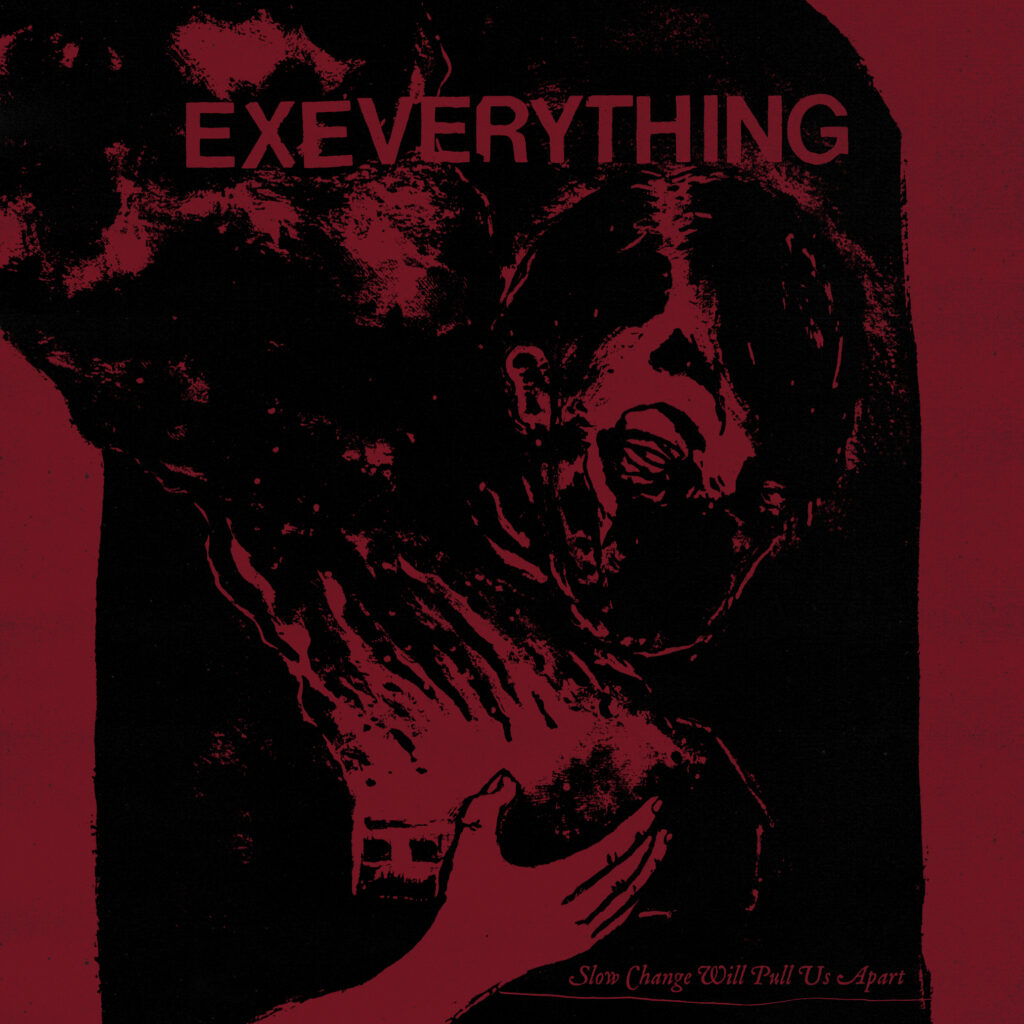 Slow Change Will Pull Us Apart Track Listing:
1. The Reduction Of Human Life To An Economic Unit
2. Exiting The Vampire Castle
3. Detonation In The Public Sphere
4. A Sermon In Praise Of Corruption
5. Slow Cancellation Of The Future
6. Feral City
7. The Last Global Slaughter
8. Plunder, Cultivate, Fabricate
EX EVERYTHING:
Dan Sneddon – drums
Ben Thorne – bass
Jon Howell – guitar
Andre Sanabria – vocals
https://exeverything.bandcamp.com
https://www.instagram.com/_exeverything
https://www.neurotrecordings.com
https://www.facebook.com/neurotrecordings
https://twitter.com/OfficialNeurot
https://neurotrecordings.bandcamp.com
https://www.instagram.com/neurotrecordings