With the final descent of Obliteration, the imminent new long player from Swedish death metal legion, ENTRAILS, now less than two weeks away, today the death dealers at Cvlt Nation are pleased to raise the dead with the coffinated sounds of latest single, "Obliterate."
Captured by guitarist Jimmy Lundqvist at his own Bloodshed Studios and mixed and mastered by legendary musician/soundsmith Dan Swanö (Edge Of Sanity, Bloodbath, Aeon, Hail Of Bullets etc.) at Unisound, Obliteration is a snarling beast of a record boasting nine harrowing psalms of auditory revulsion shrouded in ceaselessly morbid atmospheres that uphold the truest traditions of old-school Swedish brutality. "I guess ENTRAILS have sold their souls to the Devil," said Dan Swanö upon the record's completion, "because there is no other way to explain how a band that's been doing the same style of SweDeath for more than twenty years, can keep making better and better records! In fact, some of the tracks on this album are among the best death metal songs I have ever heard. Such a great album…it pisses me off!"
Already reaping praise from death-loving critics in the proverbial know, Metal Riot applauds ENTRAILS for manifesting, "a consistent boiling vat of ashen char that you'll choke down with a smile through broken teeth on every release," further commending their, "rapid fire, raw buzzsaw death riffing," and, "tasteful lead textures." Upon their initial impression of first single, "Beyond The Flesh," No Clean Singing gushed, "Don't be bashful: Turn your goddamned volume up… Get the full impact of those enormous, smoking chainsaw riffs. Feel the brunt of the percussive hammer blows. Let the sinewy guitar leads infiltrate your grey matter. Allow the predatory vocals to sink their teeth into your neck… This is a Grade-A prime cut of death metal beef served Swedish style," while MetalSucks applauds the band's unswerving delivery of tunes that are "drenched in a thick layer or horror fiction and undead imagery."
Comments Cvlt Nation, host of the band's latest hymn, "Obliterate:" "Do you enjoy music that rips your guts out and dances in your viscera? Then look no further than the new release from Swedish death metal militia, ENTRAILS!"
Relish the audio repugnance of "Obliterate" now streaming at Cvlt Nation HERE.
And if you were too busy flesh-eating and grave-robbing, you can sample "Midnight Coffin" still streaming at Bloody Disgusting at THIS LOCATION.
Featuring members of Birdflesh and General Surgery, ENTRAILS revels in the wisdoms of Dismember, Grave, Entombed and Tomas Skogsberg's Sunlight Studio alumni with a mutinous air raid of buzzsaw riffs, bestial vocal onslaughts, soul-crushing rhythms and ominous accounts of suffering, doom and the undead with the expert brutality of their forefathers. The band was initially established in 1990 by Lundqvist but disbanded prematurely due to his dissatisfaction with their initial demo recordings. It would be a full decade before the band would reactivate when Lundqvist found the band's early recordings in an old tape collection and decided they deserved to be released as they should have been originally.
Following the release of two full-lengths, ENTRAILS joined the Metal Blade Records roster in March of 2012, leveling the stages of numerous festivals throughout Europe that Summer before composing 2013's ravenous Raging Death long player. It was then that Lundqvist moved his studio into the woodshed where it all began in the '90s. The new/old surrounding inspired Lundqvist to write material like never before. Christened, "one of the more vital and warranted demo collections to be made available" by Metal Injection in an 8/10 review, ENTRAILS dropped the Resurrected From The Grave – Demo Collection last Summer. The eighteen-track offering delivers the band's Reborn and Human Decay recordings – the now infamous demos that started it all – in one venomous helping. And now comes the time for a new era in sonic devastation with the planet-rupturing heaviness of Obliteration.
Obliteration will see release in North America via Metal Blade Records on May 19th, 2015. For preorder bundles as well as a taste of first single, "Beyond The Flesh," visit metalblade.com/entrails.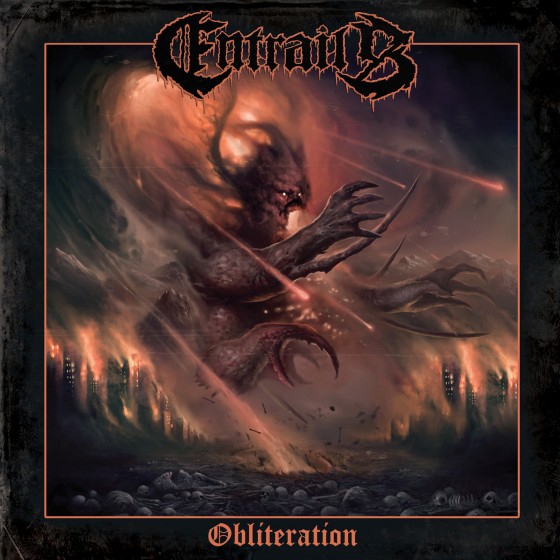 http://www.facebook.com/Entrails666
http://www.metalblade.com/entrails