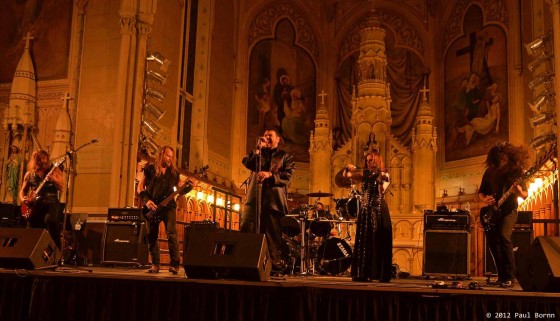 Amidst a cluster of regional Summer tours, including recent performances throughout the Midwest and Southern US and a show in Canada, Chicago's orchestral, epic doom outfit EARTHEN GRAVE will head east this week!
The band will play an early show at Acheron in Brooklyn, New York this Friday, preceded by a concert by bassist Ron Holzner's other band The Skull with Eric Wagner at Saint Vitus Bar. The next day EARTHEN GRAVE will travel to Connecticut for a performance at Stoner Hands of Doom XII on Saturday alongside RoadSaw, Ichabod, Raw Radar War, Pilgrim, Earthride, Revelation, Pale Divine, Iron Man, Elder, War Injun and tons more at the four-day all-ages event. EARTHEN GRAVE will be unveiling a brand new track at the East Coast shows this weekend as well.
EARTHEN GRAVE will also be supporting Kill Devil Hill (featuring Rex Brown and Vinny Appice) Thursday Sept 13th at Chicago's Double Door, their performance to be streamed live on Gigity.TV. Specifics will be posted on the band's website shortly.
Having recently performed at the two-day Days Of The Doomed II Festival in Cudahy, Wisconsin alongside Solace, Blood Farmers, Earthride, Revelation, Argus and more. The outfit then crossed into Canada and played their first international show, as part of the Music & Beyond Festival in Ontario where they performed within deconsecrated wood cathedral. Several weeks later as they were set to play in New Orleans, the show was canceled en-route. Making last-minute arrangements, EG ended up joining the bill at a raging, beer-soaked CD release party for Hipsterectomy in Austin, and also landed a spot on Ripple Festival in Dallas where the infamous Sherman from Earthride joined them for two songs, and guitarist Jason Muxlow met one his biggest metal influences when he busted a guitar string mid-set and John Perez stepped out of the crowd to fix it.
Founded in 2008 by guitarist Jason Muxlow (The Living Fields, Wintering) bassist Ron Holzner (formerly of Trouble, Debris Inc., Place of Skulls, etc.),and drummer Scott Davidson (ex-Stonehenge, owner of Rebel Radio), the trio recruited vocalist Mark Weiner (Trifog), guitarist Tony Spillman (Spillage), and renowned classical violinist Rachel Barton Pine on extended range electric flying V violin. In late April of this year, EARTHEN GRAVE entered the studio to create their mammoth first album, simply entitled Earthen Grave. Produced by Ron Holzner, and released via his own Claude & Elmo Music, this layered opus showcases even more range and diversity to the band's commanding material, clocking in with over an hour of epic music!
Stream the entire self-titled album at EARTHEN GRAVE's Bandcamp page.
EARTHEN GRAVE Tour Dates:
8/31/2012 The Acheron – Brooklyn, NY w/ Iron Man, War Injun, Kin of Ettins
9/01/2012 El 'n' Gee – New London, CT @ SHoD Fest [info]
9/13/2012 The Double Door – Chicago, IL w/ Kill Devil Hill
"…one of the year's most promising debuts… Earthen Grave sounds old school without being retro, managing to go through every element on wich lesser bands uusally fail with exquisite grace and solemn subtelty…" – Terrorizer
"…the integrity and honesty of the musical endeavour shines through, making this a thought-provoking, melancholic metal creation with some real magic…" – Zero Tolerance
"Simply put, "Earthen Grave" is a modern doom metal classic that will live beyond a mere best-of-the-year bestowing. 4.5/5″ – Metal Underground
"…a unique and refreshing take on the doom metal genre. 8/10" – Doommantia
"…they take the Black Sabbath/Pentagram/Witchfinder General formula to another level by adding in Pine's lovely violin work, which gives these crushing songs an almost Kansas-ish feel to them in spots. 4/5" – Sea of Tranquility
"…one of the year's best doom newcomers." – Blistering
"…one of the most unique doom sounds I have heard in a long time. This Chicago based band has certainly offset themselves from their peers. 9/10" – This Is Not A Scene
http://www.earthenGrave.com
http://earthengrave.bandcamp.com
http://www.facebook.com/earthengrave
http://www.twitter.com/earthengrave