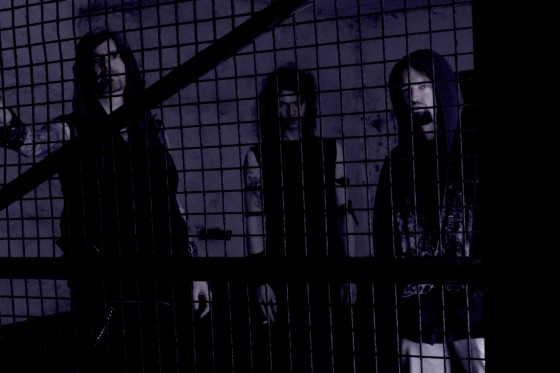 All Hell's Martyrs, the epic and harrowing premiere full-length release from Irish true doom trio, DREAD SOVEREIGN, is set for release this Friday, March 21st worldwide by Germany's cult label, Ván Records.
In conjunction with several overseas album streams of the record this week, doom/rock underworld portal, The Obelisk, is currently hosting the exclusive stateside stream of All Hell's Martyrs in its entirety. Alongside the album, is an exceptionally detailed track-by-track review of the LP, detailing how "the songs seem to echo up from the Lovecraftian horror cave," also noting the album is "a debut from a trio establishing itself in a territory of aesthetic, whatever sense of accomplishment they may bring via past experience… it's worth appreciating All Hell's Martyrs as a beginning as much as a culmination."
Be immersed in the entire sixty-seven minutes of DREAD SOVEREIGN's epic All Hell's Martyrs at The Obelisk RIGHT HERE.
Dublin-based DREAD SOVEREIGN brandishes two members of longtime Irish sinister metal clan, Primordial, among several other acts. Following the 2013 release of their critically acclaimed Pray To The Devil In Man 12″ EP, DREAD SOVEREIGN entered Dublin's Sun Studios in September to harness their newest collection of tales, resulting in the massive ten track beast, All Hell's Martyrs. A sepulchral trawl through the darkest recesses of heavy metal, the album bends and morphs the band's influences of Venom, Saint Vitus and Cirith Ungol in the raw underground cult doom idiom with the epic metal prowess of Primordial, in which vocalist/bassist Nemtheanga and drummer Dubh Sol both perform full-time. Rounded out by guitarist Bones, the pack formulate a cavernously heavy yet spiritually-rousing triumvirate of old-school attitude and arcane spirituality. The album artwork was created by Costin Chioreanu whose previous credits include Grave, Darkthrone, Aura Noir and Absu. All Hell's Martyrs will see official release on March 21st through, Ván Records, home to The Devil's Blood, The Ruins Of Beverast, Urfaust, Year Of The Goat and countless others. Orders for the CD and LP versions of the album are available HERE.
Stay tuned for more news on DREAD SOVEREIGN as they perform at Heavy Days In Doom Town in Copenhagen, Denmark and announce new live actions in the months ahead.
DREAD SOVEREIGN live:
5/01/04-2014 Heavy Days In Doom Town – Copenhagen, Denmark
"The classic doom undertones of their first release have become showpieces, augmented by wild-eyed blues solos and a warm, inviting guitar tone. Nemtheanga has gotten more comfortable wielding his bass and pulls off a powerful performance whilst stretching his versatile vocal chords to their strained, soaring limit. Sol Dubh gets down with some burly rock'n'roll beats behind the kit while Bones' revamped classic doom riffs shake off the dust and howl." – Pitchfork
"Dread Sovereign have drunk deeply from the chalice of human misery to churn out one of the best doom metal albums we are going to get this year. It's a singularly depressive masterpiece worthy of both your time and the tiny fragments of your happiness it'll chisel off with each listen." – Metal Insider
"This album sets some high standards for Dread Sovereign to follow up on, and it's certainly one of the best modern doom efforts I've heard in quite a while." – Metal Storm
"The trio have come up with some truly powerful and at times frightening material here… a wild trip into Saint Vitus inspired melancholic doom, with fuzz-laden, almost psychedelic washes of dirge-like guitar riffs floating underneath Nemtheanga's tortured wailing. 4.5/5" – Sea Of Tranquility
https://www.facebook.com/DreadSovereign
http://dreadsovereign.bandcamp.com
http://www.youtube.com/vanrecords
http://www.van-records.de