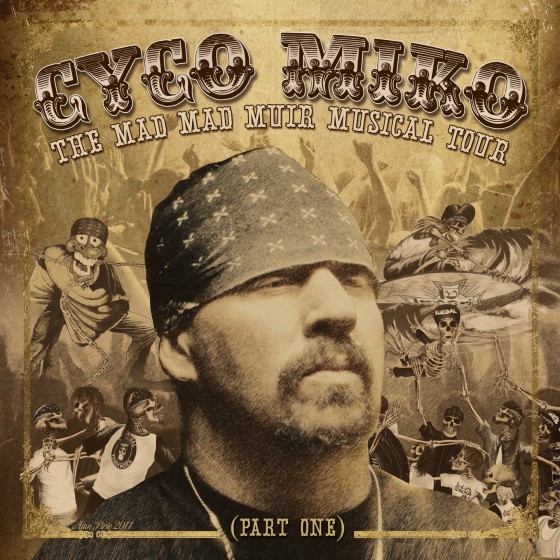 From the mind of the original Cyco, SUICIDAL TENDENCIES/INFECTIOUS GROOVES mastermind Mike Muir takes us on a journey into his world with the release of The Mad Mad Muir Musical Tour. With a 63-minute run time, the album features new tracks from CYCO MIKO, as well as previously unreleased INFECTIOUS GROOVES tunes that highlight where the band has been as well as where the band is headed. The Mad Mad Muir Musical Tour features 14-track and includes appearances by Robert Trujillo (now with Metallica), Fletcher Dragge (Pennywise) and Brooks Wackerman.
The Mad Mad Muir Musical Tour Track Listing:
1. MMM
2. Happiness
3. All The Way
4. Got Feeling
5. Alone
6. Slightly
7. Done Gone Stupid
8. Full Of It
9. Hang On (The Fight Song)
10. Logical Thoughts Of A Lunatic
11. Who's Next
12. What It Is!
13. S.lo Death
14. Soulvation
The Mad Mad Muir Musical Tour will be released in North America on October 11, 2011 via Suicidal Records via Fontana Distribution.
In related news, SUICIDAL TENDENCES will return to the East Coast this weekend for three special shows. Check the itinerary below.
SUICIDAL TENDENCIES Fall 2011 Tour Dates:
9/16/2011 Brooklyn (private show)
9/17/2011 The Crazy Donkey – Farmingdale, NY
9/18/2011 Starland Ballroom – Sayerville, NJ
And don't forget to peep SUICIDAL's "I Feel Your Pain" video.