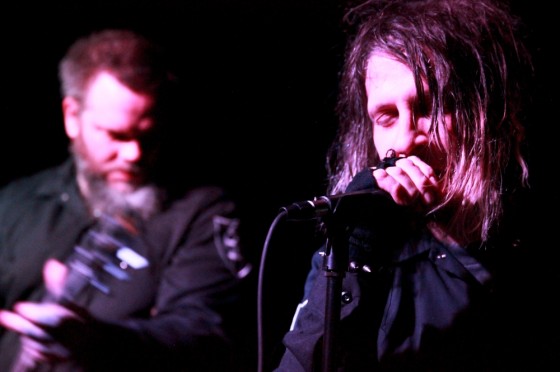 CORRECTIONS HOUSE will offer up a live broadcast of their performance TONIGHT at Churchill's in Miami, Florida, hitting the stage at 12:00am EST/9:00pm PST. Log on at THIS LOCATION to access this rare performance!
CORRECTIONS HOUSE is the new collective featuring Mike IX Williams (Eyehategod), Sanford Parker (Nachtmystium), Scott Kelly (Neurosis), and Bruce Lamont (Yakuza). The band kicked off their first-ever tour last week at Saint Vitus Bar in Brooklyn, New York and continue to punish unsuspecting souls with their sonic enormity. Shows feature each of the four members offering up solo sets of spoken word, acoustic and experimental music with an end times collaboration as CORRECTIONS HOUSE to close out each night. In a recent live review Invisible Oranges crowns the band "unique and devastating," Dig Boston relays: "I'm engulfed in a wall of sound and have no idea what to call this music. It's industrial and doom for sure. It's heavy and definitely dirty."
CORRECTIONS HOUSE recently unveiled their "Hoax The System" video via Pitchfork.TV. The video, created by Mortichrome Productions, can be viewed HERE. One additional track – "Grin With A Purpose"– will be released with "Hoax The System" as a limited edition 7″ through Parker and Lamont's newly-formed label, War Crime Recordings. Further details to be revealed in the coming weeks.
CORRECTIONS HOUSE Winter Tour 2013 [remaining dates]:
1/30/2013 Churchill's – Miami, FL [LIVE BROADCAST!]
1/31/2013 Crowbar – Tampa, FL
2/01/2013 529 – Atlanta, GA
2/02/2013 Bottletree – Birmingham, AL
2/05/2013 Spanish Moon – Baton Rouge, LA
2/06/2013 Siberia – New Orleans, LA
2/07/2013 Walter's Downtown – Houston, TX
2/08/2013 Korova – San Antonio, TX
2/09/2013 Red 7 – Austin, TX
2/10/2013 Bryan Street Tavern – Dallas, TX
2/11/2013 Opolis – Norman, OK
2/12/2013 Hero's – Fort Smith, AR
2/13/2013 Slowdown – Omaha, NE
2/15/2013 Moon Room – Denver, CO