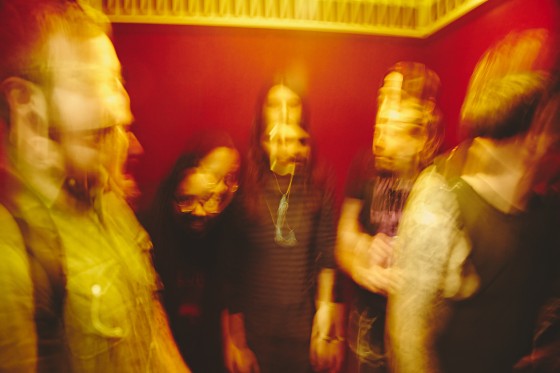 Today Los Angeles sludgecore merchants, COLOMBIAN NECKTIE, are pleased to reveal "Kevin's Song" to the masses via Skulls 'N' Bones. The emotionally-driven hymn comes by way of the band's new full-length, Twilight Upon Us, self-released earlier this month.
Crowned "scary sick" by Decibel Magazine, Twilight Upon Us was produced by Erol "Rollie" Ulug (Graf Orlock) at Bright Lights Studios and has been flooring fans and critics alike with its meticulous hardcore/sludge fusion. AngryMetalGuy commends COLOMBIAN NECKTIE's, "heavy, muddy, and chunky riffs," and "no-bullshit song-writing approach," furthering that, "COLOMBIAN NECKTIE are great for getting right to the point and not teasing you or leading you on. Song writing is definitely the band's main focus on Twilight Upon Us, and that's where they shine." In a 4/5 rating, Stereokiller calls the record, "violent and impressive…," Wonderbox Metal dubs it, "highly recommended listen for all connoisseurs of heaviness," while Echoes And Dust adds, "if you're looking for some intense music that brings together some of your old favorites – Dystopia, Mohinder,Pg. 99 or even Cave In, check out Twilight Upon Us."
As devouring as the record is however, much of Twilight Upon Us is rooted in tragedy as evidenced in ten-minute opus "Kevin's Song," written in honor of their late former bandmate. "As soon as I heard [guitarists] Ben [Daniels] and Juan [Hernandez-Cruz] playing the riffs for what would become 'Kevin's Song,' I knew we had something," relays vocalist Scott Werren. "Lyric-wise, all I could think of at first is the feeling of pain and loss but also this vision of Kevin just moving past a physical form and exploring the galaxy. So I made it like silver surfer riding through the universe giving us a report back on his findings."
Hear "Kevin's Song," now playing at Skulls 'N' Bones, at THIS LOCATION.
And if you missed it, sample "Guiding Light," still streaming at Decibel Magazine at THIS LOCATION as well as "Sleepwalking" available at Metal Insider at THIS LOCATION.
Named in honor of a song by iconic noise rockers Big Black but more commonly known as a method of murder where the victim's throat is slashed and the tongue is pulled through the open wound, COLOMBIAN NECKTIE has earned a reputation for their punishing riffs and maniacal DIY work ethic. Though clearly rooted in hardcore, tracks like the syncopated, sludgy death march of "Play The Game" and midtempo thrash of "Drought," complete with squealing synths, add a welcome dose of variance to an album that's uncompromising in its aggression.
Twilight Upon Us is out now independently. Order your copy today HERE.
http://www.facebook.com/colombiannecktiela
http://www.twitter.com/necktielifela
http://www.instagram.com/necktielifela